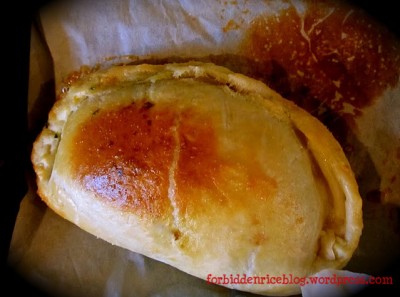 April 8th is National Empanada Day. Yes, I realize that was a week ago. However! I am in full support of both making and eating empanadas as often as possible, not just on April 8th. If you search "empanada" on Wikipedia, one thing you'll notice is that there are over 20 countries whose varieties of these little pockets of deliciousness are entirely different. They're originally from Spain. Typically, but certainly not always, they are a savory pastry stuffed with meats and/or vegetables.
The pastry dough I use for this recipe is delicious! Consisting of only 4 ingredients, it's rather simple. Plus, with butter, cream cheese, flour, and salt… how can you go wrong?  I try to balance out the not so healthy crust with a veggie filling that is both delicious and nutrient-providing. Filled with brown rice, fresh spinach, veggie meat, and cheeses, the kids still really liked these empanadas.
Empanada Crust

Ingredients:
12 oz. cream cheese, brought to room temperature
1 stick of butter, brought to room temperature
1¾ cups all-purpose flour, plus more for kneading
¼ tsp. salt
Directions:
In a food processor fitted with the dough blade attachment,
pulse the cream cheese and butter until very smooth.
Scrape down the sides as needed.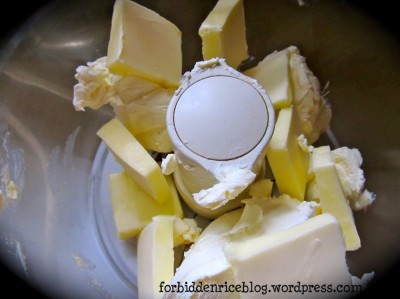 Add the flour and salt a little at a time.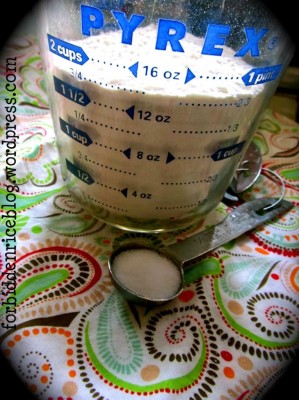 Continue to process until the ingredients are just combined.
Turn the dough out to lightly floured surface.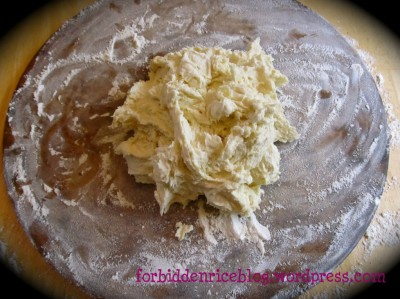 Knead the dough lightly, adding more flour as needed
to form a soft, non-sticky round of dough.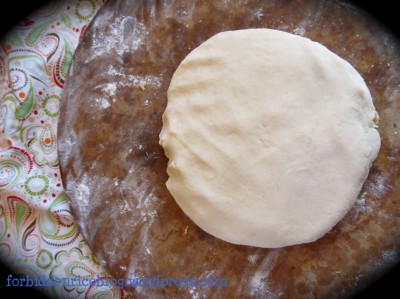 Wrap tightly in plastic wrap and refrigerate for at least 4 hours.
Empanada Filling (and Assembling)
1 (14-ounce) tube of Gimme Lean Sausage-Style vegetarian "meat" protein
1 lb. fresh spinach, chopped
½ an onion, chopped
2 cloves garlic, chopped
1 cup cooked brown rice
3 stalks of green onion, chopped
¼ tsp. red chili pepper flakes
1 cup shredded cheddar cheese
1 cup shredded mozzarella cheese
olive oil
salt and pepper (to your taste)
1 egg, lightly beaten
In a pan over medium-high heat,
sauté the garlic and onion in some olive oil
until the onions are slightly translucent.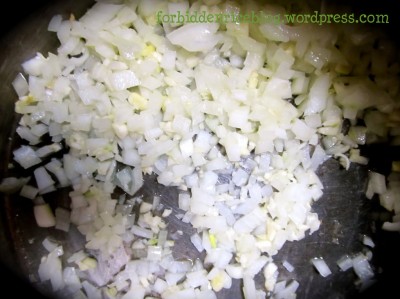 Add the Gimme Lean and cook until browned.
Add your chili flakes, salt, and pepper.
Don't overdo the salt and pepper,
as you'll be able to add more if needed, after the greens are added.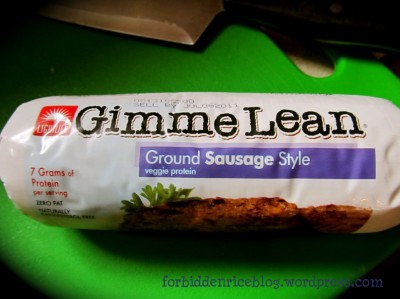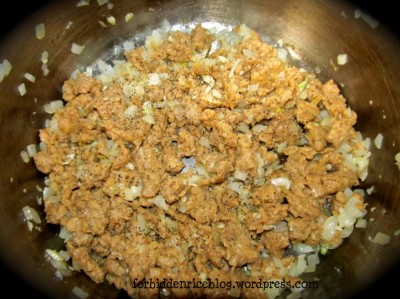 Add the spinach and green onion to the mixture.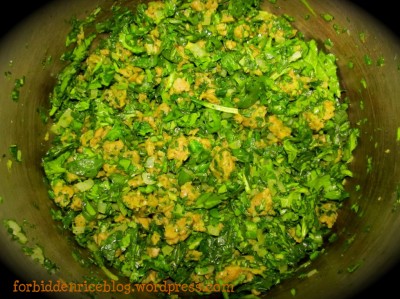 When the spinach has just begun to wilt,
add the mixture to the bowl of a food processor, fitted with the large blade.
Add in the cooked brown rice.
Pulse 3-5 times until coarsely ground.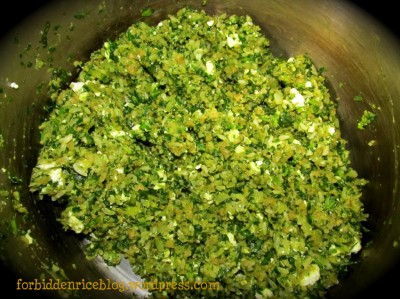 Preheat the oven to 450° F.
Remove the dough from the refrigerator.
On a lightly floured surface, roll the dough to about 1/8 inches thick.
Cut into 6 or 7 inch circles. You can use a bowl or plate as a guide.
After cutting as many circles as you can, collect the scrap pieces and rework them into a disk,
then roll out again and cut more circles.
You should be able to get about 8 large circles of dough.
The dough will be very stiff but will get easier to work with
as it comes to room temperature.
Note: I prefer to roll the dough to about ¾ inches in thickness
then cut with a round 3½-inch biscuit cutter,
and roll each round to the desired 1/8 inches thick
 and 7-inches in diameter.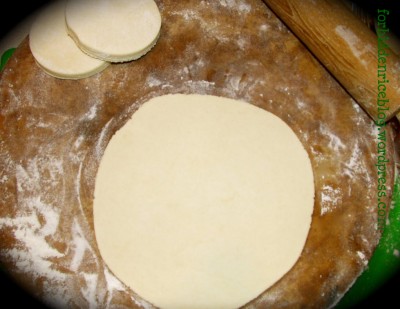 Put about a ½ cup of filling on half of the round, leaving about 1 inch
of space from the outside of the dough.
Add a couple pinches of cheese on top of the spinach mixture.
Now fold over the top half of the dough.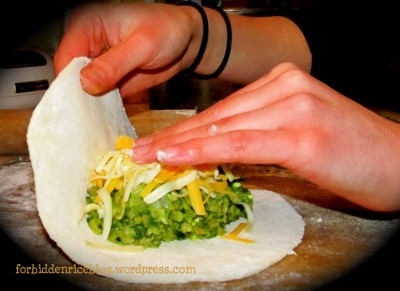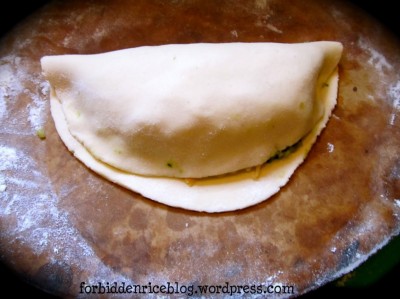 Starting from one side, start to fold the bottom edge over the top,
packing the spinach filling tightly as you can.
Use a fork (lightly floured) to crimp the folded edges.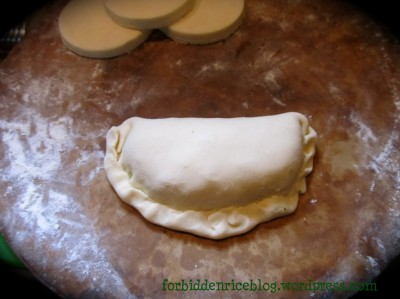 Place the empanada on a lightly greased baking sheet.
(I used parchment paper instead of oil.)
Brush the tops with the beaten egg.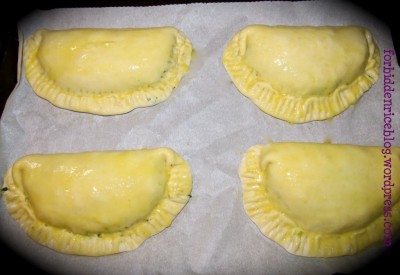 Bake for approximately 15 minutes, until the tops are golden brown.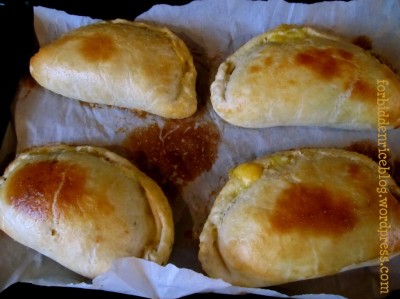 * * To reheat these the following day, I usually microwave them for 1-1½ minutes,then place in a 350° F toaster oven for 5 minutes, so the insides are thoroughly warm and the outside's still flaky and crunchy.
Note: This dough is very versatile. You can vary the filling as you wish.  I've filled them with a blackberry-mango filling before, as well as cinnamon apples.