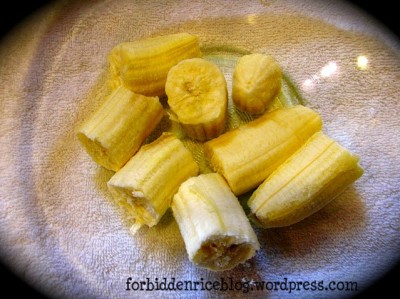 When I started this blog, I told myself I'd only do it as long as it was fun.  Once it became a chore to post things, or became something I dreaded doing, I'd stop.  Its been interesting to balance blogging recipes with daily life, especially on the days we've got kids in the house.  Seems like everything is always on the go.  Last week I realized I can't even go to the bathroom for 1 minute before someone's yelling, "Juuuulie! I neeeed you! I can't do _________ or I need help with ________ or UH-OH! I just did ________ !" (Not that I'm complaining, really. Life with two kids and a grown-man-partner-kid is an enjoyable adventure.)  Needless to say though, by the time everyone else has rolled into bed and the house is quiet, the near-last thing I want to do is sit down and write a long, detailed blog post.  So it turns out I'm not the most avid blogger, but it's still fun to share recipes here. And I am always cooking anyway, so I may as well keep at it.
The following recipe is my mom's banana bread. I can't remember where the recipe originally came from.  Growing up in Hawaii, we had bananas growing in our backyard, always in abundance.  My mom made this particular bread more times that I can try to remember.  It's actually quite sweet — like a cake. I've learned to vary the recipe to my own liking by decreasing the sugar and sometimes using soy/almond/2% milk rather than cream. Despite trying to be conscious of healthier alternatives there are times I follow my mom's recipe exactly, as the memory of eating warm slices fresh out of the oven, smothered in butter, is difficult to pass up… My partner's 12½ year old son has an extreme distaste for bananas. However, he'll still eat this banana bread… willingly. When 5½ year old Silas helped me last week, we added unsweetened cocoa powder, mini chocolate chips, less sugar, and turned these into chocolate banana mini cupcakes.
Mom's Banana Bread
Yields: 1 – 9x5x3″ loaf  or approx. 48 mini muffins
Ingredients:
2 large eggs
2 cups flour
1/3 cup heavy cream
1/3 cup vegetable oil
1 tsp baking powder
1 tsp baking soda
½ tsp salt
3 ripe bananas (the riper the better!)
1 tsp vanilla extract
½ tsp cinnamon
1¼ cups granulated sugar
Optional Ingredients:
2 or 3 tsp unsweetened cocoa powder
½ cup chopped walnuts or pecans
¼ cup mini chocolate chips
For a loaf of bread, preheat the oven to 350° F.  If doing mini muffins, preheat the oven to 325° F. Lightly grease your pan.
In a bowl, combine the eggs, cream, vanilla, and vegetable oil.  Whisk together until blended completely.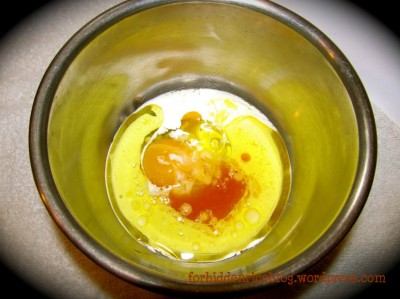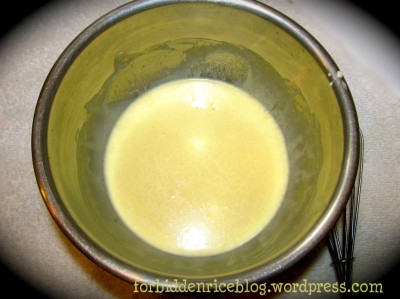 In a separate bowl, combine the flour, baking powder, baking soda, cinnamon, and salt. If you're using it, also add in the cocoa powder now. Mix thoroughly.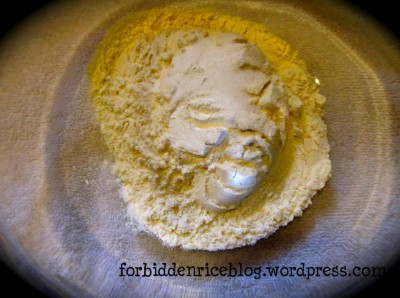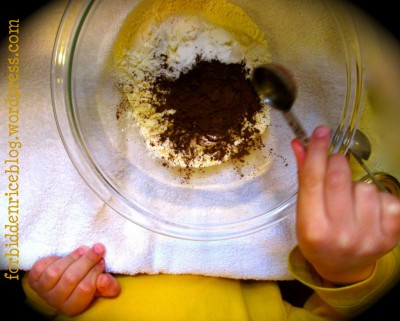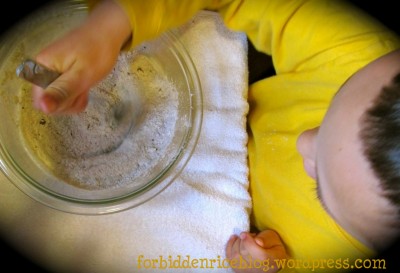 In a third bowl (I've tried to do this in various ways to use less dishes… however, for some reason the only way this recipe seems to turn out well for me is to use 3 separate bowls!) mash up your bananas. Gradually add the sugar into the banana mixture.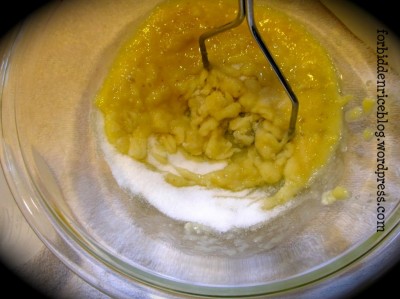 Add the egg mixture to the banana-sugar mixture and stir well.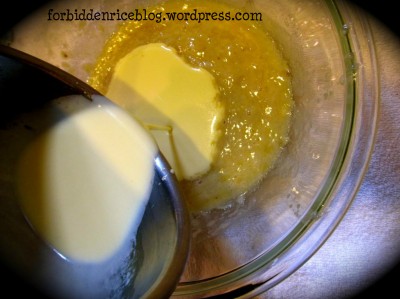 Slowly add the flour mixture to your wet ingredients
until they're well combined.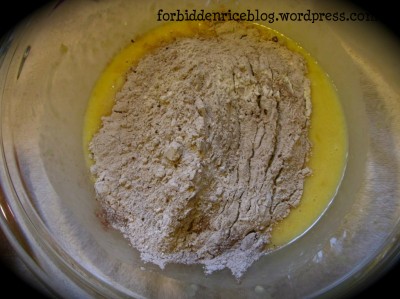 Get yourself a good taste-test. Especially if you're 5½ years old.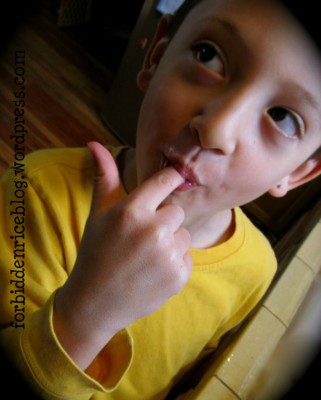 If the batter's delicious enough and you get your 5½ year old's permission,
stir in the chocolate chips and/or nuts if you're using them.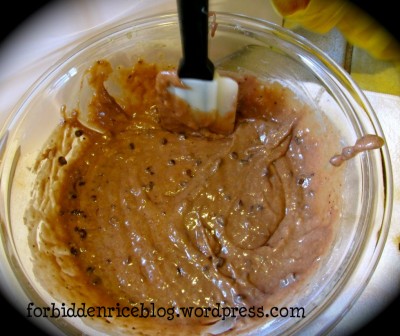 Pour into your prepared bread pan, or fill muffin cups about half-way full.
(I always over-fill my cupcake pans for some reason. Usually accidentally at first and then just to keep things orderly after I mess up.  Oops.)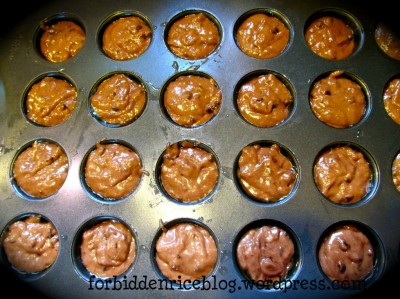 Bake for approximately 1 hour if doing a full sized loaf, or about 12 minutes for mini cupcakes. If the top starts getting too brown, lightly cover with a piece of foil and continue baking until a toothpick stuck in the center of the loaf comes out clean.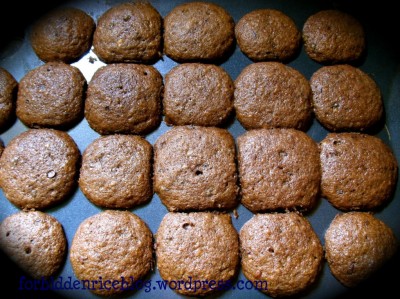 Enjoy.