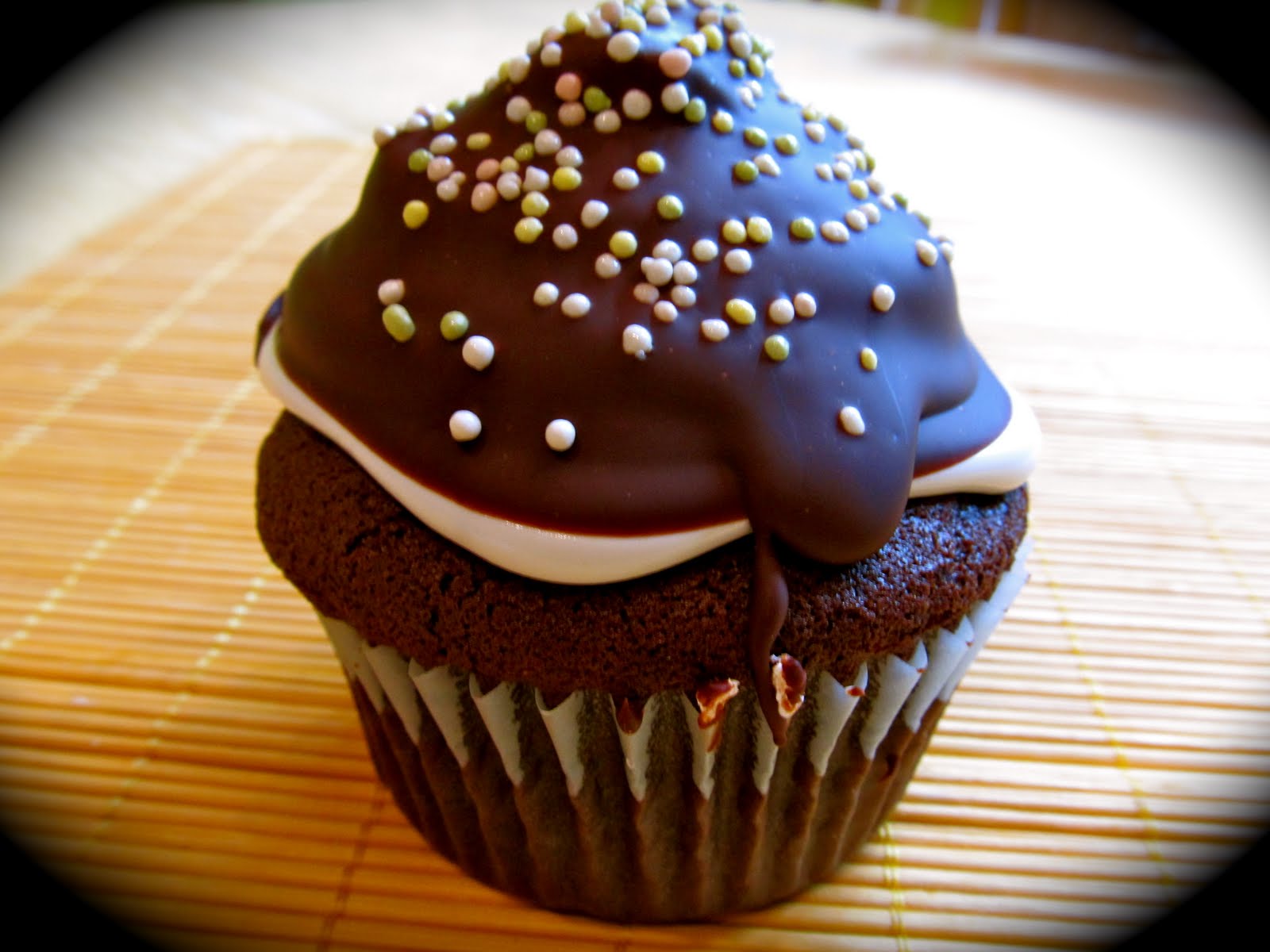 My sister recently told me she was glad my cooking skills got better, reminding me of a time I tried to cook a whole egg in the microwave, shell included. I don't remember this particular event, although thinking about even attempting such a ridiculous idea, I'm not sure how I could forget. Therefore I conclude she's making it up. Or she did it herself. This is the same sister, after all, who continuously told me I wasn't really part of the family: my parents had found me in an egg, somewhere in the local garbage dump, and brought me home to hatch. Sisters aren't the most reliable source for accurate memories regarding embarrassing experiences. : ) Haha
For as long as I can remember, baking has always been more of a challenge for me than any other cooking technique. My cooking skills have improved over the last few years. A lot. My baking skills… they've taken more time. I finally figured out how to bake a cupcake that looks like a cupcake is supposed to. Gasp! I am good at over-baking the outsides of things and leaving the centers raw.
Not only did these cupcakes turn out cupcake-LOOKING, they were moist and tender inside, the chocolate was tasty but not overbearing, the top was fun and messy to eat. While they did take more time than I planned on (mostly because I had an epic FAIL that will be noted further in this post), they're more than worth the effort.
Kid and adult tested and approved, test subjects ranging from age 5 to 68. : )

Chocolate High Top Cupcakes
Ingredients:
For the cupcakes:
6 tbsp. butter, brought to room temperature
1 cup sugar
2 eggs
1 cup flour
½ tsp. baking soda
¼ tsp. sea salt
½ cup unsweetened cocoa powder (I like Dagoba baking cacao)
¾ cup milk
1 tsp. pure vanilla extract
For the "High Top":
1½ tsp. egg replacer (powdered "egg") + 2 tbsp. water — OR 1 egg white
1½ cups ricemellow fluff (marshmallow creme can be used if you're into that)
2 cups confectioner's sugar
1 tsp. pure vanilla extract
½ tsp. cream of tartar
For the Chocolate Glaze:
1 cup chocolate chips (semi-sweet, milk, or dark depending on your preference)
1 tbsp. organic shortening
Directions:
Preheat the oven to 350ºF. Either grease 12 muffin cups, or line with paper liners, and set aside.
In the bowl of your mixer, beat the butter and sugar together until light and fluffy. Beat in the eggs until well incorporated and the mixture is creamy and light.
In a separate bowl, combine the flour, baking soda, salt, and cocoa powder. Mix well.
Alternate the dry ingredients and milk into the butter/sugar mixture, until all the ingredients are well incorporated.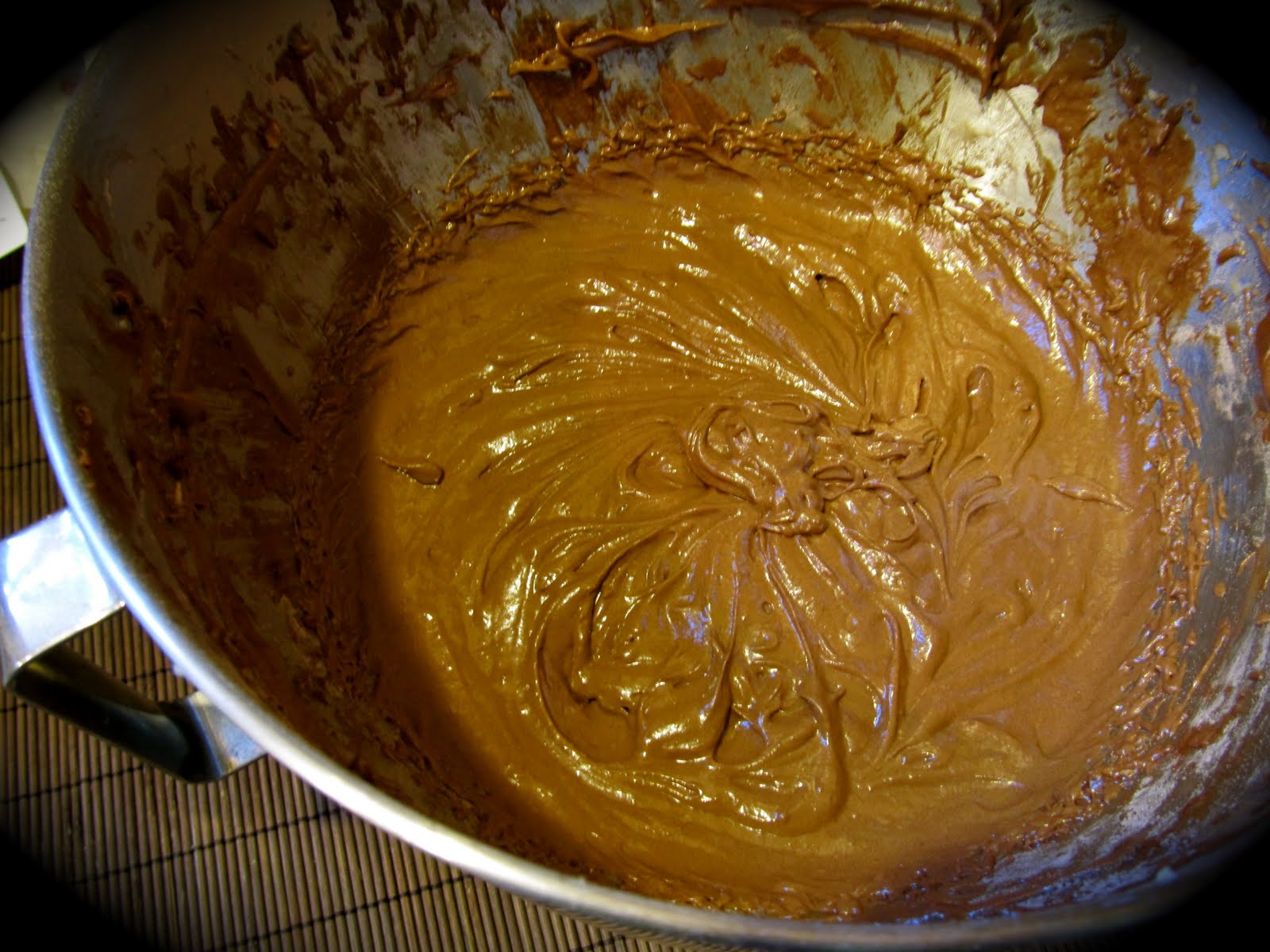 Fill the muffin liners about 2/3 of the way full. Bake for about 25 minutes. (I check 'em at 20 minutes, just in case.) A toothpick inserted into the middle of each cupcake should come out clean or with a few dry crumbs on it. Allow the cupcakes to cool completely before proceeding.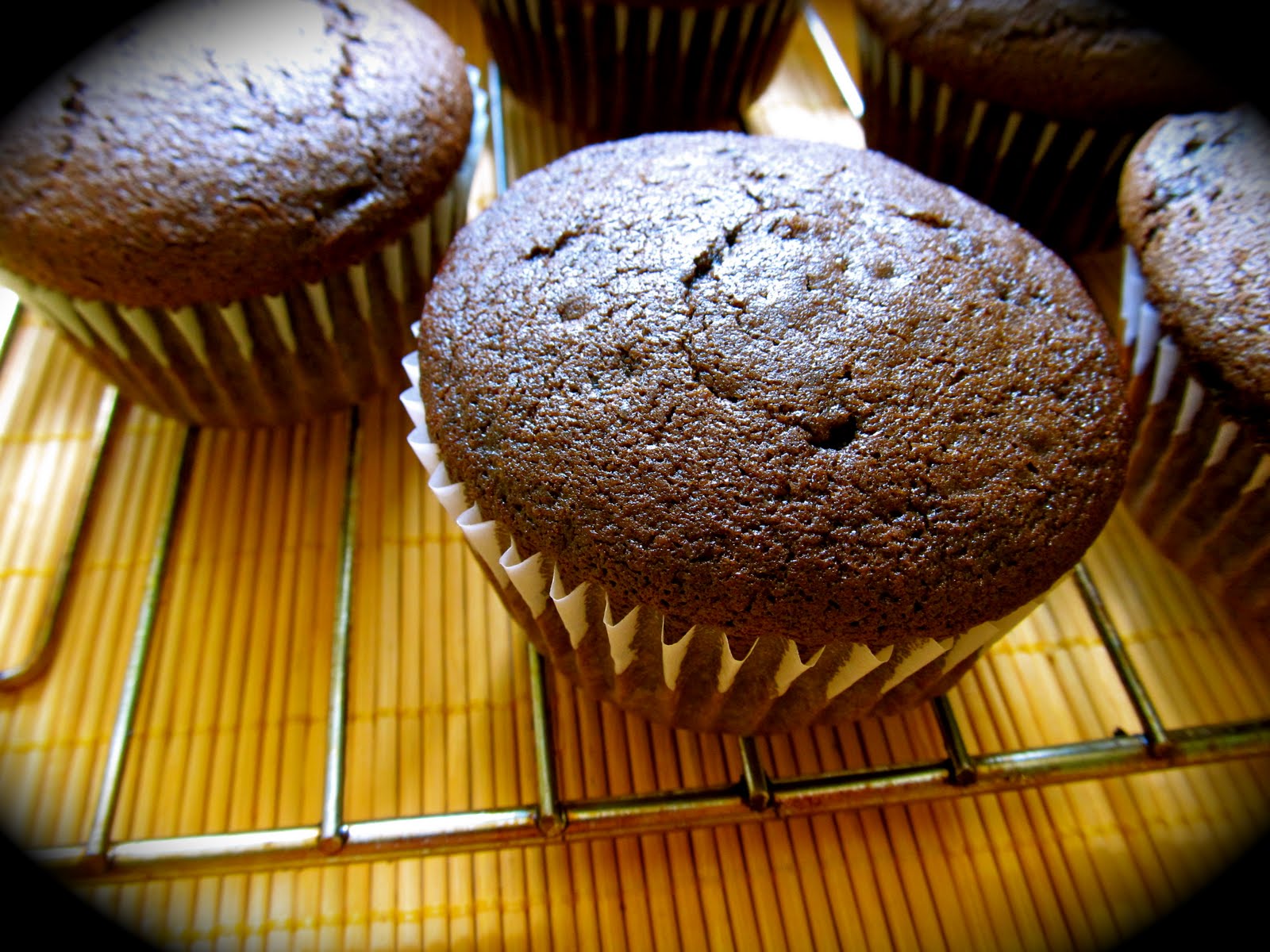 While the cupcakes are cooling, prepare the high top mixture.
In the bowl of your mixer (clean and wiped free of any moisture), beat the egg replacer and water or egg white until stiff white peaks form. Beat in the ricemellow fluff and vanilla extract on high power, until the mixture is white and glossy looking (about 1-2 minutes).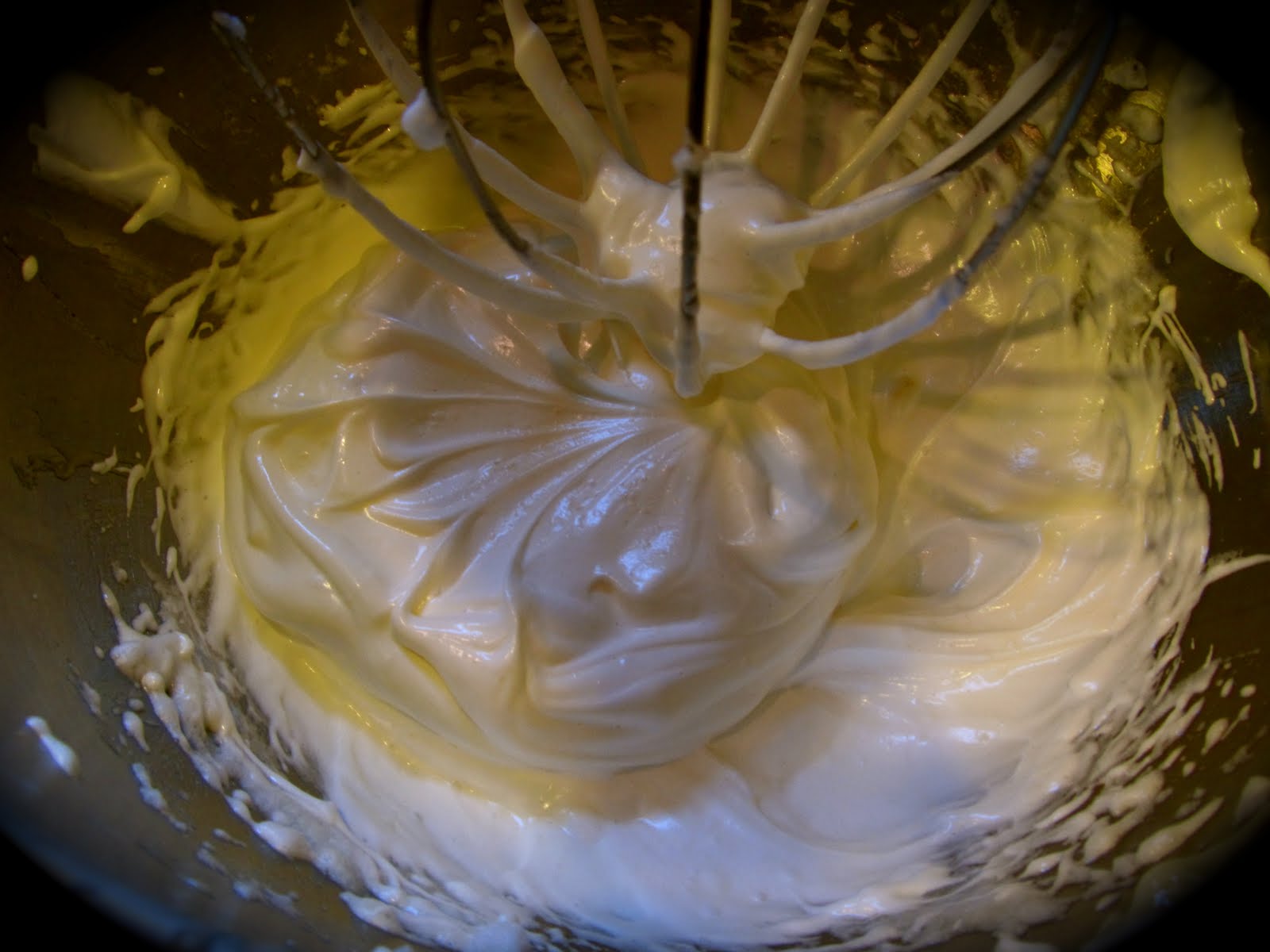 Next, add in the confectioner's sugar about half a cup at a time, making sure each new addition is well mixed in. Add in the cream of tartar and beat the mixture on HIGH until stiff peaks appear. This will take about 10 – 15 minutes of beating on high power. The mixture should be able to stick to a wooden spoon like this, without moving: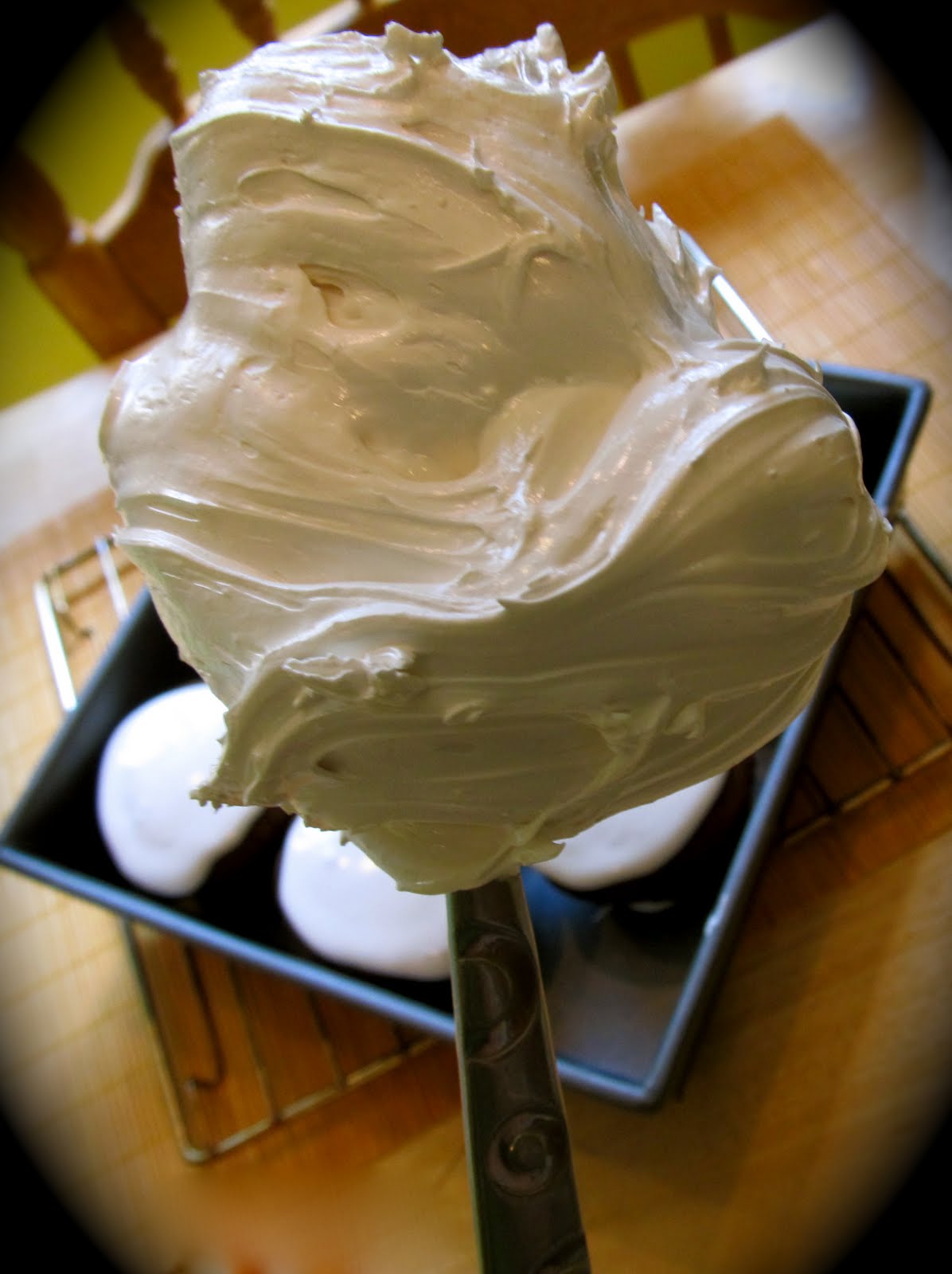 That is where my epic fail happened. I thought the ricemallow mixture was good to go when it started looking thick, as if when applied to the cupcakes with a pastry bag, nice high tops would be easy to make. I had beat the mixture for about 2 minutes. This was the result: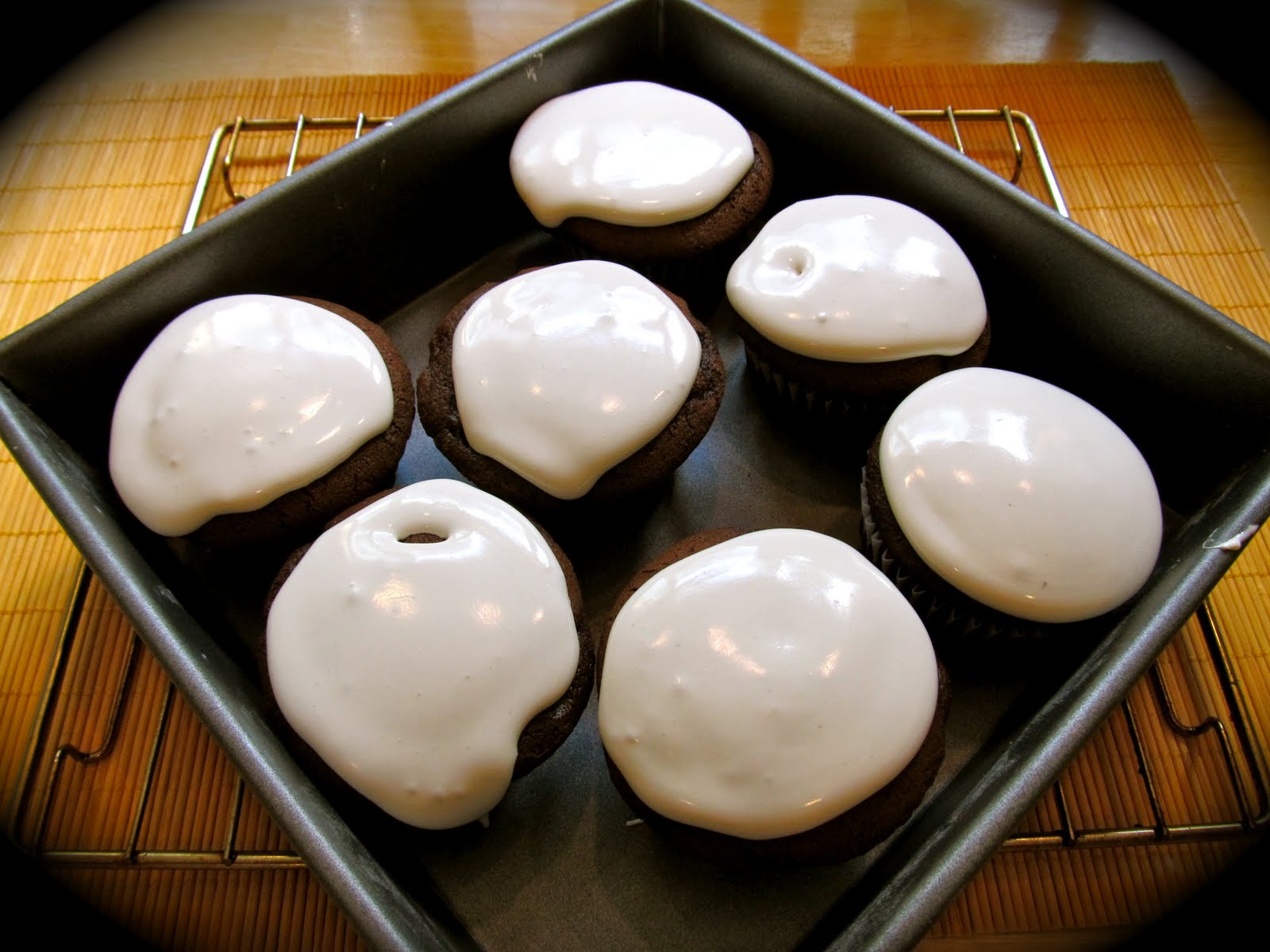 Each pretty fluffy layer I made simply disintegrated into itself, turning into a thick, sticky, puddle. Don't worry, I fixed it, by sticking the puddle-top cakes into the fridge to set (about 5-10 minutes) while I re-beat the remaining 'mallow mixture to full stiff-peakness.
Fill the fully-ready ricemallow mixture into a pastry bag or a ziploc bag with one corner snipped off, and pipe the "hats" onto each cupcake, trying to get them anywhere from 3 to 4 inches tall.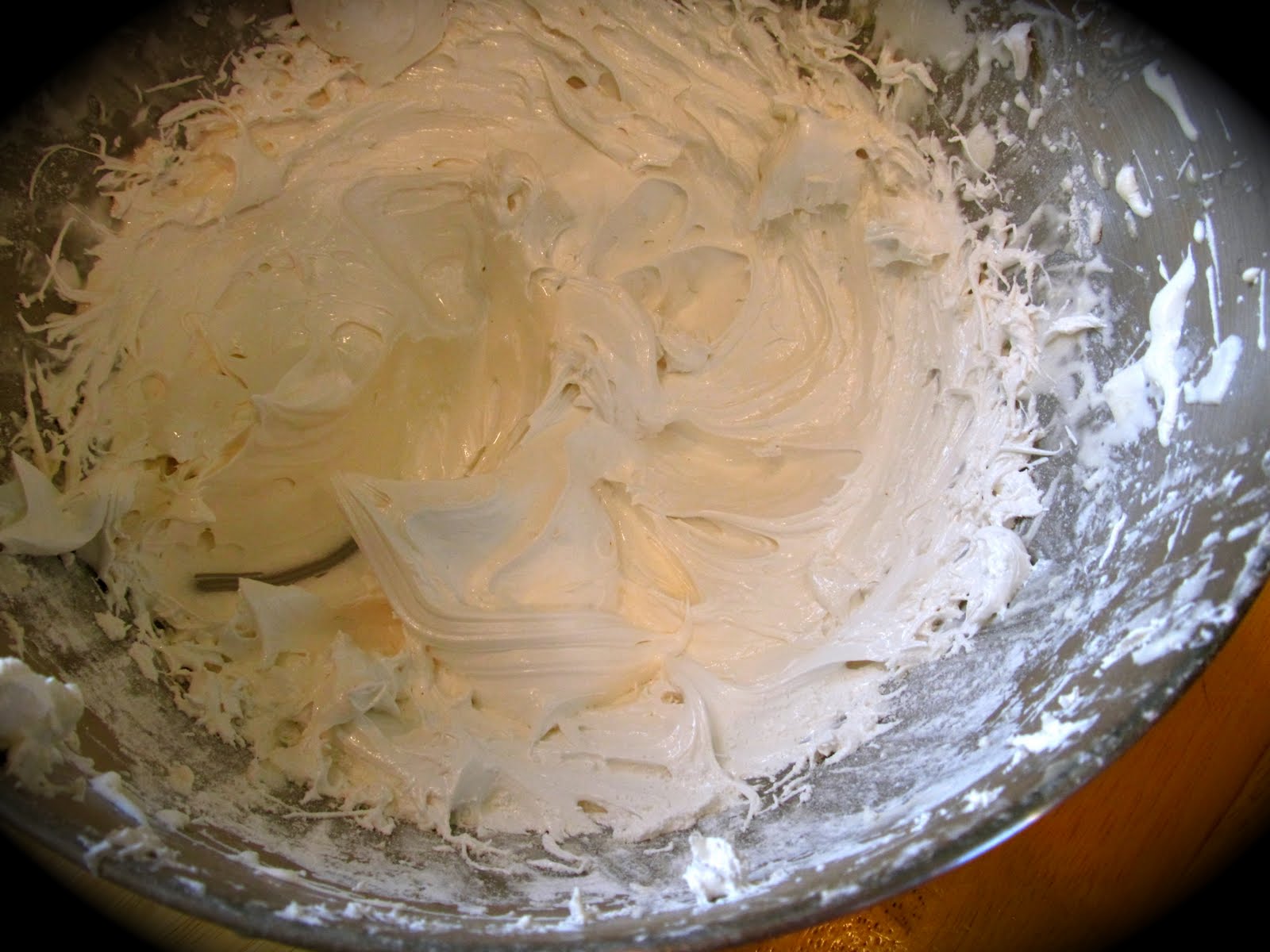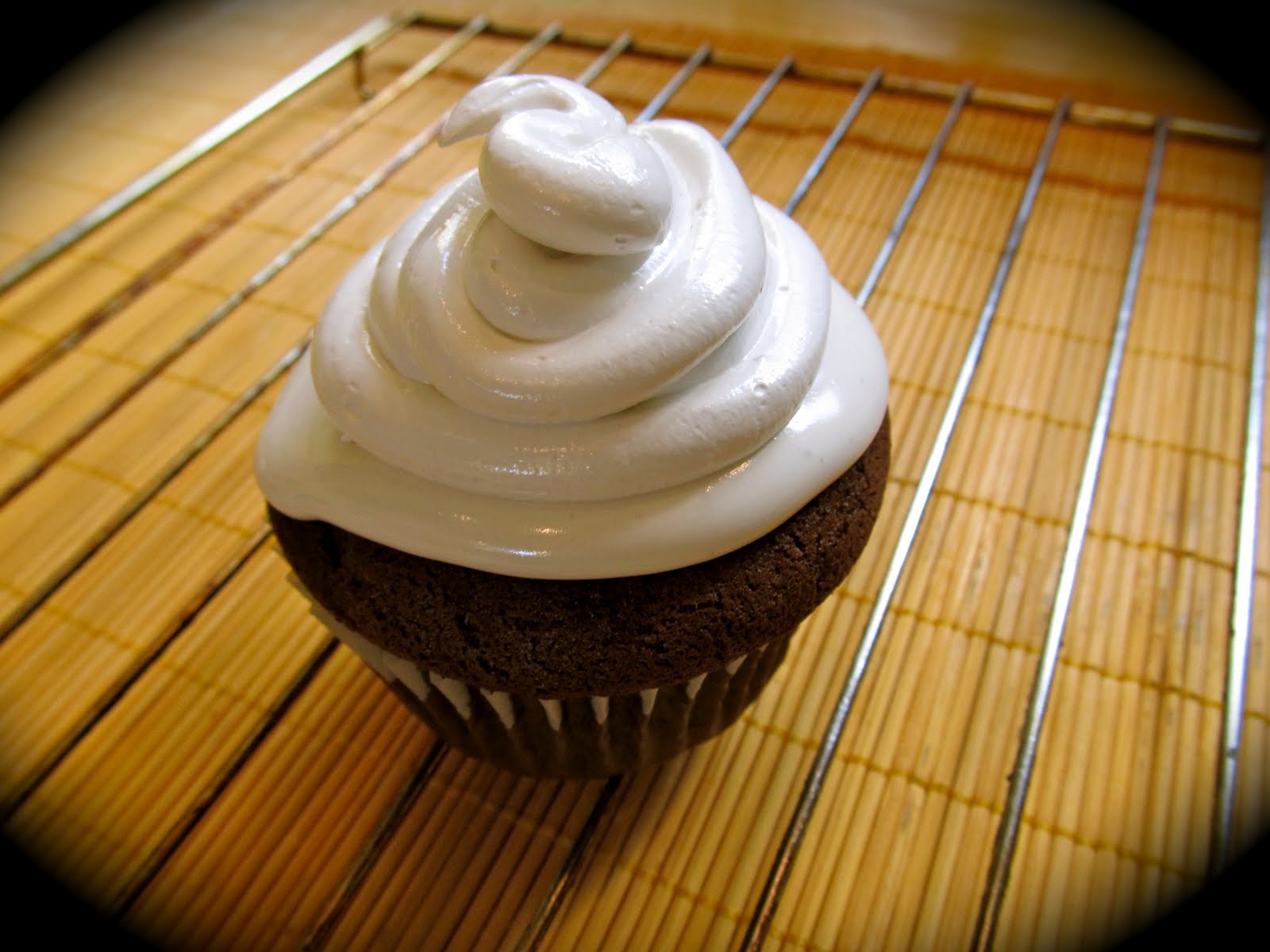 Allow the high topped cupcakes to set in the refrigerator for at least 30 minutes to an hour.
While the ricemallow top is setting, prepare the chocolate glaze. Melt the chocolate chips and shortening in a double broiler, stirring consistently until the mixture is completely smooth. Allow the chocolate to cool completely. If you try to glaze the cupcakes while the chocolate's still warm or hot, the ricemallow top will simply melt off.
Once the cupcakes are set and the chocolate's cool, dunk each cupcake top. (This works well if you pour the chocolate into a drinking glass that's wide enough to dunk the whole cupcake top.)
You can add sprinkles, coconut flakes, etc. for decoration while the chocolate is still wet.
Place the chocolate-dipped cupcakes in the fridge for 10-15 minutes to set.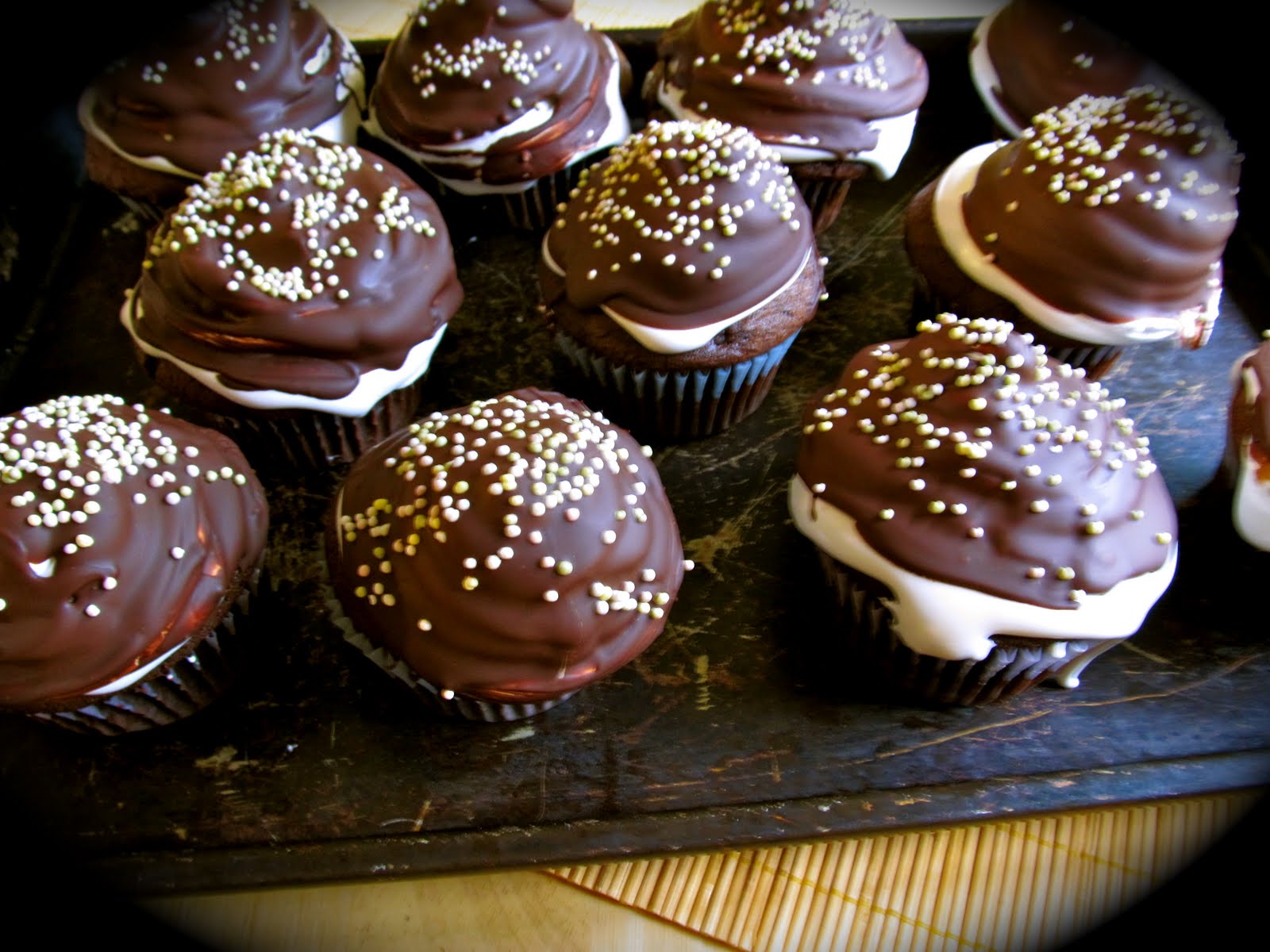 Makes approximately 12 cupcakes.
* *There is no way to gracefully or neatly eat these. Get messy. It's part of the fun.

Please follow and like us: