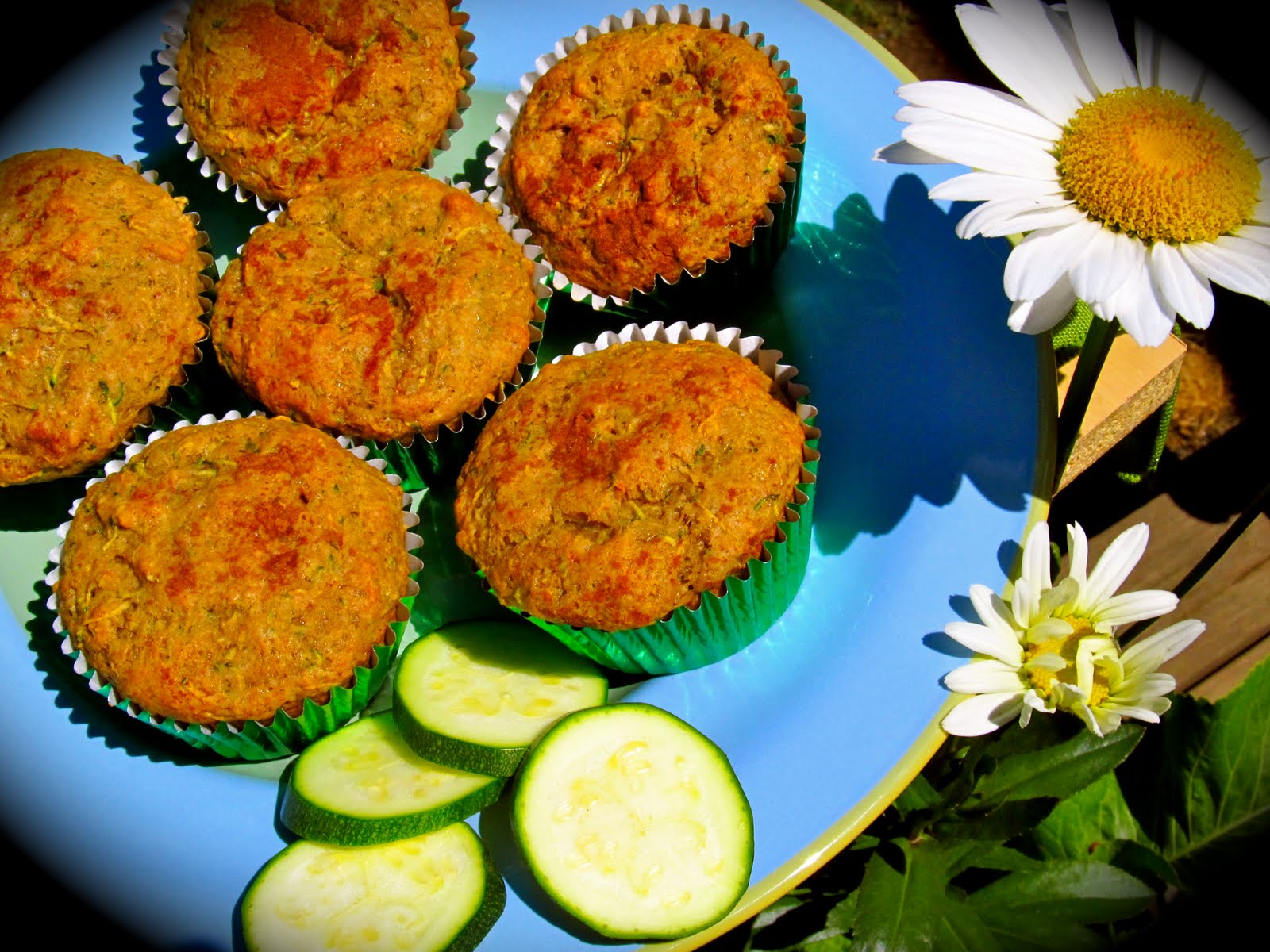 We've been gone off and on this month, traveling here and there… We got back from Crawford Bay, B.C. on Monday and I've yet to go grocery shopping. Needless to say, the refrigerator is down to its bare bone self — no milk, eggs, coffee, flour, etc. OY. We're leaving town again Friday and don't want to stock up on things that won't get used in the next two days.
This morning I noticed I had barely a cup of flour, some zucchini needing to be eaten, and some hungry children in the house. I found a recipe online for dairy free zucchini muffins and thought well, maybe I can tweak this with the minimal ingredients I do have… The following recipe is the result of that. 6 year old Silas ate a couple of them, regardless of his apprehension about the little green specks that must be something healthy… and 12 year old Vincent wanted nothing to do with the muffins after one bite. (At least he tried it.)
I had no applesauce, just apple butter. I've never used either as a replacement for eggs, although I've read numerous times that you can do so… well, using applesauce that is. I cut the original sugar content down to nearly half. The Mister said the results were tasty — I liked them, too.
Zucchini Muffins
egg and dairy free
Ingredients:
1¼ cup all-purpose flour
1 tsp. baking powder
scant ¼ tsp. baking soda
¼ tsp. ground cinnamon
pinch of salt
1 cup finely grated zucchini
3 tbsp. applesauce OR apple butter
3 tbsp. oil (I like grape seed or sunflower oil)
½ cup sugar
ground cinnamon
Directions:
Preheat oven to 350º F. Grease or line 6 regular sized muffin tins.
In a medium sized bowl, combine the first five ingredients. In another bowl, combine the zucchini, applesauce/apple butter, sugar, and oil. Add the wet ingredients to the dry, stirring until well mixed.
Spoon the mixture into each muffin tin, until they're about 3/4 full. Sprinkle the tops lightly with ground cinnamon.
Bake the muffins for approximately 22-25 minutes, until a toothpick inserted in the center comes out clean and the top is lightly browned.
Yields approximately 6 muffins.