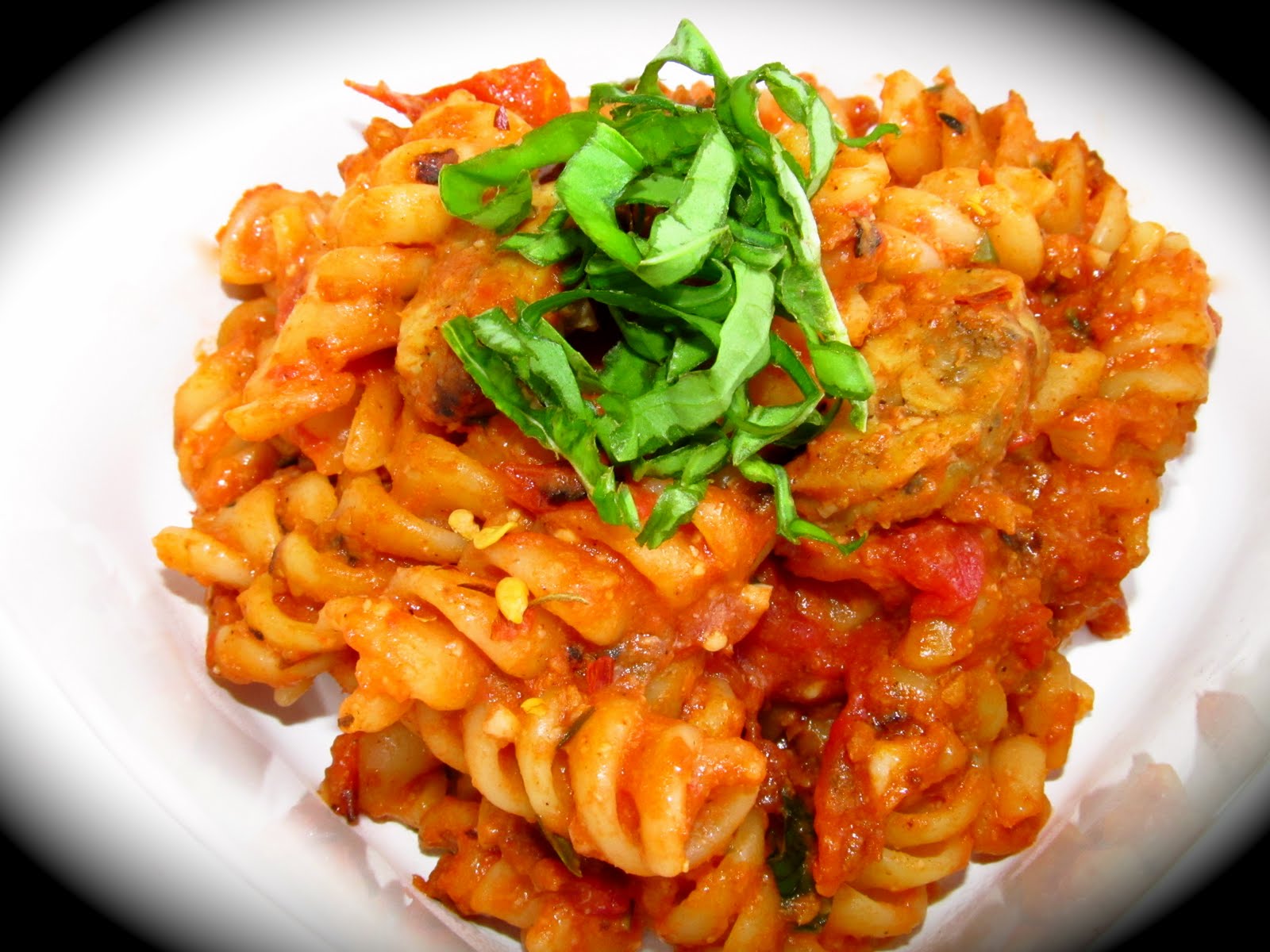 I think I could easily eat pasta once a day. Unfortunately, Craig probably isn't too keen on that idea. I've learned that if I tell him I'm making some kind of pasta, he doesn't usually think that's a tasty-sounding, appetizing, meal idea. So! I don't say a word when I start cooking up some pasta-related dinner. I just start cooking. Only because 99% of the time, he loves the outcome (or says he does, haha). So that's how this recipe came into being last night… Dun-dun-dunnnnn!
There's a bar/restaurant in town The Mister used to play music at weekly. We'd have dinner there and nearly every week I'd order the same thing: a pasta dish with a basic ingredient list of any pasta on hand, fresh basil, tomatoes, parmesan cheese, lots of garlic, cream, red chili flakes, chorizo or andouille sausage, chicken, and prawns. Some nights it was absolutely dynamite. Many other times it was so-so. On occasion I wished I had simply cooked something at home. It got to the point where I could tell who was working in the kitchen, simply based on the deliciousness of my pasta. I started playing with various ingredients and recipes at home, trying to get close to how the dish was prepared on nights I finished every bite. I've gotten my own recipe down to my liking — minus the chicken, sausage, and prawns, as I don't cook meat (aside from seafood) at home.
Last night I decided to try an alternative version, using Soyrizo I had in the fridge and tempeh in place of chicken. I was pleasantly surprised and really liked the outcome! Craig did, too–I think the tempeh was his favorite part. For someone who has taken a number of years to really enjoy eating tempeh, I think it was one of my favorite parts, too…
Fusilli with Spicy Tomato Garlic Basil Sauce, Soyrizo, and Tempeh "Chicken"
Ingredients:
½ pound fusilli
7 oz. Soyrizo (1 El Burrito link, cut in rounds)** see note
2 oz. tempeh, cut into small cubes
14.5 oz. can fire roasted crushed tomatoes
½ cup fresh basil, chopped
5–7 cloves of garlic, minced fine
¼ cup grated parmesan cheese (not shredded)
2 tbsp. heavy cream
1 tsp. poultry seasoning
½ – 1 tsp. red chili pepper flakes
½ tsp. granulated garlic
¼ tsp. dried thyme
¼ tsp. dried sage
sea salt, to taste
fresh ground pepper (lots- but to your own taste)
olive oil
Directions:
First of all, heat a medium sized cast iron pan over high heat. If using a nonstick/steel pan, heat a small amount of oil over high heat. Add the Soyrizo rounds and cook until nicely browned. Flip over and brown the other side. Transfer the browned Soyrizo to plate and set aside.
Place the tempeh in a small pot and fill with enough water to cover the cubes by about ½ an inch. Bring to a low boil for about 10 minutes. Strain and set aside.
Heat about 1 – 2 tbsp. olive oil over medium – high heat. Add the tempeh. Sprinkle in the poultry seasoning, granulated garlic, dried thyme, sage, some salt and pepper. Toss to coat. Allow the tempeh to turn a golden brown on each side. Drain the cubes on paper towels and set aside.
Begin cooking the fusilli pasta according to the package's directions.
While the pasta is cooking, bring about 2 tbsp. olive oil to medium – high heat in a skillet. (I used the same pan I cooked the Soyrizo in.) Add in the garlic and chili pepper flakes. Stir constantly for about 1 minute, making sure not to burn the garlic. Stir in about half of the basil and all of the tomatoes. Stir and allow to simmer for about 5 minutes. Stir in the heavy cream and parmesan cheese, until completely incorporated. If the sauce is too thick, add in a little bit of the water you cooked the pasta in.
Taste the sauce and add salt and pepper to your desire. Gently stir in the Soyrizo. Fold in the cooked (and drained) pasta and remaining basil. Gently fold in the tempeh. Turn the heat up to high for about 1 minute, stirring the pasta to coat.
Serve immediately.
Serves 2 people very generously, or 3–4 people.
** It's likely that when cutting the Soyrizo, it'll either 1. mash up into a lumpy red pile 2. fall apart completely or 3. basically not turn out how you want, while trying to cut it into nice round shapes. This is okay! Cut it into rounds about ¼" thick – if it does any of the above three things, just re-shape it with your fingers. It's pretty forgiving. (: