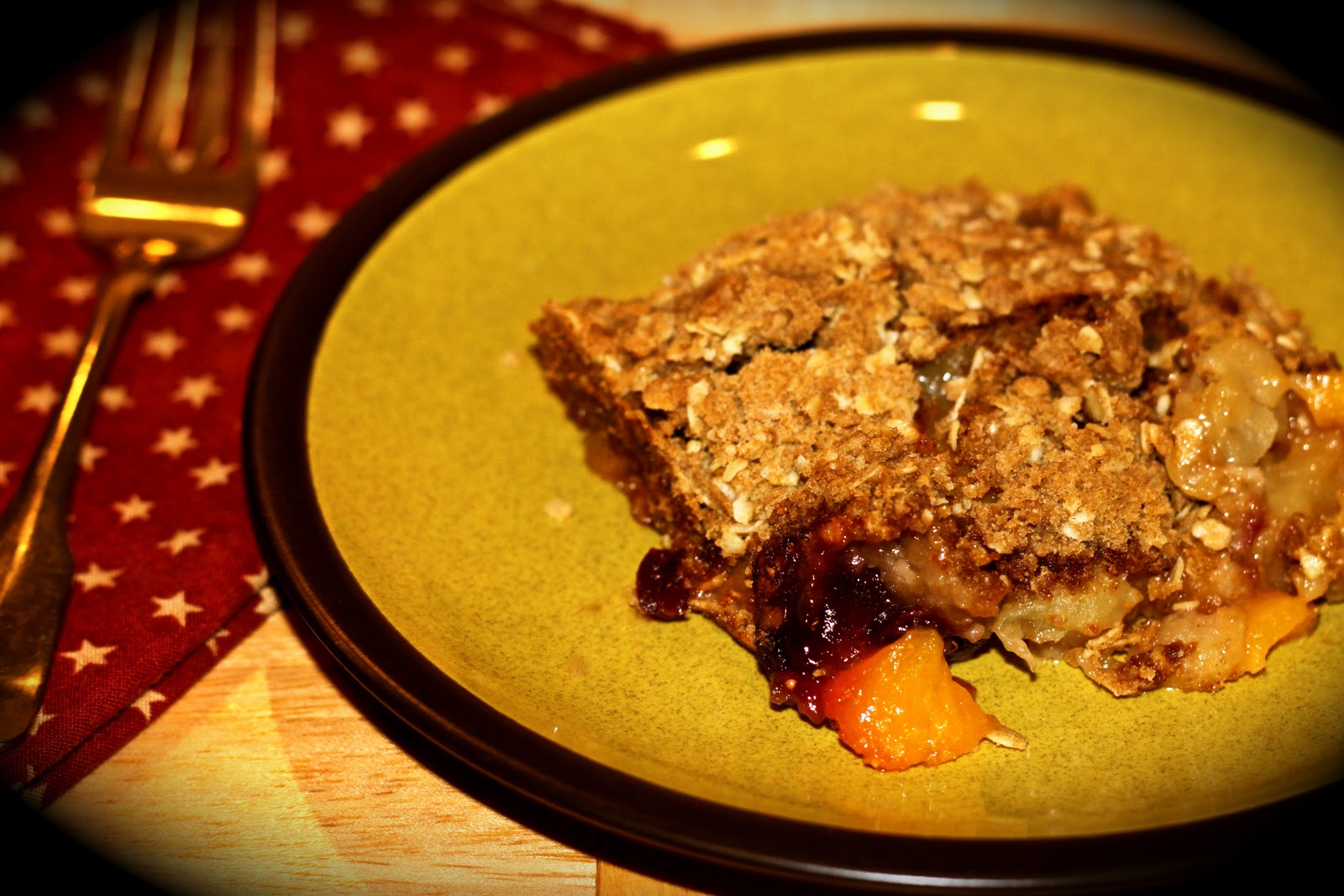 What do you do when the majority of your fruit bowl is nearing an inevitable dump to the compost pile? You scrounge up the good parts of each piece of fruit and make a fruit crisp, of course!
Anytime I've attempted fruit crisp of any sort before, I've always ended up with a dough-like topping that isn't quite what I intended. (Good tasting, but not "loosely crisp" enough.) This topping came out great and better than I anticipated.
I wasn't sure about adding figs to the fruit mixture, as their seeds are an interesting texture to add into a crisp. However, they worked out quite well and added a sweetness to the fruit mixture that I hadn't expected. One of the benefits of using super ripe fruit is they release a ton(!) of natural sweet juices. Combined with just a little bit of sugar and cinnamon, this works brilliantly for the crisp's filling.

Mixed Fruit Crisp

Ingredients:
For the Filling:
2 Golden Delicious (or 1 Granny Smith and 1 other sweet apple), skinned and diced into bite-size chunks
1 pear, skinned and diced into bite-sized pieces
3 plums, skinned and diced into bite-sized pieces
4 figs, diced into bite-sized pieces
2 tbsp. dried cranberries
1-2 tsp. cane sugar
¼ tsp. ground cinnamon

For the Topping:
1¼ cups quick oats
1¼ cups packed light brown sugar
1¼ cups all-purpose flour
½ tsp. ground cinnamon
scant ½ tsp. baking powder
scant ½ tsp. baking soda
pinch of salt
+6 tbsp. butter, cold and cut into small pieces
Directions:

Prepare the topping:
In a medium bowl, combine the oats, brown sugar, flour, cinnamon, baking powder, baking soda and salt. Mix thoroughly. (At this point, you can pour the mixture into a freezer-safe bag and store until needed.)
You need 2 cups of the mixture for this recipe. (The remaining mix can be saved up to a year in the freezer or fridge.) Cut 6 tbsp. of cold butter into the 2 cups of oat/sugar mixture. Set aside.
Prepare the rest of the fruit crisp:
Preheat the oven to 350° F and generously butter a 9×9 inch pan.
In a medium sized bowl, combine the diced fruit, dried cranberries, sugar and cinnamon. Carefully mix all of the ingredients.
Add a handful (about ¼ cup) of oat-topping into the fruit and stir to combine. Pour the fruit mixture into your prepared pan.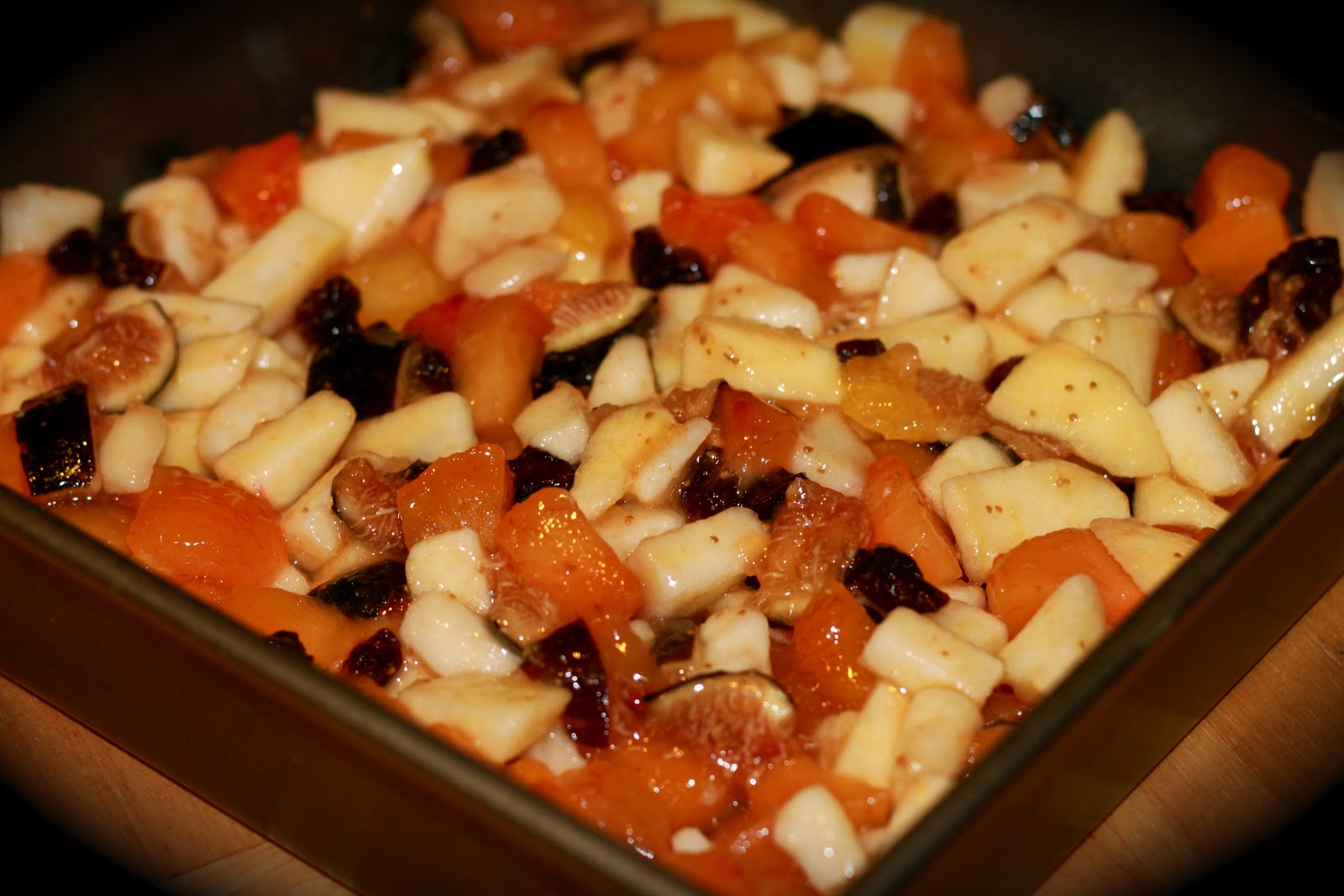 Evenly distribute the remaining oat-topping.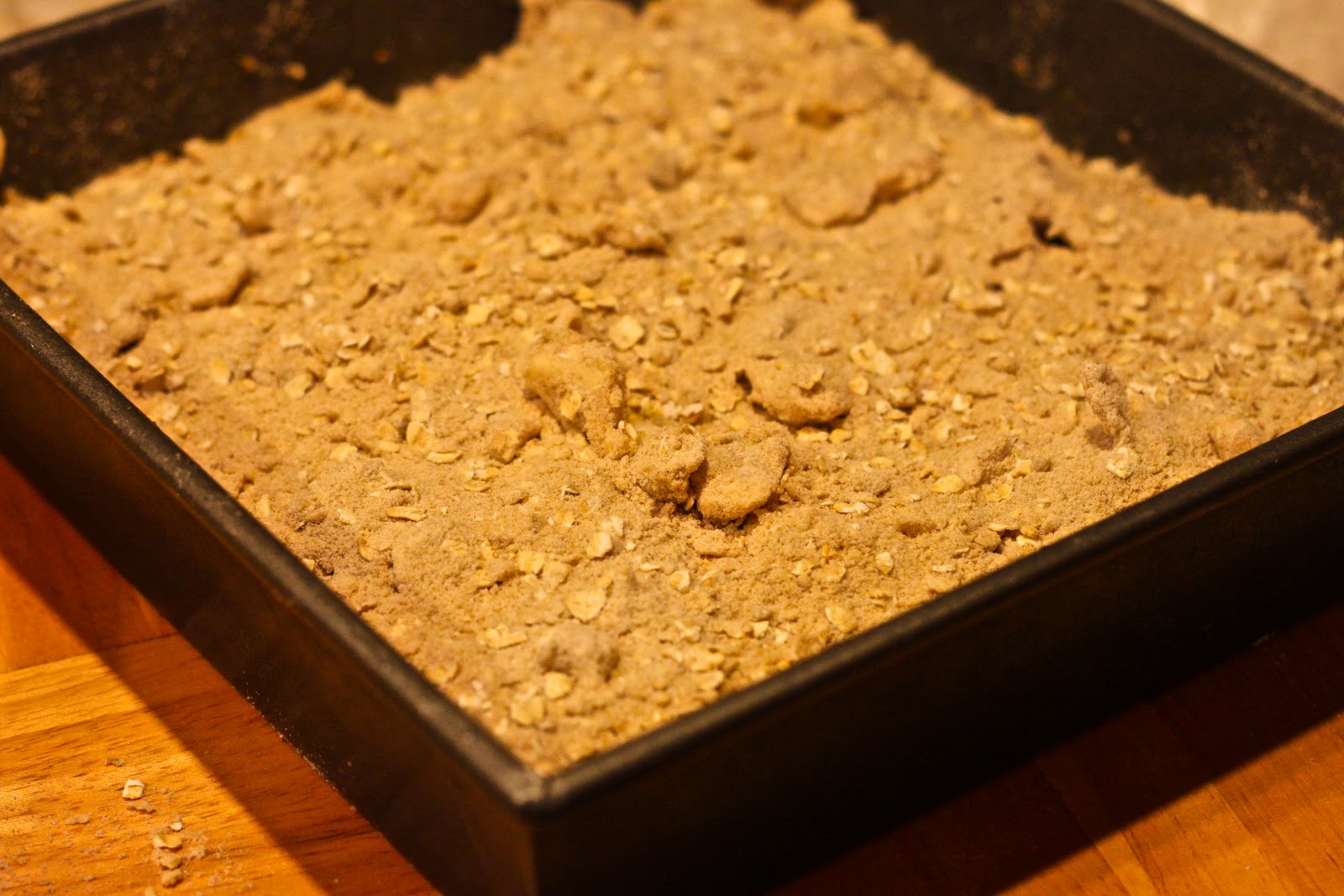 Bake for 35 – 40 minutes, until the top is golden brown.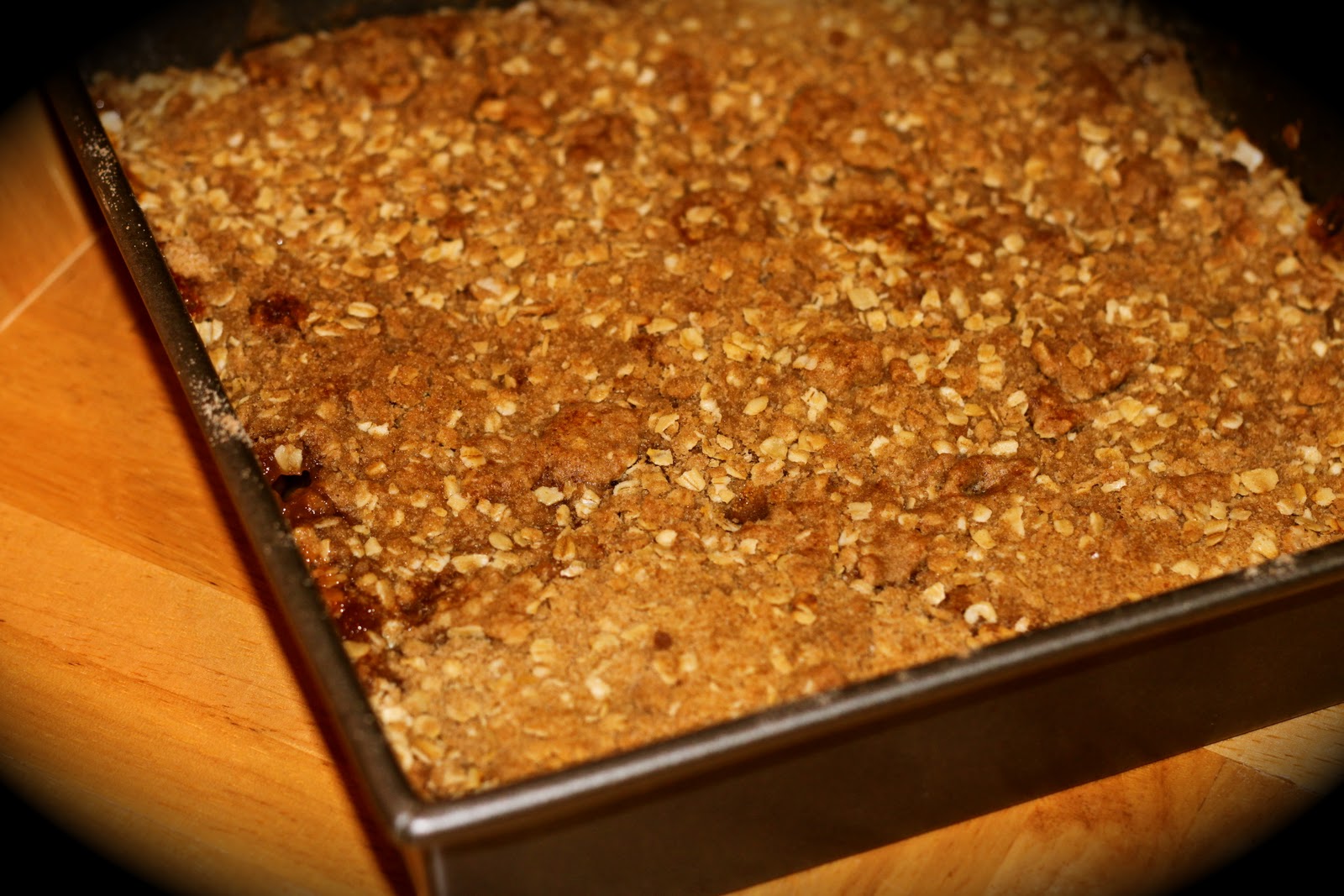 Allow this fruit crisp to cool for 5 – 10 minutes before serving.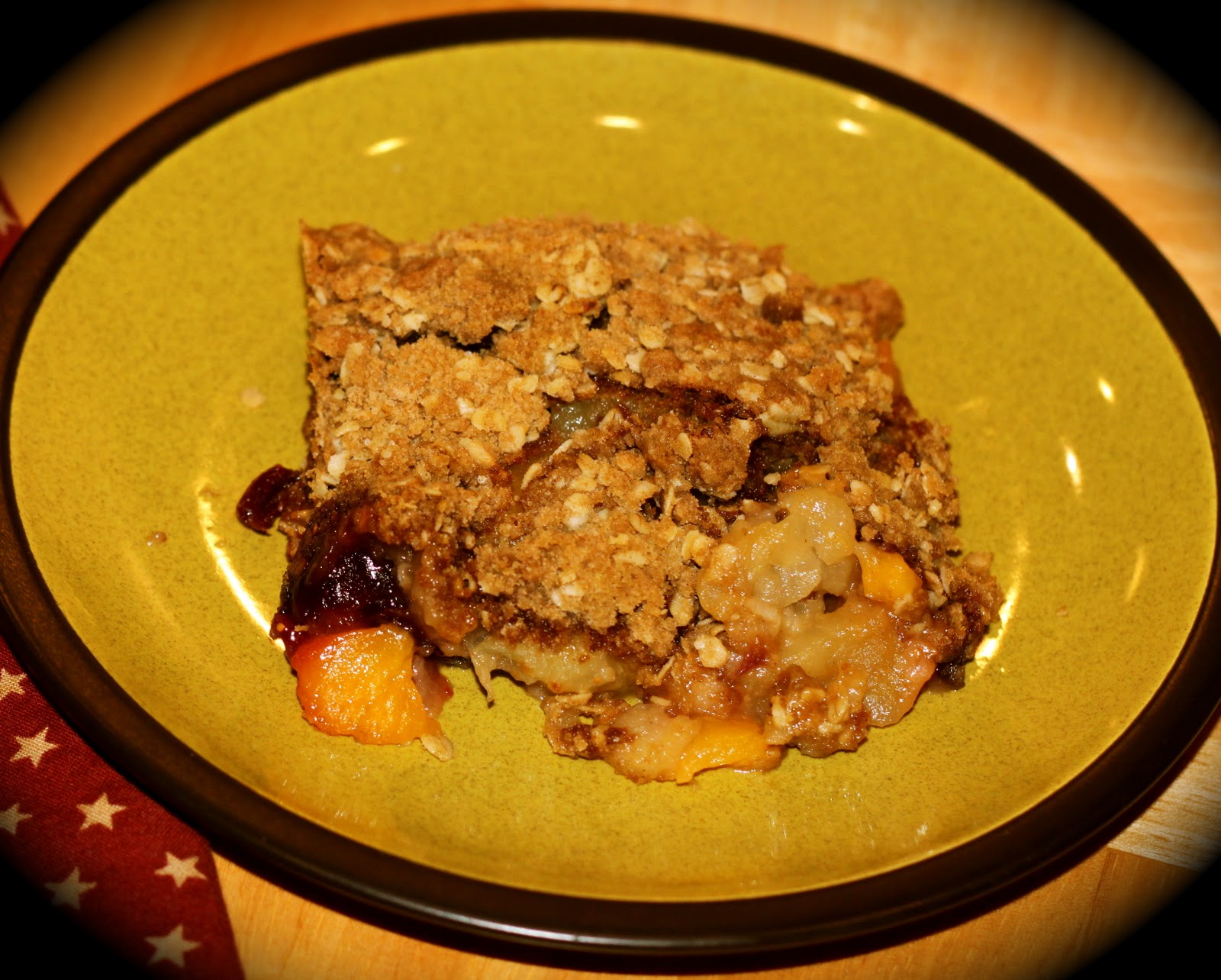 Enjoy!