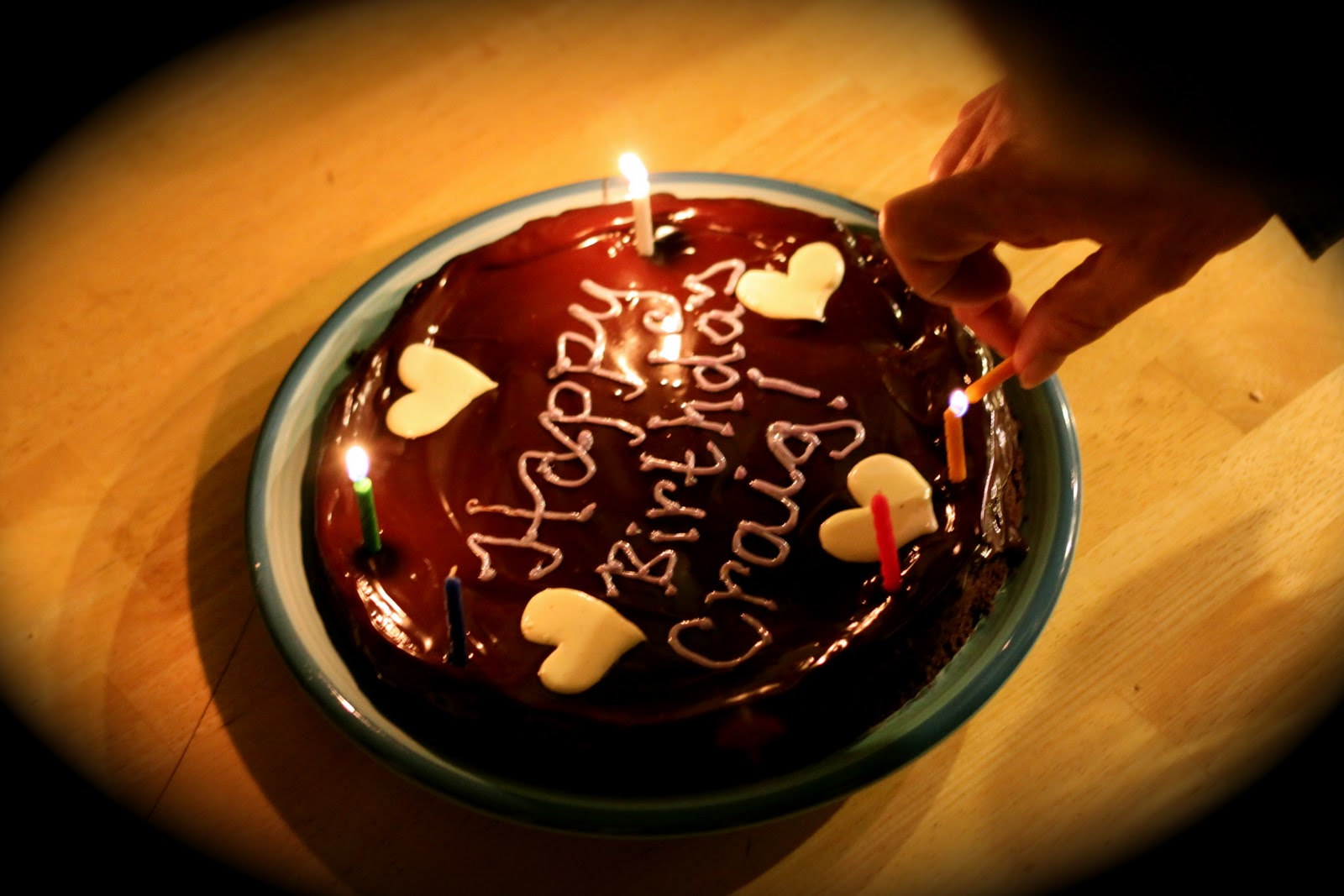 This gluten-free learning has been an interesting challenge. Tuesday was Craig's birthday and I realized that in order for me to bake a cake, it would either involve using different flours and ingredients than I've used before, or I could go with a flourless cake. The latter option seemed more likely to create less room for screwing up the birthday cake. So that's the route I went. (While I'm pretty excited about trying new flours and experimenting in that way, I haven't done so yet…)
Turns out a flour-less chocolate cake is perhaps one of the easiest cakes to make. Plus it's an amazingly delicious, dense, rich, chocolatey concoction! Craig's request was a warm cake with warm ganache. This particular cake can be made a day in advance and refrigerated. I actually prefer it cold, but warmed it up in the oven per C's request.
Ganache is simple, but also very rich. Paired with this cake, you'll surely die an (enjoyable) chocolate-overdosed death. Luckily you'll enjoy every bite on the way there.
Flourless Chocolate Cake

Ingredients:
2 sticks butter, cubed
8 oz. (about 1½ cups) semi-sweet chocolate chips
1¼ cups granulated sugar
1 cup unsweetened cocoa powder
6 eggs
Directions:
Preheat the oven to 350° F. Grease a 10-inch springform pan, then wrap the outside with aluminum foil.
In a double broiler, combine the cubed butter and chocolate chips. Stir continuously until the chocolate and butter are both completely melted. Remove from heat and allow the mixture to cool while preparing the rest of the batter.
In a large bowl, combine the granulated sugar and cocoa powder. Whisk until well incorporated into one another. Whisk in the eggs, one at a time. Stir the melted chocolate/butter mixture into the dry ingredients. Stir until everything is completely combined. Pour into your prepared 10-inch springform pan.  On the lower rack of your oven, place a small pan of water (1-2 inches in depth).
Bake the cake on the middle rack of your oven for approximately 45 minutes, until a toothpick comes out clean (or with a couple dry crumbs) when poked into the center of the cake.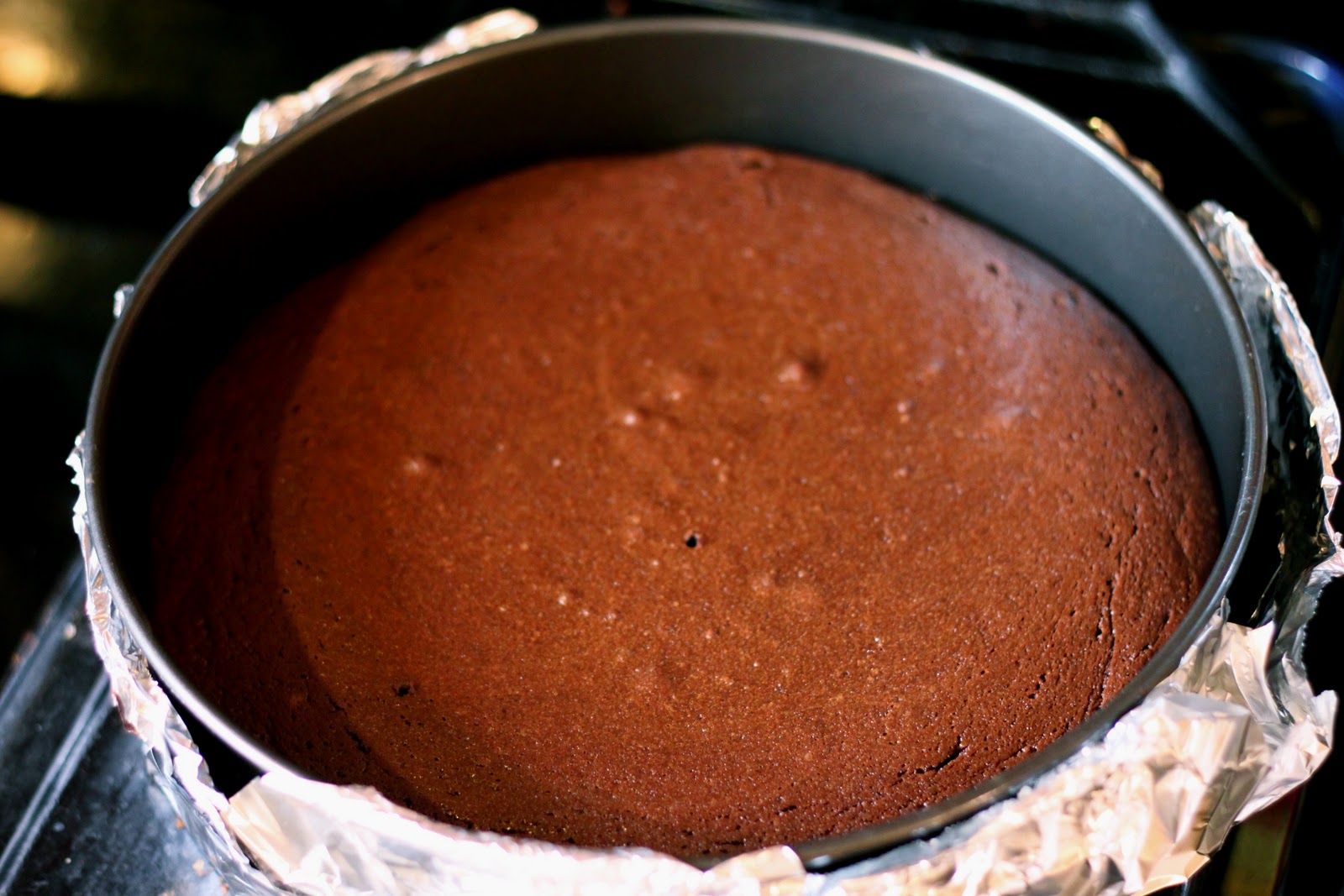 Allow the cake to cool in the pan for 15 minutes, then run a knife along the edges before loosening the springform pan. Place on a large plate or serving dish.
To prepare the ganache:
Ingredients:
9 oz. bittersweet chocolate chips
1 cup heavy cream

Directions:
Pour the chocolate chips into a medium-sized glass bowl.
Pour the cream into a small saucepan and bring to just under boiling, over medium-high heat. Pour the heated cream over the chocolate chips. Whisk continuously until all the chocolate is melted and the ingredients are completely combined (1-2 minutes).
Allow the ganache to cool slightly before pouring on top of the cake. Generously spoon the ganache over the cake, starting at the center.  (You probably won't use it all!)