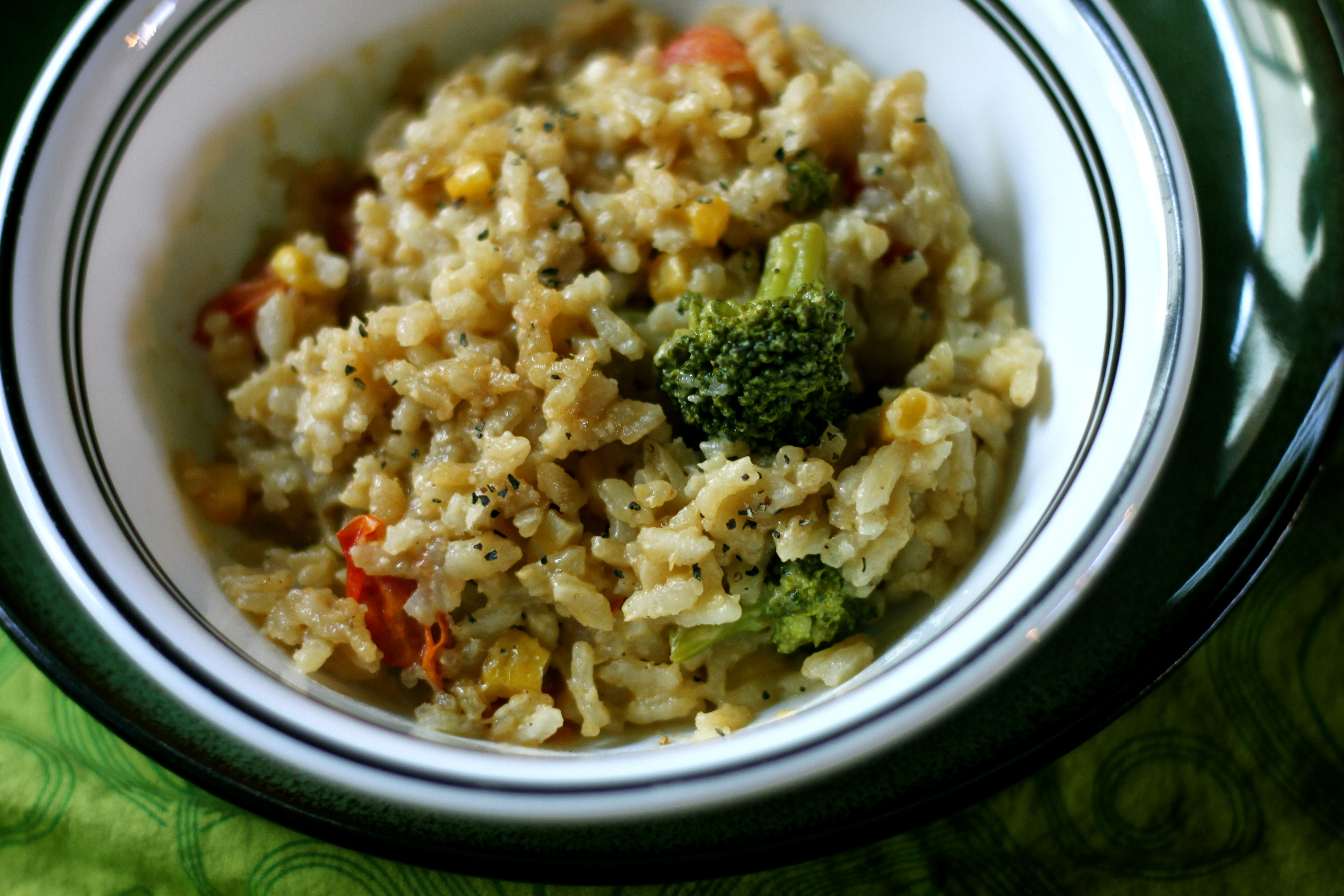 Sometimes coming up with a last minute meal is my favorite way to cook. It's those unplanned meals that seem to lend more room for spontaneous creativity in the kitchen that I don't always make room for otherwise. At times I will throw together things that are already in the fridge and pantry. Other times I'll simply grocery shop for what's on sale. Last night I wandered through the grocery store, completely unsure of what to make for the husband, myself, and our current house guest. I noticed fresh organic broccoli and grape tomatoes on sale, then raw sharp white cheddar, and decided to go with a risotto incorporating these ingredients.
My last risotto attempt ended in a miserable mushy fail (which we ate anyway, because despite its consistency, it actually tasted quite good). I'm realizing the trick to good risotto is stirring constantly and really following the directions of adding your liquid in little amounts at a time, until it's absorbed completely. Seeing as I haven't been to the gym in over a week and a half, the arm workout was welcomed this time around!
Cheesy Veggie Risotto
Makes enough for 2 hungry grown men and 1 petite hungry lady
Ingredients:
2 cups Arborio rice
6 cups No Chicken Broth (or vegetable broth), warmed
½ of a medium onion, diced
1 ½ cup fresh broccoli florets, previously blanched in water
1 cup grape tomatoes, halved
1 cup sweet corn (frozen is okay, thawed)
4-5 cloves garlic, minced
2 tbsp. heavy cream
1 ½ cup shredded sharp white cheddar cheese
¼ cup grated parmesan cheese
½ tsp. granulated garlic
2 tbsp. olive oil
2 tbsp. unsalted butter
salt and pepper, to your taste
Directions:
In a large saucepan or pot, melt the butter and oil together over medium-high heat. Once melted, add the onion. Stir until the onion becomes translucent (about 10 minutes). Add in the minced garlic and Arborio rice. Toast the rice, stirring constantly to keep it from burning, for about 10 – 15 minutes. You'll be able to smell its toastiness and the rice grains will become a powdery white color.
Once the rice is toasted, begin adding the broth one cup at a time. Stir CONSTANTLY, until the liquid is completely absorbed. Once that happens, add the next cup of broth… Repeat until all the broth is used up. (Once you get to the fourth or fifth cup, it'll take a little longer for the liquid to get completely sucked up! Just keep stirring.)
Stir in the heavy cream, cheddar, and parmesan cheese. Gently fold in the broccoli, tomatoes, and corn. Add salt and pepper to your liking, and enjoy while still hot!