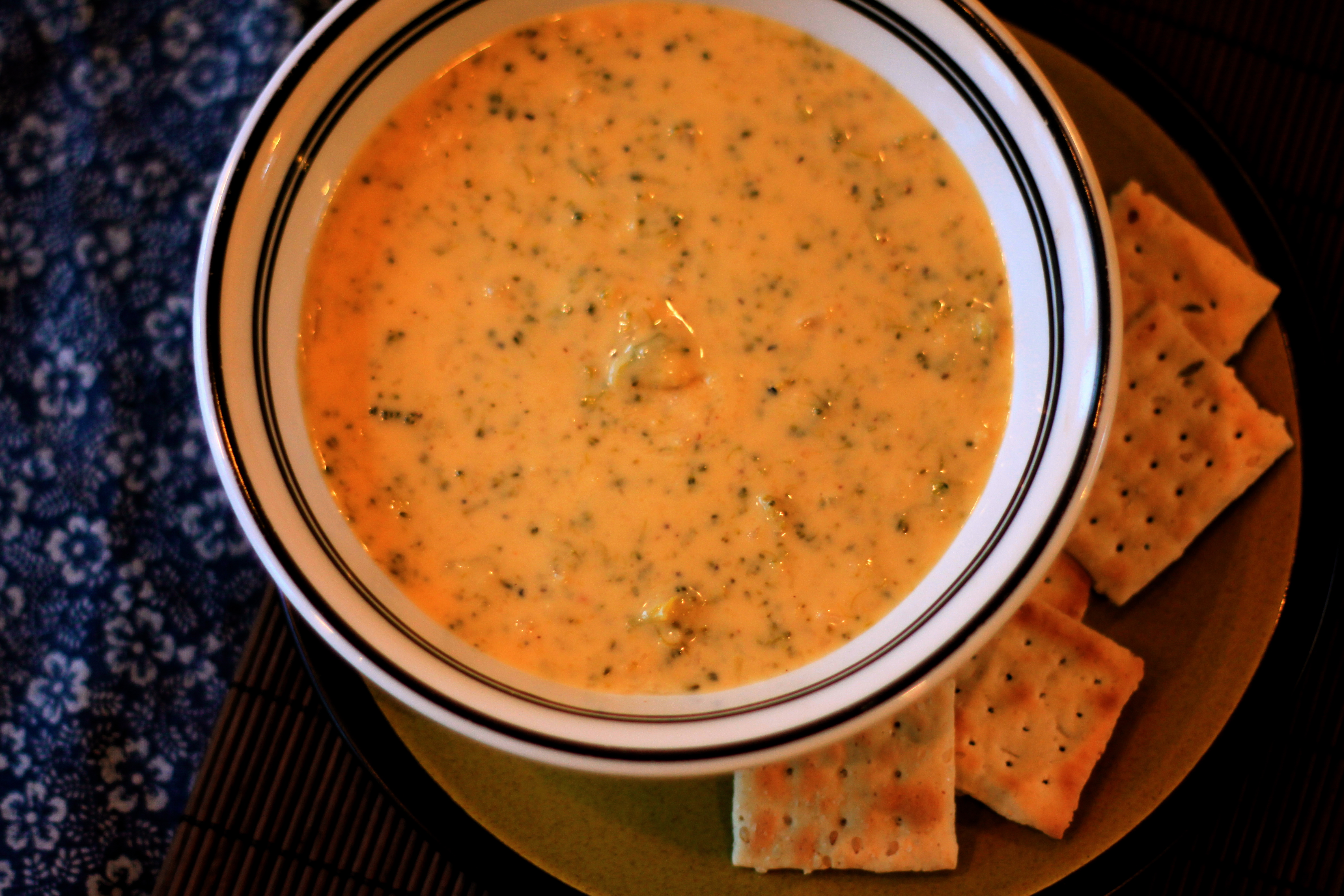 My meal planning often revolves around two things: what is both on sale and fresh at the grocery store and what cravings are currently plaguing our house. I love broccoli. And cheese. I am not so fond of the idea of soup, though I've made three different types in the last week and do not mind eating it once it's in front of me. Luckily it's not difficult to get the kids to eat vegetables around here.
Silas watched me cutting up numerous heads of broccoli to make this soup and proclaimed, "Julie, I really think I still hate broccoli. But I'll try it… and see…" One bite of soup an hour later, he said, "MMM! You can't even taste the broccoli! I love this stuff."
I think I overdid the cheese though — my soup didn't thicken up after I'd put it in the food processor to chop up the broccoli chunks… so I added more cheese, then more cheese, and more cheese… It was good, because how can you really go wrong with massive amounts of delicious cheddar? Unless of course you're lactose intolerant (which obviously means this isn't the soup for you…). Or just plain don't like the stuff.
The soup was even better today after being in the fridge overnight… I'm sure it would freeze well, too, if needed.
Cheddar Broccoli Soup
Ingredients:
1 medium-large onion, diced
½ cup butter
¾ cup flour
6 cups vegetable broth
2 cups milk
½ cup heavy cream
6 small heads of broccoli, cut into florets (about 1¼ lbs.)
6 cloves garlic, minced
2 ½ cups shredded medium cheddar
1 ½ cups shredded sharp white cheddar cheese
1 pinch fresh nutmeg
1 ½ tsp. ground black pepper (plus more if desired)
1 ½ tsp. sea salt
Directions:
In a large pot, melt the butter over medium-high heat. Add the onion and garlic, cooking until the onions are translucent (about 10 minutes).
Sprinkle the flour, salt, and pepper over the onions. Stir well and cook for two minutes. Add in the vegetable broth, milk, and cream. Add the fresh nutmeg and broccoli florets. Give the ingredients a good stir then allow them to cook over medium heat for 25-30 minutes, until the broccoli is tender.
Add in the cheese, stirring until it's melted. At this point, if you like really chunky soup, you can eat it as is. I prefer a slightly smoother consistency and pulsed the soup in our food processor — in two batches, for about 1 minute per batch. If you go this route (food processor or blender), return the soup to your pot and bring the temperature back up before serving.
Serve with crusty bread or your favorite soup accompaniment!