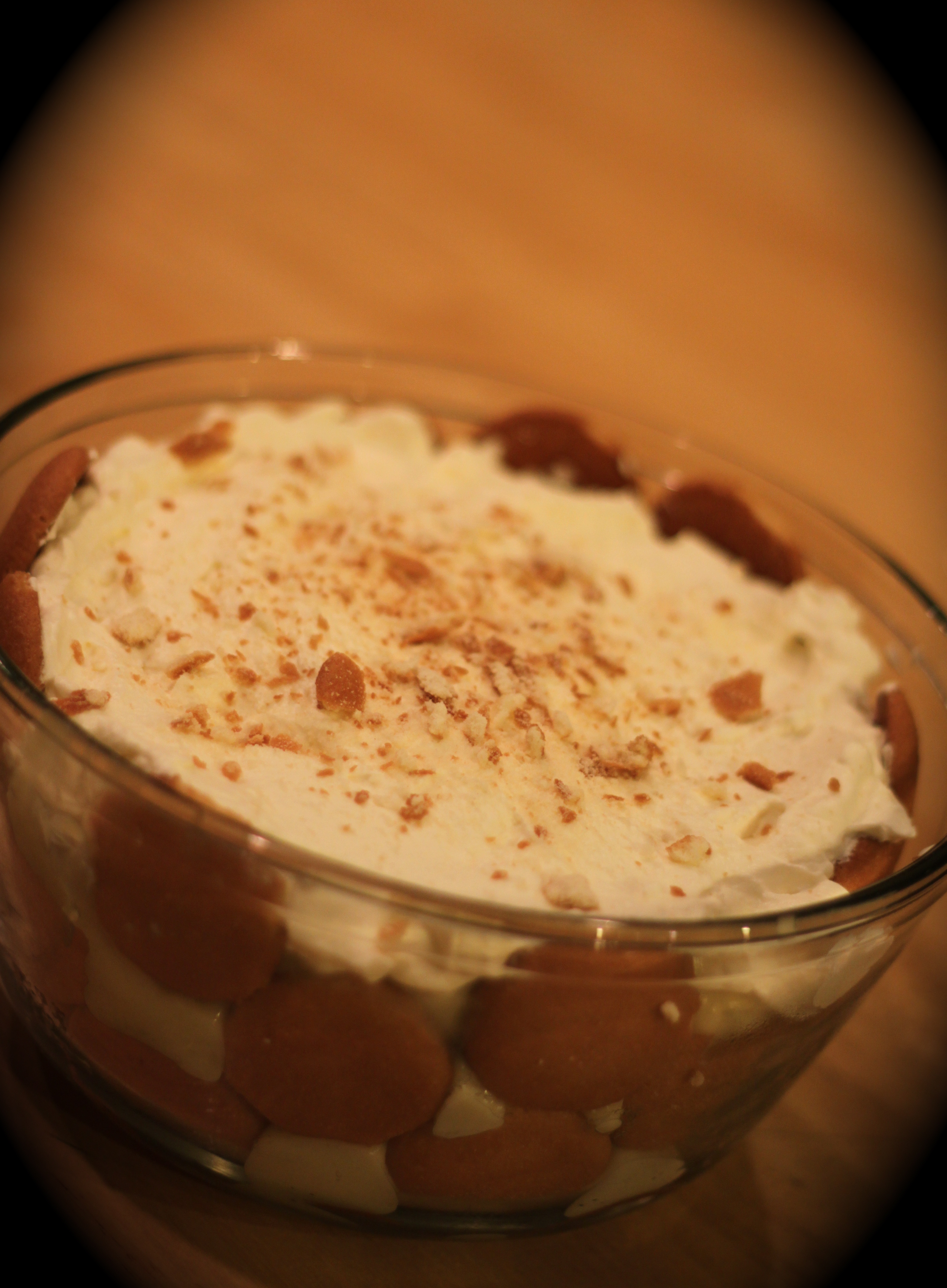 Until I met my husband and mother-in-law, I didn't know what a banana pudding was. I envisioned something like vanilla pudding with bananas thrown in, or something similar to the chocolate pudding my mom would make when we had a craving for something sweet come 10:30 or 11 at night… I've married into Southern born and raised folks though. Banana pudding's a whole different Southern-creature. Layers of homemade vanilla custard, sliced bananas, and vanilla wafers (Nilla Wafers), topped with meringue or whipped cream… Oh goodness.
I've decided you can really tell the severity of someone's OCD by the way they construct their banana pudding. For instance, how delicately (or hastily) you layer your wafers, bananas, and custard… I decided my technique is quite meticulous. I'm not one to just throw in the cookies, all haphazard. In fact, it took quite some time to align them like checkers up the sides of my bowl. Unnecessary, really… but so much prettier.
Also, my mother-in-law would likely have a heart attack to know how UN-gentle I am towards heating the custard in order for it to thicken… She goes for low heat, lots and lots and lots of stirring, and a lengthy amount of time. I go for the end-in-sight, probably-too-high temperature, vigorous whisking, and speedy method.
I've seen homemade Nilla Wafer recipes I'd love to try someday, but with a lack of time and store-bought cookies in our cupboard, I opted for those. Lots of traditional recipes have you top the pudding off with a meringue, but I voted for whipped cream this time around. A good decision, based on the reviews from our house of 3 boys.
This really wasn't overly complicated or time consuming. Plus, it's delicious and good-looking! Try it!
Banana Pudding
Makes one large bowl, serves 8-10.
Ingredients:
For the custard:
3 cups milk (I used 2 cups whole milk, 1 cup unsweetened almond milk)
½ cup sugar
3 tbsp. cornstarch
¼ tsp. sea salt
1 ½ tsp. pure vanilla extract
3 egg yolks, lightly beaten
2 tbsp. unsalted butter
For the  whipped cream:
1 cup heavy whipping cream
¼ cup sugar
1 tsp. pure vanilla extract

For the banana pudding:
3 large ripe bananas, sliced about ¼-inch thick
1- 12 oz. box Nilla Wafers (or homemade if you prefer)
1 recipe of custard
1 recipe of whipped cream
Directions: 
For the pudding:
In a medium-sized pot, whisk together the sugar, cornstarch, and salt. Pour in the milk, whisking to combine everything well. Heat over medium heat (or high, if you're impatient like I was), whisking often until the mixture thickens to a pudding-consistency.
Remove from heat. Add a little of the pudding to your egg yolks, whisking, to temper them. Pour the tempered yolks into the pot of pudding. Whisk quickly. Stir in the vanilla and butter, then set the pudding aside.
For the whipped cream:
With an electric hand mixer or standing mixer with a whisk attachment, beat the cold whipping cream. Start slowly. If you start at high, you'll have cream all over the place. Set the mixer so it goes as fast as possible without splashing. Add in the vanilla and sugar. As the cream begins to thicken, turn up the speed. Start to check for really soft peaks forming — that is when you want to stop the mixer. If you beat it too long, the cream will clump up and separate, more or less turning to a butter-consistency. (You don't want that!)
For the banana pudding:
In a large bowl (I used a 2.5 quart bowl), place a layer of Nilla wafers along the bottom and up the sides of the bowl, trying to fit as many as you can without overlapping (or overlap 'em if you want–doesn't hurt anything). Place a layer of bananas over the cookie layer. The spoon one-third of the custard over the bananas. Continue layering with: wafers, bananas, custard, wafers, bananas, custard, then top with your whipped cream. You can crumble one or two wafers over the top for decoration, but it's not necessary.
Either serve immediately or wrap with saran wrap and refrigerate until ready to eat!