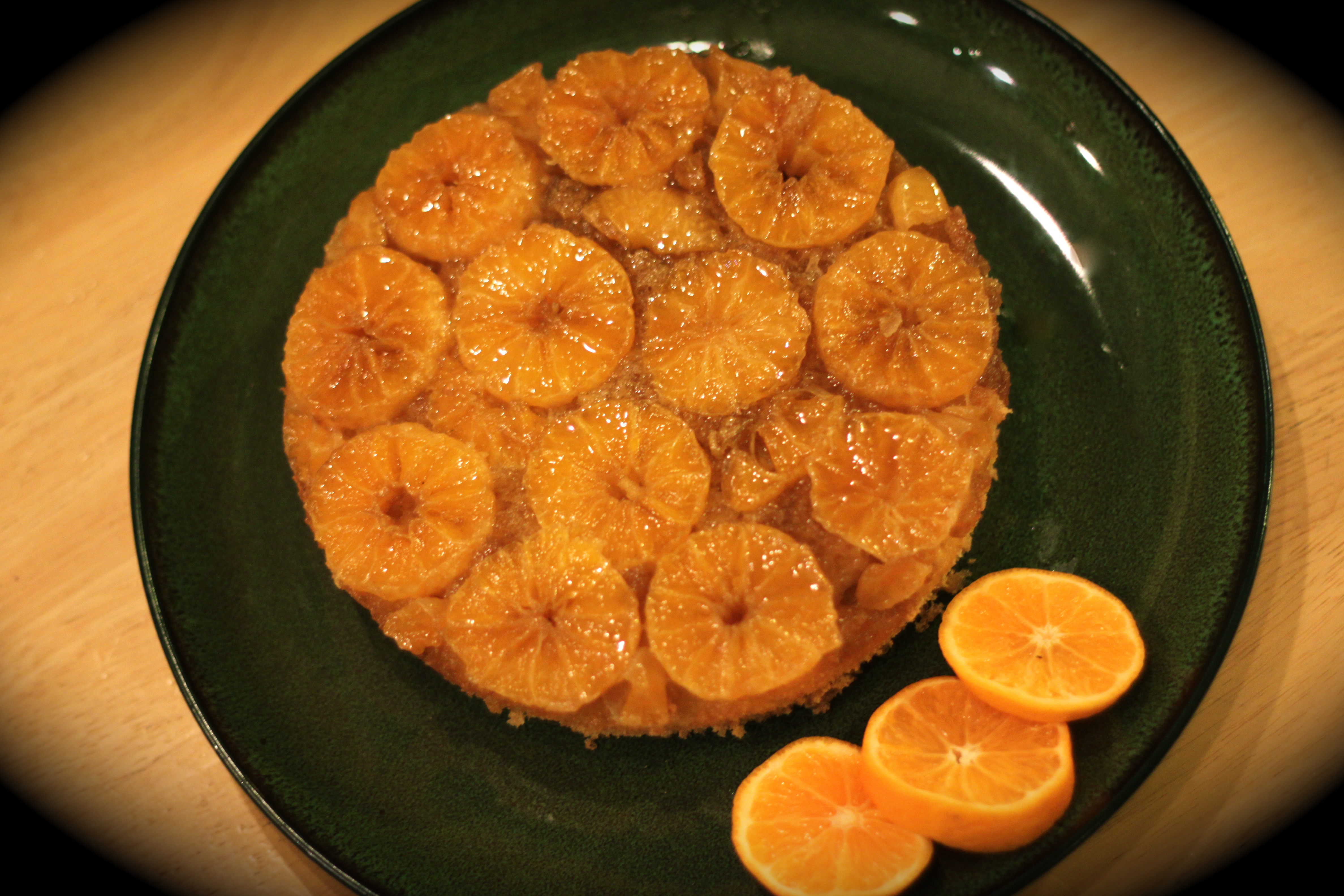 What do you do with five — or ten — pounds of clementines? First you eat them. Six at a time. Every hour. Until you decide that you're in fact hungry for something more substantial. When you have a house with two growing boys, hungry every five minutes, you encourage them to eat some Cuties. Stat. As many as they'd like, actually! When you don't have two growing boys in the house to quickly diminish your clementine supply, well, you make things like this cake.
While I'd heard of citrus laden cakes before, I'd never baked one. This cake is somehow light and fluffy, except for  the sugary clementine top, which is rich — and almost takes on a honey-like taste. Immediately after taking one bite, I was reminded of the orange creamsicles we'd get when I was a kid. The cake was an excellent balance of citrus and vanilla, as well as extremely moist.
Note: I was baking a cake for just Craig and I, therefore using a small 7-inch pan. The recipe can easily be doubled and baked in a 9-inch round pan for more servings!
Clementine Upside-Down Cake
Ingredients:
5 tbsp. unsalted butter
½ cup light brown sugar
5 clementines, peeled & cut crosswise into ¼-inch rounds
2 – 3 more clementines for 3 tbsp. of fresh clementine juice
½ cup all-purpose flour, sifted
½ tsp. baking powder
2 eggs, separated
½ cup granulated sugar
1 tsp. pure vanilla extract
1½ tsp. fresh clementine zest
pinch of freshly ground nutmeg
pinch of salt
Directions:
Preheat the oven to 350º F. Wrap the bottom (and up the sides) of a 7-inch springform pan with foil, to prevent leaking. Place the butter in the pan, then allow it to melt in the oven (3 to 5 minutes). Remove from the oven and sprinkle in the brown sugar. Arrange the sliced clementines in the brown sugar, making sure the slices are touching very tightly in the pan, though not over lapping. You can fill the gaps between rounds with smaller pieces of clementine. Set aside.
Sift together the flour, baking powder, salt, and nutmeg. Stir in the zest then set the mixture aside.
Beat the egg whites until stiff peaks form. Set aside.
In a large mixing bowl, beat the yolks, granulated sugar, clementine juice, and vanilla, until creamy looking (1 to 2 minutes). Stir in the flour mixture. Fold in the beaten egg whites.
Pour the mixture over the clementine/brown sugar in your springform pan. Bake for 35 – 40 minutes, until the top is lightly browned and a toothpick inserted in the middle of your cake comes out clean. Let the cake sit for 5 minutes, then loosen it from the sides of the pan with a knife.
Place a plate over the top of the pan, then invert it, releasing the side of the springform pan. Gently remove the bottom piece of the springform, leaving the sliced clementines in place. Serve warm! (Or cold, or at room-temp. It's  all good.)