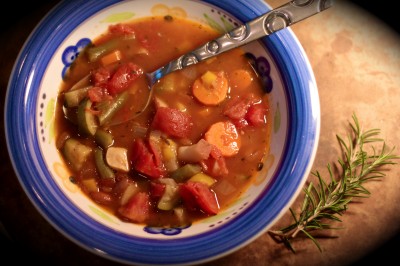 The last few days have been gray, rainy, cold, and overall — my favorite type of January Northwest weather. I don't think I'll ever grow old of enjoying rain pouring down the streets, wind knocking at the front door, or the cold that invites you to bundle up. Although I'm from Kauai, I think I've acclimated to "real" winters quite well. This weather has been perfect for a giant pot of soup on the stove.
I'm not one to get excited about soup. Really. It's one of various dishes I just can't think too much about, because ultimately I enjoy eating soup, but rarely does it strike me as appetizing-sounding. This particular soup is more or less a pot of miscellany. You can add other vegetables if you please, or leave some out for that matter. Or add some pasta. Or follow these directions exactly. (More or less, do whatever the hell you want when it comes to making this soup! I don't think you could mess it up — too terribly…)
Hearty Vegetable Soup
Ingredients:
2 – 3 tbsp. olive oil
1 cup onion, diced
6 cloves garlic, chopped roughly
1 ½ cups diced yellow bell pepper
½ cup diced celery
2 cups diced zucchini
3 cups diced red potatoes, skins left intact
2 cups carrots, peeled and cut into thin rounds
2 cups cooked beans (pinto, black, cannellini, etc.)
1 cup cut green beans
1 tbsp. diced jalapeño (seeds and veins removed if you want it less spicy)
1- 28 oz. can diced tomatoes (I prefer Muir Glen fire-roasted tomatoes)
1 tsp. fresh rosemary, chopped
2 dried bay leaves
½ tsp. ground coriander
½ tsp. dried thyme
8 cups vegetable broth
½ cup red wine (optional)
salt and pepper, to taste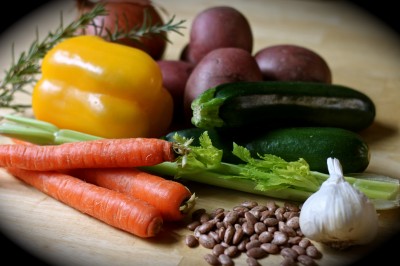 Directions:
In a large stock pot, heat the oil over medium-high heat. Add in the onions and garlic. Stir and then cook until the onions are translucent.
Add the bell pepper, celery, zucchini, red potatoes, carrots, beans (cooked and green), jalapeño, and tomatoes to the pot.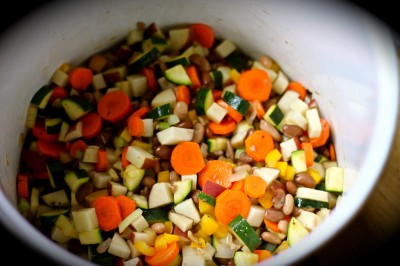 Stir, then sprinkle in the rosemary, bay leaves, coriander, and thyme. Add all of the vegetable broth (and wine, if using) at once, salt, and pepper, then give all the ingredients a good stir. Cover the pot and reduce heat to low. Allow the soup to cook on low heat for 1 – 2 hours, more if you want. Taste, then add more salt and pepper if needed. Serve hot.