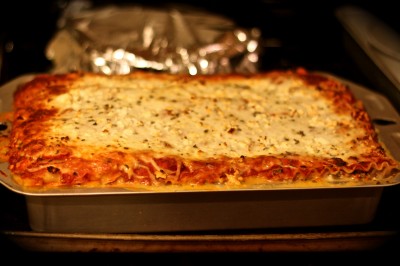 Lasagna's one of my favorite go-to dishes for feeding a crowd of people. There are probably infinite ways you can put one together, depending on what you want in it. You can keep the recipe simple, using numerous pre-made ingredients, including bottled sauce. Personally, if I'm going through the trouble of making a lasagna in the first place, I like to make my own sauce, even something pretty simple, as it's an easy way to add another layer of flavor to the whole dish.
Every time I make a lasagna, it comes out different from the last time I made one. I remember my mom making lasagna when I was a kid… Her's was nearly always the same, and always amazingly good. I think her recipe came from Mollie Katzen's original Moosewood Cookbook, published in the late 1970's. I was always so excited when I'd see my mom preparing the spinach-ricotta filling, knowing full well what dinner would be.
Many times I substitute tofu for ricotta cheese in my own lasagnas, for the health benefits. And honestly, it never feels like there's anything lacking in the overall lasagna to do so. Sometimes I use more vegetables, sometimes soy-based meat. This particular lasagna is mostly filled with spinach, tofu, and cheese.
Creamy Garlic Basil Marinara Sauce
Ingredients:
1- 28 oz. can fire roasted crushed tomatoes
1- 14.5 oz. can diced tomatoes with Italian herbs
10 cloves garlic, peeled and roughly chopped
¼ cup onion, diced
2 tbsp. olive oil
½ cup fresh basil, chopped
½ cup grated parmesan cheese
2 tbsp. heavy cream
½ tsp. red chili pepper flakes
salt and pepper, to taste
Directions:

In a medium pot, heat the oil over medium-high heat. Add the onion, garlic, and chili pepper flakes. Cook until the onions are translucent.
Add in the basil, stirring for about 1 minute. Add the tomatoes, stirring to combine all the ingredients. Allow the sauce to simmer on medium heat for about 10 minutes, then pour the sauce into a high power blender or food processor. Blend until the mixture is smooth.
Pour back into your pot, over medium heat on the stove. Stir in the heavy cream and parmesan cheese. Taste, then add salt and pepper as needed. Allow the sauce to simmer for 15 minutes, then remove from heat and set aside until ready to use.
Spinach and Tofu Lasagna
Ingredients:
1 lb. lasagna noodles, cooked according to the package directions
2- 10 oz. packages frozen spinach, thawed
1- 14 oz. block extra firm tofu (I prefer Wildwood Sprouted Tofu)
½ cup chopped crimini mushrooms
7 oz. artichoke hearts, roughly chopped
3 tsp. garlic granules
2 tbsp. fresh lemon juice
¼ cup fresh basil, finely chopped
2 eggs, lightly beaten
½ cup feta cheese
24 oz. fresh* mozzarella cheese, cut into rounds about ¼-inch thick
1 cup shredded mozzarella cheese
2 tbsp. ground black pepper
1 ½ tsp. sea salt
olive oil
4 – 6 cups of marinara sauce (the above recipe, or store bought if you prefer)
Directions:
Preheat the oven to 375º F. Lightly oil the bottom and sides of a 9 x 13-inch baking dish.
In a large bowl, use your hands to crumble up the firm tofu, until it's similar to ricotta cheese in consistency. Mix in the garlic granules, lemon juice, and eggs. Add  the spinach, mushrooms, artichoke hearts, half of the feta cheese, salt, and pepper. Use your hands to combine the ingredients until they're well mixed.
Spread about two tablespoons of sauce on the bottom of your baking dish. Arrange a layer of noodles, lengthwise in the dish, overlapping them by about  ¼-inch. Evenly spread one third of the spinach mixture over the noodles, one third of the fresh mozzarella slices, and enough sauce to coat the cheese layer. Add another layer of noodles, then spinach mixture, fresh mozzarella, sauce. Continue layering with: noodles, spinach, fresh mozzarella, sauce, noodles, sauce, shredded mozzarella. Sprinkle the remaining feta over the shredded mozzarella.
Cover the lasagna with foil. To prevent the cheese from sticking, coat the foil in cooking spray or olive oil. Bake for 25-30 minutes. Remove the foil cover and bake for an additional 25-30 minutes. Allow the lasagna to cool for 15 minutes before cutting and serving.