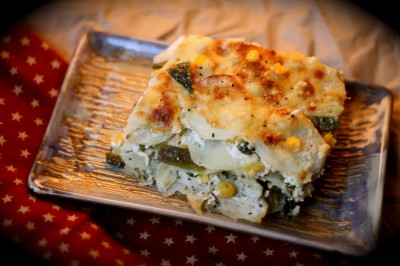 Sometimes I think the reason I enjoy cooking so much, or so often, is because it's fulfilling. Literally and in the most basic way. Besides, who doesn't enjoy a good meal? And then when you cook a meal that's based around comfort foods? Oh god. Comfort foods are fun, because on some level they're really similar for people. At the same time, there's something so personal and revealing about what we each deem as comforting, especially what or brains and bodies crave.
Mashed potatoes are probably a comfort food for many. My mom (and dad, actually) could make a mean pot of mashed potatoes. Sometimes plain, sometimes cheesy, sometimes oniony, sometimes garlicky, sometimes sweet potatoey. Always creamy, comforting, delicious… and something I rarely craved. Seriously. My mom made some delicious scalloped potatoes though. I did crave those… Laden with slices of baked ham, a tasty béchamel sauce, onions, and cheese. My body certainly says there's something comforting about a dish of potatoes, creamy sauce, and cheese. 
The following recipe is a bit different than the dish my mom prepared. It contains roasted peppers and sweet corn. The poblano peppers offer an obvious smoky taste that isn't overly spicy. The roasted bell pepper also has a smoky, but sweet, flavor. Combined with the faintly garlic-flavored sauce, you won't regret making this dish. Promise.
Cheesy Potato Gratin with Chiles and Corn
Ingredients:
1 medium bell pepper, roasted + skin removed (about 4 oz.)
3 medium poblano peppers, roasted + skins removed (about 5½ oz.)
1¼ lbs. russet potatoes, peeled, sliced into ¼-inch thick rounds
1½ cups sweet corn kernels, defrosted if using frozen corn
½ cup red onion, diced
3 cloves garlic, minced
1½ cups monterey jack cheese, grated
1½ cups mozzarella cheese, grated
2 cups half and half
3 tbsp. flour (gluten-free flour for a gluten-free gratin!)
¾ tsp. salt
¾ tsp. ground black pepper
¼ cup unsalted butter
2 tsp. olive oil

Directions:
Preheat the oven to 400º F.  Use one teaspoon of olive oil and grease the bottom and sides of a 10-inch round cast iron pan.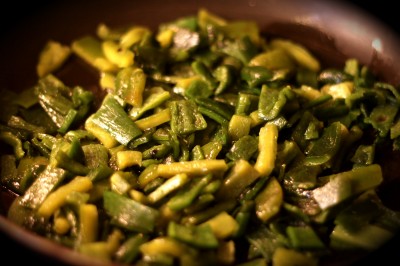 Cut the roasted peppers into 1-inch x ½-inch strips. Heat the remaining teaspoon of olive oil in a pan over medium-high heat. Sauté the peppers until they're softened (about 5-10 minutes). Set aside.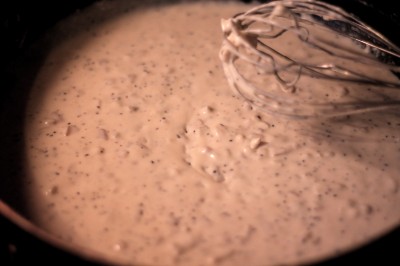 In another saucepan, melt the butter over medium heat. Sauté the onion and garlic in the butter, until the onion becomes translucent. Sprinkle in the flour, whisking to coat the onion and garlic. Sprinkle in the salt and pepper. Allow the mixture to cook for about 5 minutes, making sure the butter/flour doesn't begin to burn. Add in the half-and-half all at once, whisking often. Continue whisking until the mixture thickens up. Remove from heat and set aside.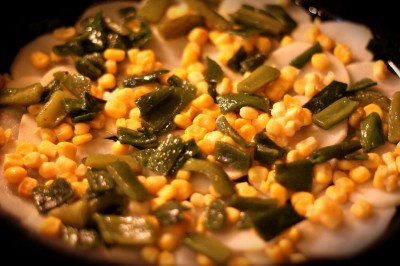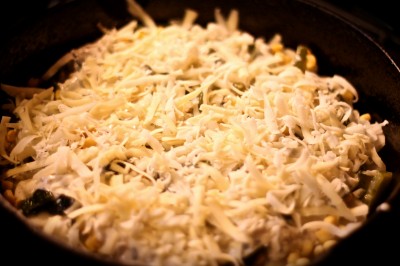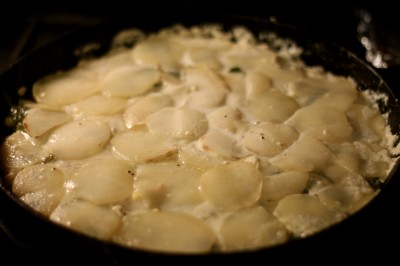 Combine the mozzarella and monterey jack cheeses, blending both thoroughly. Reserve a ½-cup of cheese for the topping.
Layer ¼ of the potatoes in your prepared cast iron pan, slightly overlapping the edges. Sprinkle on a third of the corn, one third of the peppers, ¼ of the sauce,  one third of the unreserved cheese. Continue layering with: potatoes, corn, peppers, sauce, cheese, potatoes corn, peppers, sauce, cheese, potatoes, sauce. Cover the dish TIGHTLY with foil and bake, covered, about 45 minutes (until the potatoes are tender and cooked all the way through).
Once the potatoes are tender, uncover, and top with the reserved half-cup of cheese. Bake for an additional 20 minutes, until the top is golden brown. (You can totally cheat at the end and put it under the broiler to encourage more browning!)
Allow the potatoes to sit about ten minutes before serving. Enjoy!