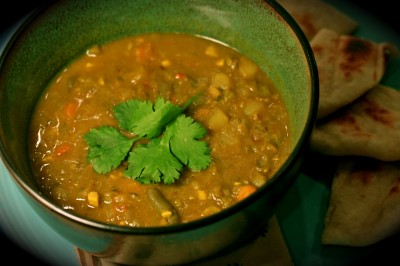 Cold, wet, winter days simply ask for soup. A few weeks ago, I bought green split peas in bulk. A total brain fart. I thought I was getting lentils. I've got to admit though–prior to tonight I never cooked a split pea or lentil in my life. So I figure, if I've got 'em in the pantry, I may as well make something with 'em. Something tasty. Curry was my first thought. Then soup, my second. Curried soup? Even better (for today, anyway).
I didn't leave the house today. Usually I don't handle that too well. I go stir-crazy quickly. Even if going "out" means a walk to the grocery store, or time working in the yard, or simply time sitting on our porch. But for some reason, it felt okay today. I spent a good portion of time looking at food blogs, researching new recipes, writing. I also decided lazy indoor days are good for cooking. So I made this soup. In the midst of making soup, I broke up a dog fight in our kitchen and did some laundry. Multi-tasking, dontchaknow. I also made some homemade haupia for dessert–more on that tomorrow. And some stove-top grilled garlic butter flatbread.
This soup was spicier than I anticipated. If you want it a little milder, leave out the red chili pepper flakes completely. Or add them in when you add the broth. I'd definitely make this again…
Creamy Curried Split Pea Soup
Ingredients:
3 tbsp. unrefined coconut oil
1 cup chopped red onion
5 garlic cloves, finely minced
1 tsp. finely grated fresh ginger
¼ tsp. red chili pepper flakes
2 small carrots, cut into rounds (about 1 cup)
2 small potatoes, peeled and cubed (about 1½ cups)
1 stalk celery, finely diced
2 tbsp. finely diced sweet peppers
1 cup green or yellow split peas
1 cup green beans (frozen is okay, no need to defrost)
¼ cup fresh cilantro, chopped
2 tbsp. curry powder
1 tbsp. ground tumeric
1 tsp. whole cumin seeds
3½ cups vegetable broth
¼ cup coconut milk
1 tbsp. fresh lime juice
salt and pepper, to taste
Directions:
Melt the coconut oil in a large pot, over medium-low heat. (Unrefined coconut oil has a lower smoke point than olive or canola oil, so be sure it doesn't burn.) Add the onion, garlic, ginger, and red chili pepper flakes, cooking until the onion becomes translucent. Add the carrots, celery, sweet peppers, and potatoes to the pot. Stir to combine all the ingredients and allow the mixture to cook until the carrots begin to slightly soften up (10 minutes or so).
Add in the split peas, green beans, and cilantro. Add the curry powder, tumeric, and cumin seeds. Add in the vegetable broth, coconut milk, and lime juice. Stir the ingredients well and cover the pot. Cook, covered, for 1 hour. Periodically stir the ingredients to make sure they don't stick to the bottom of your pot.
Add salt and pepper to your liking, then serve with flat bread or your favorite crusty bread.
Please follow and like us: