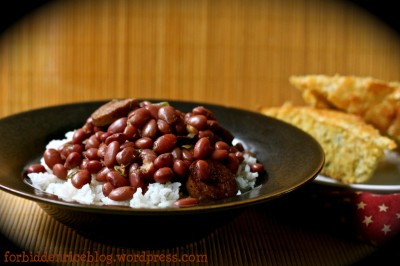 A couple summers ago, Craig and I met up with his dad and stepmother in Atlanta, Georgia. From there we traveled through Alabama and Mississippi, into Louisiana, en route to Texas, before Craig and I headed back to Oregon. Not only was it fun to trek across the South and see some new places, but the food was often delicious, too.
In Alabama, we stopped at Golden Rule BBQ, where Craig's dad insisted I get the smoked beef brisket. I remember it being tender and tasty, although I'm not generally big on beef. In Vicksburg, Mississippi, we ate at Rusty's Riverfront Grill and had an AMAZING dinner. Our forty minute wait to be seated was made okay by ordering a round of delicious top shelf margaritas and fried green tomatoes topped with hollandaise sauce and lump crab as an appetizer. Then I ordered Rusty's House Specialty: blackened redfish topped with a crawfish cream sauce. Phenomenal. Craig ordered an oyster po'boy, which he said was delicious, although oysters are on my list of foods never again wanting to be consumed. Mimi ordered a cajun shrimp pasta dish and Pops got the filet mignon, which was also topped with a lump crab cream sauce.
When we got to Natchitoches, Louisiana, Lasyone's was a must for their famous meat pies (crawfish pies for Craig). We got there right at lunch time and I ordered a meat pie, a half-order of their notable red beans and rice without sausage, as well as a half order of dirty rice. Although I had various bowls of beans and rice before, there was always more to them: sour cream, cheese, salsa, etc. I think I was almost expecting something similar. Then my plate came out–a bed of white rice topped with dark red beans and a decent amount of sauce. No frills, nothing fancy. It was delicious.
I've made red beans and rice numerous times since returning to the west coast. The first time, I thought I did something wrong, because my pot of beans was very soupy-looking. Louisiana-born Craig reassured me that this is what a pot of red beans is supposed to look like: the soupy stuff is not to be feared! I've made versions that include vegetarian ground sausage (like ground beef) as well as rounds of sausage. I'd like to make my own veggie sausage sometime, specifically for these red beans–something smoky and spicy. I haven't found a pre-made product that quite fits. Field Roast's Mexican Chipotle is close, but not quite what I'm aiming for. In the meantime, Tofurky works okay, too. This pot of beans is somewhat spicy–serve untraditionally with sour cream if you'd like. :)
Vegetarian Red Beans and Rice
Ingredients:
1½ lbs. (3 cups) dried small red beans
enough water to cover beans by 3-4 inches
2 tbsp. olive oil
1- 14oz. pkg. Tofurky Kielbasa or your preferred veggie sausage, cut into ¼-inch rounds
1 large onion, diced
1 green bell pepper, seeded and diced
4 cloves garlic, minced
3 stalks celery, diced
2 bay leaves
¼ tsp. dried sage
½ tsp. cayenne pepper
1 tsp. dried thyme
1 tsp. dried oregano
3 tsp. sea salt
1 tbsp. smoked paprika
1 tbsp. Cajun seasoning (I like "Slap Ya Mama" blend)
2 tsp. vegan Worcestershire sauce (Annie's is tasty)
8 cups water
2 cups long grain white rice (or Basmati rice)
4 cups water
1 tbsp. olive oil
1 tbsp. butter
¼ tsp. sea salt
*optional ingredients:
1 tbsp. honey
1 lemon, halved with seeds removed and skin intact
1 tsp. sugar
Directions:
Soak the beans overnight in a large pot enough water to cover them by 3-4 inches. Drain and rinse.
In a skillet heat 1 tbsp. of olive oil over medium high-heat and cook the Tofurky sausage until it's well browned on both sides (10-15 minutes). Set aside.
In a large pot, heat 1 tbsp. of olive oil over medium-high heat. Add the onion and sauté until translucent. Add the bell pepper, garlic, and celery. Stir to combine then cook until the peppers and celery are tender (10-15 minutes). Add in the bay leaves, sage, cayenne, thyme, oregano, salt, paprika, Cajun seasoning, and Worcestershire sauce. Stir well to combine all the ingredients and allow them to cook for a minute or two.
Add the sautéed sausage. Pour in the 8 cups of water and stir all the ingredients well. Cover, reduce heat to low. Cook for 3-4 hours, until the beans are very tender.
*After an hour of cooking, taste the sauce the beans are cooking in. If it's too spicy for your liking add in the honey or sugar. Stir well. You can also add the halved lemon (it'll absorb some of the spiciness–simply discard before serving).
45 minutes before serving heat the remaining 1 tbsp. of olive oil over medium-high heat, in a large skillet (with lid). Dump in the 2 cups of rice and stir to coat the grains in oil. Stirring frequently, toast the rice until it's light brown and toasty-smelling. Stir in the butter and salt. Once the butter is completely melted, add the 4 cups of water. Stir, then cover your pot and reduce heat to low. Cook for 30 minutes. Do not remove the lid during this time! After 30 minutes check that the water has been completely absorbed (if it hasn't, return cover and cook for another 5-10 minutes), then turn off the heat and gently fluff the rice before re-covering for 5 minutes.
Serve the beans over a bed of rice while everything is still hot. Enjoy!