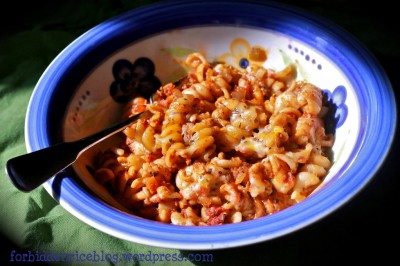 Rarely does pasta sound unappealing to me. I'm pretty sure I've said that before. My go-to recipe is creamy, heavy on the basil and garlic. This isn't that recipe. This one's slightly chunky, not at all creamy, but also a sauce I rely on pretty frequently when making marinara sauce.
Everyone has their own preferred pasta shape. Some folks like spaghetti – angel hair, thin, or regular. Others like egg noodles or bow ties. Maybe macaroni, penne tubes?  Fettuccini, those weird ear shaped noodles? I prefer spirals. The little grooves simply ask for sauce to get caught up in there! You can use whatever you want in this recipe, really.
When my parents separated, my mom went through a period where she cooked spaghetti all the time.  I hope she doesn't get mad at me for telling the world. Especially since today's her birthday… (Sorry, Mom!) I hated spaghetti at that point in my life. I don't know if it really had anything to do with those poor noodles and the sauce that gradually went from all homemade to doctored up jarred sauces to just jarred sauces. It's okay. I don't hold a grudge (for too long). This sauce would be great on plain 'ole spaghetti–skip the baking part all together if you'd like (although baked spaghetti is pretty damn good, too!).
You can't possibly mess this up. It's an easy mid-week meal. You can even put it together ahead of time, then stick it in the oven when you're ready.
Veggie Marinara Pasta Bake
Ingredients:
2 tbsp. olive oil
1 onion, diced
1- small orange bell pepper, diced
1- stalk celery, minced
1- carrot, peeled and diced small
4 cloves garlic, minced
1 pint grape tomatoes, halved
2- 14½ oz. cans fire roasted crushed tomatoes
3½ cups water or vegetable broth
4 oz. tomato paste
2 bay leaves
2 tsp. dried basil
1 tsp. sea salt
1 tsp. dried thyme
1 tsp. dried oregano
1 tsp. granulated garlic
1 tsp. fresh ground pepper
½ tsp. dried coriander
½ cup red wine (if you have it on hand)
pinch of sugar
1 pound pasta spirals
2 cups shredded mozzarella cheese
1 cup shredded sharp cheddar cheese
½ cup grated parmesan cheese
2 tbsp. butter
Directions:
In a large pot, heat the olive oil over medium-high. Sauté the onion and bell pepper, until soft and the onion is transluscent. Add the celery, carrot, and garlic. Sauté until the vegetables are softened.
Add in the grape tomatoes and canned tomatoes. Stir until well combined. Add in the bay leaves, basil, salt, thyme, oregano, granulated garlic, pepper, coriander, and sugar. Stir in the water or broth, tomato paste, and wine if using. Cover and allow the sauce to cook for 2-3 hours. (Longer won't hurt the sauce, just remember to stir it occasionally so it doesn't stick to the bottom of your pot.)
When you're about ready to assemble the dish for baking, cook the pasta according to the package directions. Preheat the oven to 425° F.
Drain the pasta and pour into a 9×13 inch baking dish. Stir the butter and grated parmesan cheese into the hot pasta, coating the spirals well. Add a generous amount of sauce, stirring to coat the pasta. Add in 1 cup of the mozzarella and half of the cheddar cheese. Add more sauce, mixing everything well. (I ended up with about 2 cups of sauce leftover for another time—it freezes well—but you can add as much or as little sauce as your prefer.) Top with the remaining mozzarella and cheddar.
Bake for about 15 minutes, until everything is bubbly and the cheese on top has melted. Serve hot.