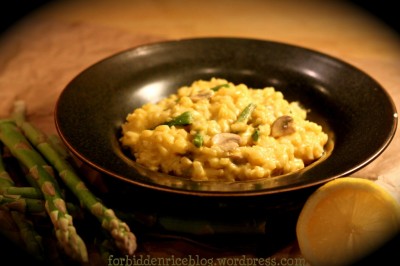 Although I grew up in a place where the change in seasons wasn't often clearly evident, I really do enjoy the changes that come season-to-season now that I live on "The Mainland." One of my favorite changes is what ingredients become readily available. Everything really does taste better "in season," despite sometimes being available at other times throughout the year.
Spring means fresh artichokes, spinach, lemons, green onions, grapefruits… and my recent favorite: fresh asparagus. I remember eating asparagus now and then as a kid. My mom always made hollandaise sauce to top steamed asparagus. I could eat the whole dish of both, happily.
Rice was a daily staple for our family. We had rice with everything, at nearly every meal. I don't remember a night where there wasn't a pot of rice on the dinner table… except maybe nights we had pasta of some sort. I hated it (eventually). I enjoy the stuff these days and have a newer-found love of risotto. I'd always thought risotto was difficult to make; really it's just a matter of stirring… and anyone can stir. This is a great spring risotto with the fresh asparagus, fresh mushrooms, and perfectly in season hint of lemon.
Lemon and Roasted Asparagus Risotto
Serves 4-6
Ingredients:
10-12 young asparagus spears
1 tbsp. olive oil
salt and pepper
5 tbsp. unsalted butter
½ a medium onion, chopped
2 cloves garlic, minced
½ cup sliced crimini mushrooms
1½ cups Arborio rice (risotto rice)
1 cup milk, warmed
4 cups vegetable broth, warmed
½ cup dry white wine
¾ cup grated parmesan cheese
salt and fresh ground pepper
2 tsp. fresh squeezed lemon juice
¼ tsp. lemon zest
Directions:
Prepare the asparagus:
Preheat the oven to 400°F. Toss all of the asparagus spears in 1 tbsp. of olive oil and a generous amount of salt and pepper. Roast for 12-15 minutes, until the asparagus is tender, turning every now and then. Cut each stalk into pieces about 1-2" long. 
Prepare the risotto:
Heat the 5 tablespoons of butter over medium heat in a heavy bottomed 2½ – 3½ quart pot. Add the onion and garlic, cooking until softened but not browned (5 minutes or so). Add the mushrooms, cooking for a minute or two. Add the Arborio rice, stirring to coat each grain of rice well. Cook for a few minutes until the rice smells slightly nutty and becomes slightly transluscent.
Add the white wine into the pot, stirring until all the liquid is completely absorbed. Add the warmed vegetable broth to the risotto pot, one cup at a time, allowing the rice to absorb the liquid almost completely before adding the next cup. Once all the broth has been used, add in the milk in the same way. Continue stirring, stirring, stirring.
Once the liquid has more or less been absorbed and the rice is tender with just the slightest bite to it, remove from heat. Stir in the parmesan cheese, fresh lemon juice, zest, and salt and pepper to your liking.      
Serve topped with fresh ground pepper and fresh parmesan cheese if you like.
Please follow and like us: