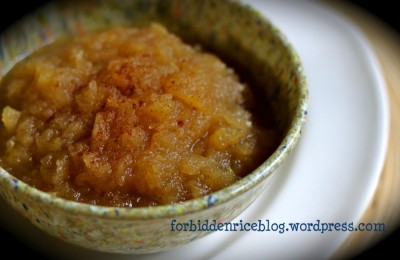 What do you do when you've got a handful of apples too soft to enjoy eating on their own? You make applesauce, because it's easy. And delicious. I've eaten homemade applesauce, though I hadn't made it myself before today. There isn't a whole lot to it and the results are tastier than store-bought varieties.
Today I was awoken at 7, to fat snowflakes and a blanket of white (I've come to terms with living in Ashland, where the weather's bound to change minute to minute without warning). After going back to sleep, next I awoke to sunshine. Then rain, sun, hail, rain, gray skies, sunshine, cold. A good day for a home scented with fall: warm apples, cinnamon, vanilla.
I'm sure everyone has their own variation of homemade applesauce, though all more or less follow the same instruction: peeled, cored, seeded apples of whatever variety you prefer; water or fruit juice; sugar or not; etc. I decided to try mine with organic Braeburn apples, fresh ginger and vanilla bean, simply because that's what I had on hand. The ginger taste is faint, the vanilla noticeable but not overpowering. It's good. Try it.
Ginger Vanilla Applesauce
Ingredients:
4 apples, peeled, cored, seeded
1 cup water
2 tbsp. light brown sugar
½ tsp. ground cinnamon
½ tsp. fresh grated ginger
¼ tsp. orange zest
contents from 1 vanilla bean
Directions:
Chop the peeled apples into small chunks. Place in a pot with all the remaining ingredients. Stir well, then cover. Cook over medium-low heat for 15-20 minutes, until the apples are very soft (nearly falling apart).
Use a wooden spoon, potato masher, or fork and mash the apples to your preferred consistency. Enjoy warm or cold. Plain or alongside a meal. Enjoy!