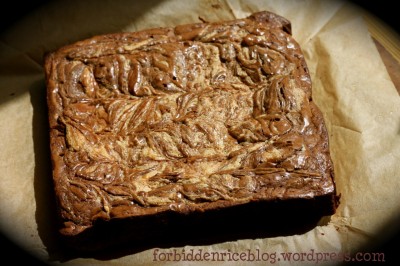 These brownies are often my go-to recipe for a last minute dessert. Really, what kind of logical person doesn't constantly have butter, sugar, unsweetened cocoa, eggs, and flour on hand for times that require something sweet? Kidding. I often have half these ingredients in my cupboard or refrigerator, but have learned to keep them around simply for these brownies. They're easy, delicious, all from scratch.
I didn't grow up eating brownies from scratch. I was used to boxed mixes by Duncan Hines or Betty Crocker. Mixes that aren't over-the-top terrible, but do include ingredients made for extended shelf lives, rather than taste and enjoyment. Once I figured out that homemade brownies are more or less just as simple as adding dry ingredients to a bowl, along with eggs and a liquid component, I never went back to pre-made mixes.
My desire for chocolate isn't too radical. In fact, that craving is not something that I'm often bombarded with. I crave sweet things like vanilla milkshakes, carrot cake, sweet lemony things, and gingery cookies. Sometimes rich, dark chocolate. Minty chocolate. When I do get hit with The Chocolate Kick, these brownies are often at the forefront of my mind. They're easy to whip up.
The peanut butter aspect I just added with my last batch and they turned out awfully tasty. How can you go wrong with peanut butter and chocolate, right? If you want, you can leave out the peanut butter mixture and make a pan of very straightforward brownies (I'd check the cooking time at 20 minutes if you go that route).
Peanut Butter Swirled Brownies
Ingredients:
For the brownies:
½ cup (1 stick) unsalted butter
¾ cup granulated sugar
¼ cup light brown sugar, packed
2 eggs, lightly beaten
1/3 cup unsweetened cocoa powder
½ cup all-purpose flour
¼ tsp. baking powder
¼ tsp. salt
1 tsp. vanilla extract
2 tbsp. chocolate chips (optional)
For the peanut butter swirl:
4 tbsp. butter, melted
¼ cup powdered sugar
¾ cup smooth peanut butter
¼ tsp. salt
1 tsp. pure vanilla extract
Directions:
Preheat the oven to 350º F. Line an 8×8" baking pan with parchment paper, leaving an overhang on at least two sides. Lightly grease the parchment paper with oil (or melted butter).
Prepare the brownie batter: In a saucepan, melt the butter over medium heat. Meanwhile, sift together the cocoa powder, flour, baking powder, and salt. Once the butter has melted remove the pan from your heat source. Whisk in the beaten eggs (quickly, so you don't end up with pieces of cooked scrambled eggs in there!) and vanilla. Stir in the sifted dry ingredients until just combined. If using, add the chocolate chips. Pour the brownie batter into your prepared pan and set aside.
Prepare the peanut butter mixture: In a bowl, whisk together the melted butter, peanut butter, powdered sugar, salt, and vanilla until smooth and creamy.
Pour the peanut butter mixture into your brownie batter. Use a butter knife or spatula to swirl the peanut butter all throughout the brownies.
Bake for 25-30 minutes. If a toothpick inserted in the center comes out clean, or with just a few crumbs, the brownies are done. If raw batter's still an issue bake for another 5-10 minutes (check doneness after 5). Allow the brownies to sit for at least 10 minutes, then cut to your preferred size and enjoy.
Please follow and like us: