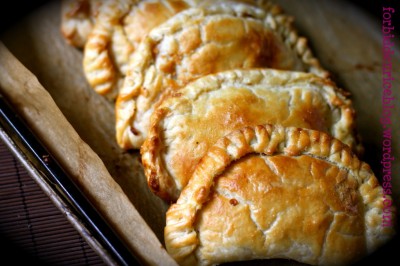 Most people thought of this past Sunday as Easter Sunday, which it certainly was… but April 8th was also National Empanada Day. I can't remember where I first had these little Latin American and Spanish pockets of deliciousness, but I'll tell you now—they leave a lasting impression. You'll crave them at the most inopportune times. Then you'll fulfill the craving and it will hit again within 24 hours. Maybe that's just me and my family.
The dough I use to make these empanadas certainly doesn't fall under "healthy." But if you are looking for tasty, versatile, straightforward, easy, flaky… I've got you covered. Craig and I were discussing other possibilities for this dough: southern meat pies, southern crawfish pies, pizza-pocket type goodies, sweet hand pies covered in cinnamon and sugar. I'm excited to venture to all these things.
The filling for these particular empanadas centers around a vegan grain-meat sausage I discovered about a year ago. It's available online here or here. We are fortunate to have access to many vegetarian grocery items here; I always forget that until we're traveling or visiting elsewhere… That said, the flavor in these sausages is remarkable. It's very similar in taste to real Mexican chorizo–spicy, smoky, delicious. Honestly, I've never had a Field Roast product I've disliked and they certainly aren't paying me to say that!
These empanadas take a bit of time to prepare… but you will most definitely not be disappointed in your efforts! Money back guarantee. Or I'll make you a batch myself.
Vegetarian Chorizo, Cheese and Corn Empanadas
Ingredients:
For the pastry dough:
16 oz. cream cheese, room temperature
2 sticks butter, room temperature
2¾ cups all-purpose flour (plus more for kneading)
½ tsp. salt
For the filling:
2 tbsp. olive oil
½ a large onion, diced
2 cloves garlic, minced
3 sweet peppers, diced (about 3 tbsp.)
4 Field Roast Chipotle sausages
8 oz. ground seitan (or 2 more Chipotle sausages)
1 cup sweet corn (frozen or fresh)
1 tsp. salt
½ tsp. dried thyme
½ tsp. dried oregano
½ tsp. ground black pepper
1 cup finely grated monterey jack cheese
1 cup finely grated sharp cheddar cheese
1 egg, beaten
Directions:
Prepare the dough in advance. In the bowl of a stand mixer, cream together the butter and cream cheese. Add in the flour and salt, mixing until the dough just comes together.
Turn the dough out to a lightly floured surface. Knead the dough for 2-3 minutes, until it's no longer sticky and you have a ball of soft dough. Divide into two equal portions. Wrap each portion in plastic wrap, flattening slightly. Refrigerate for at least 4 hours.
Prepare the filling: Grind up the chipotle sausages and seitan in a food processor, until all the grounds are the same size (2-3 minutes).
Heat the oil in a large skillet over medium-high. Add the onions, garlic, and sweet peppers, sautéing until the onion is translucent. Add in the ground veggie meat, corn, salt, thyme, oregano, and black pepper. Continue cooking for about 5-10 minutes, until the veggie meat is slightly browned, the corn thawed, and everything is heated through. Remove from heat.
Prepare the empanadas: Preheat the oven to 450º F. Line a few baking sheets with parchment paper. Work with one portion of dough at  a time. I let the refrigerated dough sit for 5 minutes before trying to roll it out, as it will be very stiff! On a lightly floured surface, roll the dough to about ½-inch thick. Use a glass or biscuit cutter to cut about 6-7 rounds, about 3½ inches in diameter. Roll each cut out circle to about 1/8-inch thick, 6-7 inches wide. Gather the scraps and repeat this method, getting as many thin disks as you can. Repeat this process with the second portion of dough.
Place about 2½ tablespoons of filling on half of the rolled-out dough, leaving about 1 inch of space from the outside of your dough. Add a couple pinches of cheese on the top of your chorizo mixture (1-2 tablespoons). Fold over the top half of your dough, then starting from one side, fold the bottom edge over the top (like a pie crust…), packing the filling as tightly as you can without breaking the dough. Use a lightly floured fork to crimp the folded edges. Place on your prepared baking sheet. Repeat with all the rolled rounds of dough, spacing each empanada about a ½-inch from one another on the baking sheets. Brush the tops of your empanadas with the beaten egg.
Bake for approximately 15 minutes, until the top of each empanada is golden brown. Serve while still hot with sour cream or Mexican crema and hot sauce if desired.
Makes about 20 empanadas.