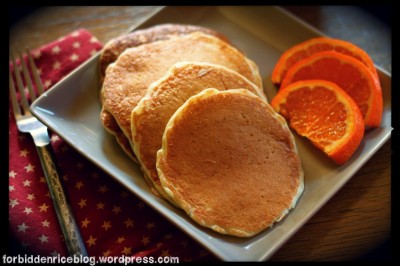 With my sourdough baby colony currently residing in the refrigerator, I've been thinking of ways to put these little dudes and dudettes to work. Pancakes are asked for in our house pretty often. If I ask Silas what he wants for breakfast, it's often a 50-50: pancakes or an egg sandwich. I get worn out on pancakes. Maybe I never quite grew out of my hesitations about pancakes first thing in the morning (for dinner? Sure thing!).
I've seen recipes for sourdough pancakes in the past, but never had a starter to use. I don't think I ever ate a sourdough pancake until I made these. This recipe's pretty straightforward. It does take preparation, as the starter sits half-prepared for pancakes overnight. Personally, I like that you do part of the work the night before, because it means less for my half-awake brain to remember in the morning!
We didn't do anything fancy with these. They were perfectly sourdough-tasting and just slightly sweet: a perfect vehicle for fresh sliced fruit and maple syrup. You can easily throw in some blueberries or chocolate chips. Or whatever else sounds good to you!
Sourdough Pancakes
yields approx. 18- 4"pancakes
Ingredients:
for the sponge:
½ cup sourdough starter
1¼ cups unbleached flour
2½ tbsp. sugar
1 cup milk
for the pancake batter:
1 sponge recipe
2 eggs
2 tbsp. butter, melted
1½ tsp. baking powder
¼ tsp. vanilla extract
¼ – ½ tsp. oil
Directions:
Prepare the sponge by combining the sourdough starter, flour, sugar, and milk in a large bowl. Mix well to combine completely, then cover with plastic wrap and leave at room temperature overnight.
In the morning, beat the two eggs, melted butter, baking powder, and vanilla together until combined. Whisk into the sponge batter that has been sitting out overnight, until all the ingredients are well blended.
Preheat your oven to 200º F. Place a baking pan with a lid in the oven.
Heat the oil in a large nonstick pan over medium high. Use a paper towel to wipe out the excess oil. Test a drop of batter to make sure the pan is hot enough (the drops should puff up and bubble immediately, without burning). If the test drops are ready, spoon about 3 tablespoons of batter per pancake onto the hot pan. Cook until the top of each pancake becomes bubbly, then flip with a spatula. Cook for an additional minute or two, until the pancake is cooked all the way through. Place the cooked pancakes into your baking pan in the oven until all the batter is used up.
Serve hot with your favorite pancake toppings and enjoy!