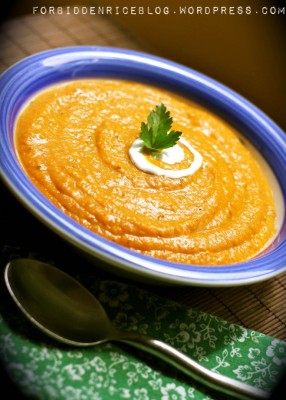 Sometimes I like to cook meals based on color. Maybe because I'm a weirdo. Maybe it's because if I'm taking the time to cook something made to taste good, I'd like for it to look appetizing as well–and for me, color has a lot to do with that. It's fun to treat food like art.
The plague hit our house earlier this week. Actually, it mainly hit my husband, who suffered for four days straight of chills and an on again-off again fever. So, meals have been a little thrown off for the last week. Yesterday I realized that we could all probably use a big 'ole pot of soup that was filling, but also healthy. Especially Craig. This soup doesn't skimp on color. The vast amounts of beta-carotene provided from both the carrots and sweet potatoes leave this soup a vibrant orange.
Carrots are high in vitamin A and provide many antioxidants that help fight inflammation. Apples are high in fiber and vitamin C. Like carrots, sweet potatoes (yams, really) are high in vitamin A and rich in antioxidants. The three sounded like a plausible combination.
One of my favorite books to use for thinking up recipes is The Flavor Bible. It's a great tool for any cook, really. In it are nearly 400 pages of nearly any ingredient you can think of. Following the particular ingredient is a long list of other ingredients that pair well in flavor, whether they be spices, fruits, savory items, nuts, oils, etc. It's an indispensable tool. I did a little research to see what flavors complimented all three of my planned ingredients and was excited to find ginger, tarragon, thyme, cumin, sweet curry, and lemon seemed to work well with carrots, sweet potatoes, and apples. Bingo.
This soup is very filling. It can also get a bit thick, which is actually how I prefer my own soups. If you want it thinner, simply add more broth. Or even water if you wish. Serve with a nice green salad and some fresh bread if you'd like.
Roasted Carrot, Sweet Potato and Apple Soup
Ingredients:
1¼ pounds Granny Smith apples, peeled, seeded and cut in 1" cubes
1½ pounds red-skinned sweet potatoes (yams), peeled and cut into 1" pieces
2 pounds carrots, peeled and cut into 1" pieces
¼ cup sunflower oil (or whatever high-heat oil you have)
7 cloves garlic, peeled
2 tbsp. oil
1 large yellow onion, cut in half, then ¼-inch thick strips
1- 3 inch piece of fresh white or yellow ginger, peeled and minced
1½ tbsp. dried tarragon
1½ tbsp. dried thyme
1½ tbsp. ground cumin
1 tsp. sweet curry powder
the zest and juice of 1 Meyer lemon
6½ cups No-Chicken broth or vegetable broth
salt and fresh ground pepper, to your liking
Directions:
Preheat the oven to 400º F. Toss the first four ingredients together, evenly coating the apples, potatoes, and carrots in oil. Season with a generous (but reasonable) amount of salt and pepper. Spread evenly on one or two baking sheets. Roast for 30 minutes, or until all of the vegetables and fruit are cooked all the way through, stirring occasionally. Add the garlic cloves to the roasting vegetables after they've been in the oven for about 15 minutes (allowing the garlic to roast for the last 15 minutes).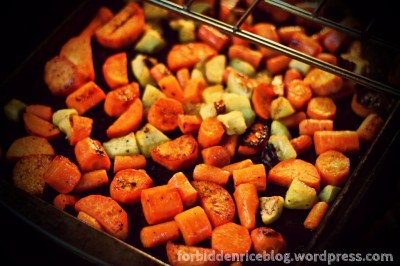 While the apples, potatoes, and carrots are roasting, heat the remaining 2 tablespoons of oil over medium-low heat in a large stock pot. Add the onion, reducing the heat to low, stirring to coat the onion in oil. Slow cook the onions until they just begin to caramelize, turning a deep yellow/light brown color. This will take nearly the entire the time you're roasting the other vegetables and apples, so don't get worried if it feels like the onions are "taking too long." Add the ginger, tarragon, thyme, cumin, and sweet curry powder to the pot, stirring to coat everything evenly. Add the No Chicken or vegetable broth to your pot, stirring well.
Once the broth is heated all the way through, work in batches to blend the soup either in a food processor or high-speed blender. Add enough of the broth to create a smooth mixture. Pour into a large clean pot. Continue blending, until all the soup has been pureed. Add the lemon zest and fresh squeezed lemon juice. Gently bring the heat back up, until the soup is hot enough to serve. Serve topped with a little sour cream and fresh chopped parsley, if you'd like. Enjoy!
Please follow and like us: