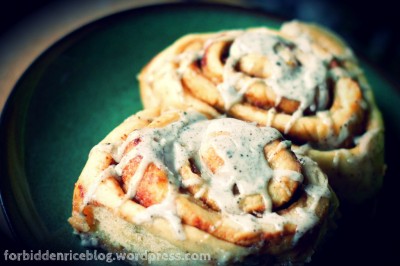 Most of my memories surrounding things cooked in the house I grew up in have to do with my mom. My dad's meals often seemed thrown together in a chaotic combination process that sometimes worked, but more often instilled fear. While I had my hesitancies at first, one thing my dad could whip together close to perfection was his homemade cinnamon rolls (or sticky buns, as he'd prefer to call them). He'd start the dough in my mom's bread machine, but everything else was put together by hand. He'd melt butter, sugar, and nuts in the bottom of his pan, then lay rolls filled with raisins, nuts, cinnamon, sugar, and butter down in that buttery goodness. They were always delicious.
While I appreciate the caramelization that happens with melted butter and sugar in the bottom of the pan, I prefer a slightly less sticky cinnamon roll. I've made homemade cinnamon rolls many, many times, but never exactly like these. I've had my sourdough starter begging for more recipes including it. Sourdough cinnamon rolls? Oh, why not.
These cinnamon rolls take a little time, although the majority of that seems to be waiting. Waiting for the sponge to ready itself. Waiting for the dough to rise. Waiting (very, very, patiently) for the cinnamon rolls to bake. But it's worth it. I prefer using Ceylon cinnamon in my cooking. It's very soft, delicate, almost like very fine paper. It breaks apart easily between your fingers. Conventional cinnamon always seems much tougher, less fragrant, and almost more bitter in taste than Ceylon. Use what you have available, though, or what you prefer in taste.
I enjoy using whole vanilla beans when possible and like the visual aspect of those tiny black specks against the white icing for these rolls. While 90% of the time I actually prefer no icing on my cinnamon rolls, this wasn't overpowering at all, nor overly sweet with the sourdough rolls. You can also simply use vanilla extract if you don't want to use whole vanilla beans–simply increase the amount to one full teaspoon!
Sourdough Cinnamon Rolls with Vanilla Bean Icing
Yields 10-12 cinnamon rolls
Ingredients:
For the sponge:
1 cup sourdough starter
¾ cup milk (warmed to about 110ºF)
3 tsp. good quality maple syrup
1 tsp. conventional yeast
1 cup unbleached flour
For the dough:
1 sponge recipe
2 tbsp. unsalted butter, room temperature
1 egg, beaten
1 tbsp. granulated sugar
1 tsp. vanilla extract
½ tsp. ground cinnamon
¼ tsp. salt
2½ cups unbleached flour
For the filling:
6 tbsp. unsalted butter, melted
½ cup granulated sugar
½ cup light brown sugar
3 tbsp. ground cinnamon
¼ tsp. ground nutmeg
a couple small pinches of ground cloves
*optional: ½ cup raisins and/or ½ cup chopped pecans
For the icing:
1 cup powdered sugar, sifted
the seeds from 1 scraped vanilla bean
1 tbsp. milk
½ tsp. good quality vanilla extract
Directions:
Prepare the sponge: Stir all the sponge ingredients together in a large mixing bowl (preferably the bowl to your stand mixer). Cover and set aside in a warm area for one hour.
Prepare the dough: In the bowl of your stand mixer (which hopefully contains your sponge!), add the unsalted butter, beaten egg, sugar, vanilla, cinnamon, and salt. Use the paddle attachment and mix together until well combined (about 30 seconds). Add the flour in, about ½ a cup at a time. After a soft dough begins to form, switch from the paddle to dough hook attachment. Continue kneading the dough for about 5 minutes. If it gets too sticky, add a little more flour in. Lightly oil your bowl, turning the dough to coat it once. Lightly cover and set aside to rise until doubled in size (1-1½  hours).
Prepare the cinnamon rolls: Once the dough has doubled its size, you're ready to make your form your cinnamon rolls. Turn the dough out to a lightly floured surface. Use a lightly floured rolling pin to roll the dough out into a large rectangle, about 12 x 18 inches in size.
Spread the melted butter over your dough. It may seem like you have too much butter to work with, but dump it all on your dough anyway. Sprinkle the granulated and brown sugars over the butter, evenly, then sprinkle on the cinnamon, nutmeg, cloves, and if using- the raisins and nuts.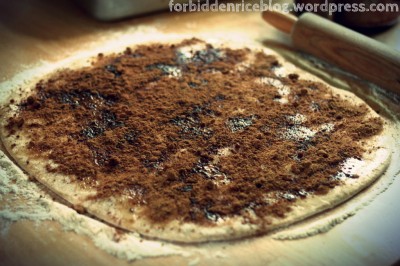 Starting at one corner of the dough edge closest to you, roll up the dough, tightening it as you move your hands. I like to work semi-slowly, forming tight coils of buttery-sugary goodness inside the dough. You'll be happy you did this once the rolls are cut!
Use an unserrated knife to cut rolls 1½ – 2 inches thick. Butter the bottom and sides of a 9×13-inch baking pan. Place the cinnamon rolls into the buttered pan, spacing them about one inch apart. At this point, the rolls can be covered and refrigerated for up to two days. Simply bring them back to room temperature before baking.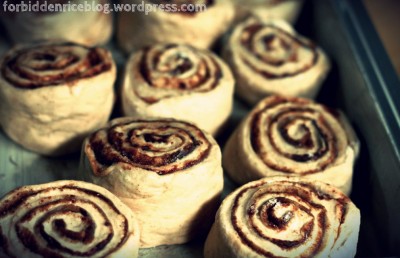 Baking the cinnamon rolls: Baking the cinnamon rolls: Preheat the oven to 350 ºF. Bake the cinnamon rolls for 25-30 minutes, turning the pan around half-way through the cooking time. A toothpick placed in the center of one of the middle rolls should come up clean when the cinnamon rolls are finished. Be careful not to let the cinnamon rolls get too dark on the top.
While the cinnamon rolls are baking, prepare the icing. Whisk together the vanilla bean and powdered sugar until well blended. Whisk in the milk and vanilla extract. If you like your icing thicker, add more sugar. Thinner, add more milk.
Drizzle the icing onto the warm cinnamon rolls and serve. Enjoy!