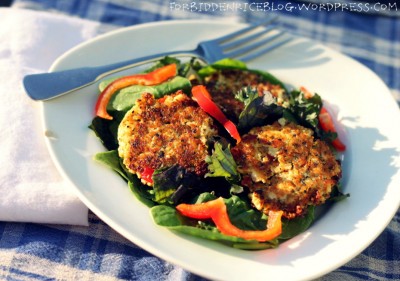 Sometimes when things like tofu or tempeh go on sale, I get a little impulsive and buy way too much of both, not thinking it's too much of course… Rather, of course I'll use six blocks of tofu and ten packages of tempeh before their expiration dates… in two weeks. And then two weeks pass and I begin scrambling to get everything used up. Tempeh goes into the freezer, I make oven baked tofu nuggets, or throw both into enchiladas, etc.
Recently I had tofu that needed to be used up. A while back we bought some tofu "sausage" patties that were pesto flavored, and much to my surprise, tasteier than I expected them to be. The only disappointment was the cost for 4 patties, only about 1½ inches in size. The following recipe was inspired by these sausages, but really aren't the same in texture or taste, but still delicious. One problem I did find was that when I tried to make them larger, they fell apart more readily when cooking. So I'd suggest keeping them no larger than 3 inches.
Basil Pesto and Caramelized Onion Tofu Patties
Yields approx. 16 – 3″ patties
Ingredients:
2 tbsp. olive oil (plus more for cooking)
½  a medium yellow onion, thinly sliced
¼ cup red bell pepper, diced small
3 cloves garlic, minced fine
1- 14 oz. pkg extra firm tofu (the firmer, the better)
1 large carrot, grated fine
3 tbsp. basil pesto
1 tbsp. fresh basil, minced, or 1 tbsp. dried basil
2 tsp. fresh oregano, minced, or ½ tsp. dried oregano
1 tsp. sea salt
1 tsp. ground black pepper
1 egg
Directions:
Heat the two tablespoons of oil in a small pan over low heat. Add the thinly sliced onions, tossing to coat evenly. Continue cooking over low heat, occasionally stirring until the onions are completely caramelized. This may easily take 30-45 minutes. Once the onions have turned a nice shade of caramel brown, add in the red bell pepper and garlic. Cook (over medium-low) until the red bell pepper softens. Chop until the caramelized onions are diced small.
Drain the water from the tofu then crumble it up in a large bowl. Mix in the caramelized onion mixture, the grated carrot, basil pesto, basil, oregano, salt, pepper, and egg until the mixture is well combined.
Heat about 2-3 tablespoons over oil over medium-high heat. While the oil is heating, use your hands to pat about ¼ cup of tofu mixture into a patty, about 3 inches wide, ½ an inch thick.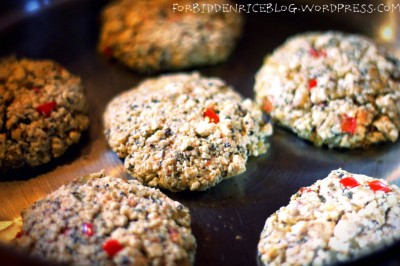 Fry up the patties, allowing the first side to brown completely before flipping it (4-5 minutes). Flip, cooking until the other side is brown, too.
Serve with your favorite sides, or on a salad, or on a sandwich… Also, these taste good cold!
Please follow and like us: