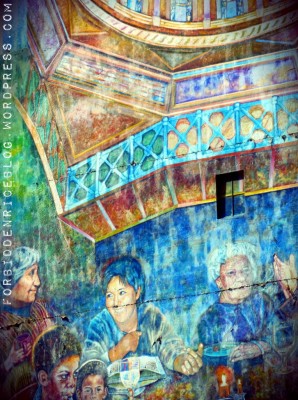 Somehow it has become the middle of June and I'm not entirely sure where time has gone, yet again. We've had two birthdays (my 27th, Silas's 7th), the end of the school year, an 8th grade graduation, a trip to Oakland, California, and lots of summer weather. That's not a complaint; just an indication of why my blogging has been a little MIA lately. While I've got a number of recipes to share, that isn't where this post is headed. Six months ago, Allegiant Airlines introduced a flight from Medford, OR to Oakland, CA for $9 per way. We jumped on the chance to book a trip for my birthday. This post is to recap our trip, specifically in regards to the amazing food we experienced.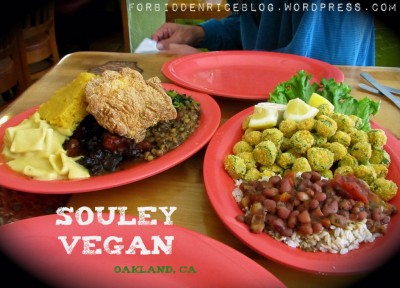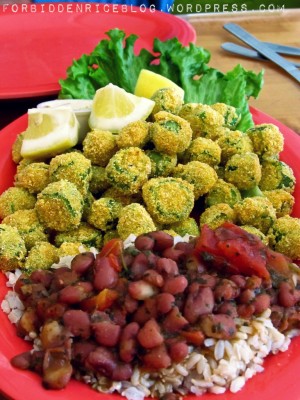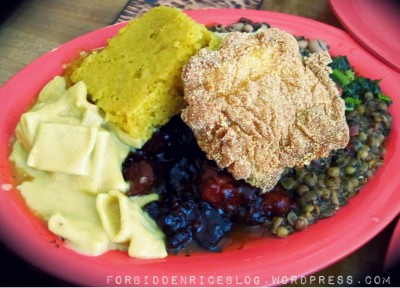 About 10 minutes after arriving at our hotel in downtown (Old) Oakland, we walked to Souley Vegan, a vegan restaurant we'd been wanting to check out for quite some time. We had been here once before, but decided not to brave the long winding line of customers. I'm glad we made it back. The owner, Tamearra Dyson, was kind and approachable. The food? Very approachable, too. We ordered the Everything Plate to share – which sounds like a ton of food, but ended up being perfect for Craig and I. It didn't take long for our two large plates of food to arrive, covered in mustard greens, black eyed peas, baked yams, perfectly spiced lentils, bbq tofu, southern fried tofu, mac and cheese, potato salad, cornbread, red beans with rice, and fried okra. The fried tofu was reminiscent of fried catfish; I'd never had tofu like this before. The bbq tofu stood out most to me – it had an amazing char on the tofu, with the perfect amount of chewiness similar to real meat. The sauce was smoky, sweet, and delicious. We also had a house-made cayenne lemonade, which was delicious. We raved about our experience here to nearly anyone we had a conversation with throughout the weekend. Vegan, vegetarian, or not, Souley Vegan is not to be missed.
On Friday, there was a farmer's market across the street from our hotel. We had previously scoped out reviews on Yelp and knew we'd enjoy breakfast and/or lunch here. We shared tamales from All Star Tamales and a sweet corn empanada from El Porteño Empanadas. Our tamales were incredible. We got a green pasilla chile tamale, which also contained cotija and mozzarella cheese, steamed in a banana leaf. The other tamale we shared was filled with Anaheim chilies, cheddar and mozzarella cheese. The masa part of these tamales was different than any other tamale I've had: super moist, fluffy, and not dense at all.
While wandering the farmer's market, we peeked into Swan's Marketplace, a neat space, home to various eateries and businesses. We visited Cosecha Café, which both Craig and I had read rave reviews about. They weren't open yet, but set in the open, we could watch the staff prepare mini guava tarts, shell shrimp for that night's wild shrimp taco special, all the while being met with friendly smiles. As we were about to leave, a woman stopped to talk to us and told us how excited she was about that night's specials, as well as what time would be best to come back if our intention was to avoid the crowd. Turns out she was the owner of Cosecha, Dominica Salomon Rice. We made it back for a light dinner, where we shared a wild shrimp taco, which came on a house-made tortilla. We also shared a yam and cheese quesadilla and large horchata. Everything was so fresh, delicious, and obviously prepared with care for the ingredients.
Later on that night, we went on the hunt for a good taqueria, open late, ready for a burrito to share. We managed to pass right by the first place on our list of options, then found that Yelp had run us on a snag for the second – the taco truck had already gone home for the day. While walking around exploring, trying to find somewhere else to eat, we noticed a food truck "Eatup" (ala Twitter) along with a man walking down the street eating a massive burrito. Turns out this was the well known Curry Up Truck  and we ordered a tikka masala burrito, which was filled with methi pulao (a fenugreek rice), chana masala (a slightly spicy chickpea dish), pickled onions, and soft cubes of tofu. It was AMAZING. Perfectly spiced, plus wrapped into a burrito, it made walking a cinch. While we waited for our burrito, we walked over to The Sweet Stop truck, the first mobile bakery in the Bay Area. We spotted the last strawberry shortcake mini cake and decided to indulge, for birthday's sake. The owner, Audrey Kramer, placed a lit birthday candle in our cake and announced my birthday over their truck's intercom, which was met with a "Happy Birthday to You!" chorus of folks who were eating at the food trucks. It was a sweet, kind, surprise. And that cake… the lightest, fluffiest, most delectable strawberry shortcake I've ever had.
One place we'd read about was called OB's Café. On Yelp, the reviews don't have much middle ground: either five stars or 1. There are stories of the "unfriendly owner" who appears disgruntled, turns customers away, or kicks them out after they try to order a dish some certain way. Then there are reviews from people who simply say you need to approach OB's as a friend's home you're a guest at, not somewhere to be served. There are rave reviews for the best shrimp and grits outside of Louisiana. When we peeked in, we noticed the entire space OB prepared his food consisted of hot plates, a grill, and a toaster. Craig went to OB's one morning, intending to bring back breakfast for us. He said he was the only person in the restaurant, and that he and OB had a great conversation. They shared stories and OB was very kind. When Craig mentioned that he was getting our food to-go, OB suggested the Creole Breakfast, rather than Cajun Shrimp and Grits. The Creole consisted of  cornmeal crisped catfish, creamy grits, eggs, and toasted english muffins. The catfish was perfectly cooked. The grits were the most buttery, creamy, grits I've ever had. The scrambled eggs were perfectly done, and even the english muffins were delicious!
Overall, our eating-experiences in Oakland were such a pleasant surprise. It seemed like everywhere we enjoyed something to eat, the owners, chefs, and employees took immense pride in what they were preparing, and made a conscious effort to share their ingredients with care. We are definitely looking forward to visiting again soon.