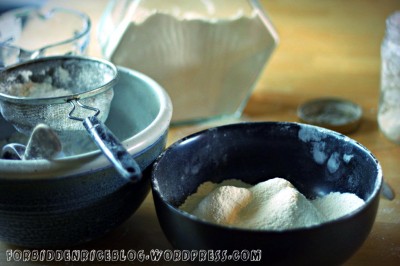 While I have apparent obsessive compulsive tendencies, especially when cleaning and cooking, the truth is my cooking area and food prep areas are often a disaster zone. A giant mess of ingredients where they don't belong, batter flying up the cupboard sides, oil splish-splashing all over my stove and clothes, haphazardly thrown (gently placed…) spice jars and miscellanies here and there. I say it keeps things fun. But really, it's just my spazz-tastic version of cooking. Somehow things come together, though. And better yet, they taste good 98% of the time. Plus there's always time for cleaning up, I suppose.
I don't bake all that often. If I didn't make pancakes or waffles, or even biscuits so often, I probably wouldn't ever have baking powder or baking soda on hand when needed. I've learned to keep those in the cupboard. Along with a few other staples, like brown sugar, unsweetened cocoa powder, all-purpose flour. One thing I've never bought is cake flour. I've seen it, but always tell myself that all-purpose will do, so why spend the extra dollars on something that'll sit around unused most of the time?
Silas's birthday was last week. He requested a yellow cake and as I searched the inter-nets for a good recipe, I noticed most of them called for cake flour. Turns out cake flour makes for a lighter, fluffier cake. As it also turns out, cake flour made from scratch is ridiculously easy. As in so simple, with only the addition of one other ingredient to your all-purpose flour: cornstarch. So here's an easy recipe for homemade cake flour. No need to run to the store for that specially labeled box.
Making Cake Flour From All-Purpose Flour
Ingredients:
all-purpose flour
cornstarch
Directions:
Measure out one cup of all-purpose flour. Remove two tablespoons of that flour and place it back with its other flour buddies.
Add two tablespoons of cornstarch to your measured-out flour.
Sift together. Then sift again. And again. And again. And again… and then for good measure, to allow in more air (for light, fluffy flour), and to make sure everything is evenly distributed, sift one last time.
Easy, huh?
Simply use these measurements for every cup of flour that you need for your recipe.