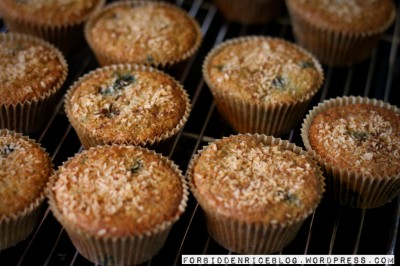 Blueberries have been showing up in the market. Often they'll first arrive in 6 ounce little containers, then by the pint, then in larger 18 or 20 ounce flats. It's heavenly. At first, your inclination is to eat them fresh. However, when you wind up with too many blueberries on hand, eventually they start wilting or threaten to become unusable. Right before that happens, it's the perfect time for homemade blueberry muffins.
These aren't your typical plain 'ole blueberry muffins. They're also banana muffins. Topped with toasted coconut. The bananas in this recipe keep the muffins very moist and add sweetness. They're easy to throw together and chances are you've got most of the ingredients on hand already. If fresh blueberries aren't available, frozen ones will do.
Blueberry Banana Muffins
Yields approx. 1 dozen small muffins
Ingredients:
2 small bananas, peeled
½ cup sugar
1 egg, lightly beaten
¼ cup unsalted butter, melted and slightly cooled
1 tsp. vanilla extract
¾ cup all-purpose flour
½ tsp. baking powder
½ tsp. baking soda
¼ tsp. salt
¼ tsp. ground cinnamon
pinch of fresh ground nutmeg
pinch of ground cloves
½ cup fresh blueberries
2 tbsp. toasted shredded coconut
1 tbsp. turbinado sugar
Directions:
Preheat the oven to 350º and line a muffin pan with liners, or lightly grease the tins.
Whisk or beat together the bananas and sugar until well combined and frothy. Add in the egg, melted butter, and vanilla.
In a bowl, sift together the flour, baking powder, baking soda, salt, cinnamon, nutmeg, and cloves. Add the sifted ingredients to the banana mixture, stirring until everything is just-combined. Fold in the blueberries.
Spoon enough batter in each muffin cup, filling them a little more than half-way full. Tap the muffin pan on your countertop once or twice, letting the air bubbles in the batter escape. Sprinkle some shredded coconut and turbinado sugar on the top of each batter-filled cup.
Bake for 20-25 minutes, or until a toothpick inserted in the center of each muffin comes out clean (or with few crumbs).
Please follow and like us: