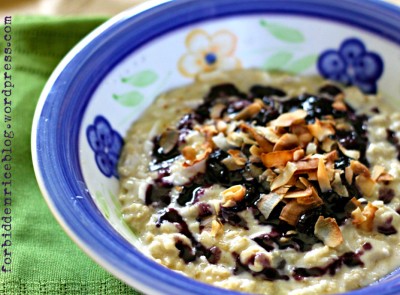 It's no secret that I like to sleep in. So when it comes to breakfast, I would often prefer it for dinner. However, I've got a husband and kids to feed, so breakfast sometimes comes at decent morning hours. One of my favorite ways of doing this is relying on foods that can be partially prepared the evening before. That way when I'm dragging myself around the kitchen trying to consume my coffee with half a brain, I can still create something delicious.
The following morning "pudding" is actually a very creamy oatmeal. But you could call it pudding. And think of it as dessert. For breakfast. Or any other time you feel like making it, really. You soak the oats overnight, but cook them the following morning. The blueberry sauce could probably be made the night before as well, but it's so tasty when it's warm and really doesn't take long to prepare.
For a heavier coconut taste, I contemplated cooking the oats in coconut milk, but haven't tried that yet. I can't think of a reason it wouldn't work, unless you're opting for a lighter calorie option. In that case, this recipe will suit you just fine. Plus it's yummy. The oats themselves aren't overly sweet, but topped with the blueberry sauce, sweetness is still achieved. The toasted coconut flakes on top add a little bit of a different texture, which I really enjoy, personally.
Coconut Morning Pudding with Blueberry Sauce
 Modified from Whole Living Magazine
Serves 2-3 people
Ingredients:
1 cup old-fashioned rolled oats
¾ cup shredded coconut (the thin, small flakes)
2¼ cups water
1¼ cups milk (whatever type you prefer)
¼ tsp. ground cinnamon
¼ tsp. ground nutmeg
1 tsp. vanilla extract
2 tbsp. pure maple syrup
pinch of salt
3 tsp. coconut oil
1½ cups fresh blueberries
2 tbsp. pure maple syrup
½ cup toasted coconut flakes (the larger flakes)
Directions:
In a medium sized bowl, stir together the oats, thin shredded coconut and water. Cover and refrigerate overnight.
The next morning, combine the soaked oats, milk, cinnamon, nutmeg, vanilla, 2 tablespoons of maple syrup, and the salt in a medium-large pot. Cook over medium-high heat, stirring occasionally until the oatmeal thickens and most of the liquid is absorbed (about 15 minutes).
While the oats are cooking, heat the coconut oil in a small skillet over medium-high heat. Add in the blueberries, stirring to coat them in the coconut oil. When the berries just begin to burst, stir in the maple syrup. Cook until you have a nice slightly thick syrup.
To serve, spoon your desired amount of oats in a bowl then top with the blueberry sauce and toasted coconut flakes. Enjoy!