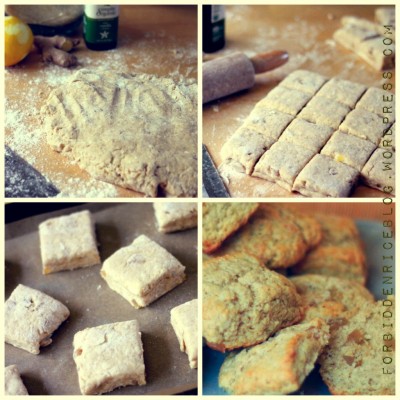 While there isn't a Whole Foods Market near us here in Ashland, whenever we're near one while traveling, my husband has a semi-addiction. Ginger biscuits. It's a 99% guarantee that they'll be in the bakery section, next to the fresh baked muffins, bagels, and treats. These sweet biscuits are always shiny-topped, soft and flaky, and filled with pieces of ginger. They're delicious, especially when still warm.
I've been on a mission to make ginger biscuits at home that at least fulfills the craving for these babies, especially if we don't have plans to be near a Whole Foods any time soon. This is the second attempt, which turned out different than I anticipated–gladly. Soft and with an obvious ginger flavor, these were a bit more moist than the ginger biscuits we're used to getting from Whole Foods. I do enjoy soft, pillowy biscuits though, so these were delicious in that way.
I used to have a really hard time making biscuits. Well, good biscuits. One thing I've learned is that shortening is helpful in creating really soft, fluffy biscuits. I used to avoid using it until I found this organic and vegan form one day, made by Spectrum Naturals. Also, remember to keep your ingredients as cold as possible. Often I'll re-refrigerate the rolled and cut biscuits for 10 or 15 minutes before baking, just to let the butter solidify more (it breaks down slower in the oven that way, creating a soft texture rather than flat overly greasy biscuits). My favorite way to add butter to the flour mixture? Use a box grater. It makes it quicker to "cut it" into the dough and keeps things evenly dispersed.
These biscuits (like most) are best served straight from the oven, either plain or with some butter, some fresh berry jam. They also freeze really well and can be defrosted and heated back up.
Ginger Buttermilk Biscuits 
Yields approx. 1 ½ dozen medium biscuits

Ingredients:
3 ½ cups all-purpose flour, plus more for rolling
1 cup whole wheat flour
1/3 cup sugar
6 ¾ tsp. baking powder
1 tsp. baking soda
1 tsp. dried ground ginger
¼ tsp. lemon zest
¾ cup unsalted butter
6 tbsp. vegetable shortening
2 eggs, lightly beaten
1 cup plus 2 tbsp. buttermilk
1 tsp. vanilla extract
½ tsp. fresh ground ginger
¾ cup crystallized ginger, chopped
2 tbsp. heavy cream
Directions:

Preheat your oven to 425°F. Line two baking sheets with parchment paper.
In a large bowl (I prefer the steel mixing bowl of my stand mixer), whisk together the flour, sugar, baking powder, baking soda, dried ground ginger, and lemon zest. In a separate container, whisk together the eggs, buttermilk, vanilla, and fresh ginger.
Cut in the butter and shortening, until the mixture resembles very coarse crumbs. Pour in the  buttermilk mixture, working quickly to stir together a soft dough. Fold in the chopped crystallized ginger. Turn the dough out onto a lightly floured surface, quickly but gently kneading about 10 times. Roll the dough out to about 1½ inches thick, then cut into squares about 2×2 inches. Re-roll the scraps to create more biscuits. Place on your prepared baking sheets and brush each top with the heavy cream. Bake for 12-15 minutes, until lightly golden on top and cooked all the way through. Serve fresh out of the oven.