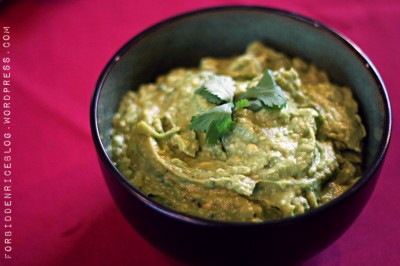 I kick myself every single time I need to buy an avocado. There are numerous foods in Hawaii that I miss incredibly much all the time, but one in particular I never expected to miss, let alone crave, are the gigantic avocadoes we so readily had available in our backyard. The avocadoes I find here in Southern Oregon are so little, often far from ripe when I need them to be, and expensive especially when attempting the organic route. So it goes. Avocadoes are full of fiber, folate, potassium, vitamins, and though a bit high in calories, I never worry about it because generally, we eat pretty healthily and the calories are coming from good fat.
I love guacamole. Once while on vacation with my husband in Vegas, we went out for Mexican food, where we were told multiple times to order the guacamole, simply because of the elaborate preparation that came with it table-side. A guacamole spectacle? Who can resist? Our server showed up with a large tray: ripe avocadoes pitted but still in their skins, tiny bowls filled with cilantro, chopped onions, diced tomatoes, diced jalapeños, fresh limes, salt and pepper. In two minutes, tops, we had a huge bowl of freshly prepared guacamole and hot tortilla chips sitting in front of us. It was divine and made me vow to only eat guacamole prepared equally as fresh.
My husband is an avid fan of poblano peppers. Roasted, in sauces, in tamales or enchiladas. He just told me he'd love a poblano margarita. I love the flavor roasted poblano peppers offer: smokey, but not overly spicy. The smokiness in the adobo sauce that I like in this guacamole works with the roasted peppers as well, balanced with the creamy avocado. This guacamole is delicious on its own, or on tacos, wrapped in a burrito. You can't go wrong, really.
Roasted Poblano Guacamole
Ingredients:
5 ripe avocadoes
2 poblano peppers, roasted and peeled
2 cloves garlic
¼ cup fresh cilantro, minced
1 tbsp. onion, grated fine
1 tbsp. adobo sauce *
1 lime
salt and pepper, to taste
* Canned chipotle peppers are often stored in adobo sauce. Smokey in flavor, this is a great addition to this guacamole. You can incorporate a chipotle pepper as well, for added smokey, peppery flavor. If you just use the one tablespoon of sauce in this recipe, you can puree the remaining peppers in sauce, then freeze for later use (approximately one tablespoon of puree is the equivalent of one whole pepper).
Directions:
In the small bowl of your food processor, or in a blender, combine the roasted poblano peppers, two of the avocadoes, and the garlic. Pulse until creamy and smooth (1-2 minutes). Transfer the blended mixture to a large bowl. Add the remaining avocadoes and mash until very few chunks of avocado are visible. I use a potato masher to do this – if you don't have one, you can use a fork, wooden spoon, two butter knives, etc. Add in the grated onion, adobo sauce, and the juice from your lime. Stir until well incorporated. Taste, then add salt and pepper to your liking.
Serve immediately (the longer the guacamole sits before serving, the more brown it will get), either as a side dish, dip, or to go with tacos, burritos, etc.
Please follow and like us: