My quintessential summer mealtime would probably include no stoves or ovens being used. Or maybe being used very minimally. There would be lots of veggies straight out of the garden. Perhaps grilled fish or something along those lines. Grilled pizza? Oh yes. There would be ice-cold inebriants to sip on and cool, fruity, grown-up treats afterwards. The truth is my summer cooking rarely takes that form. Often I've got my oven on. Or I spend large amounts of time at the stove, contemplating whether it's the burners or am I really experiencing hot flashes in my 20's? And the adult cocktails? They're an afterthought. Probably cold beer straight from the fridge, or good straight bourbon. You know, to make the stove-heat more bearable?
This time of year and all throughout summer, really, fresh tomatoes are everywhere. This sauce is very easy and super fresh. And it does that ideal thing: no stoves or ovens required. Plus it's simple and quite versatile. You can this sauce to fresh pasta (my favorite: with more fresh garlic, red chili flakes, more basil and goat cheese).  You can add chopped onion, perhaps a little fresh chopped jalapeno or other pepper, and create a salsa. Put it on little pieces of crusty bread and call it bruschetta. You can even eat it plain, like a chopped tomato salad. Honestly, you can't go very wrong here. No joke.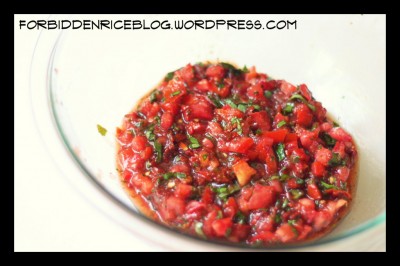 Easy Raw Tomato Sauce
Ingredients:
4-5 large ripe tomatoes, most seeds removed
2 cloves garlic, minced
¾ cup fresh basil, finely chopped
2-3 tbsp. fresh oregano, minced
2-3 tbsp. fresh thyme, minced
1-2 tbsp. fresh parsley, minced
2 tbsp. balsamic vinegar
1-2 tbsp. good quality olive oil
small pinch of cane sugar
salt and fresh ground pepper

Directions:
Dice the seeded tomatoes small, leaving the skins on if you want. Combine all the ingredients in a large bowl, mixing well. Add enough salt and pepper to your liking. Cover and allow the mixture to sit at least an hour or prepare in the morning and let it sit until dinner time.
Either mix the tomatoes with cooked pasta for an easy meal, or use in whatever way suits your fancy!
Most recently I used this sauce in eggplant parmesan, which does get baked, ultimately cooking the tomato sauce. But the taste was quite delicious and still very fresh.
Please follow and like us: