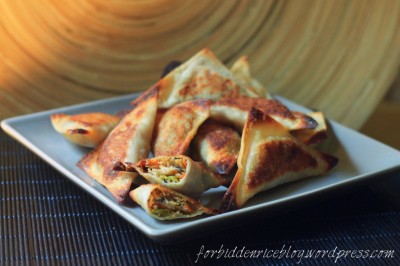 I am not often one for appetizers. I know, it's silly. And there's no good reason. Often when I'm thinking of meals to cook, I skip over appetizers and instead focus on elements of the actual main courses and a schnazzy dessert. When we go out to fancier restaurants, my husband and I rarely glance at the appetizer/small bite menu. I think it's more habit than anything. When it comes to Thai and Chinese cuisine, however, this isn't the case. I love perusing their appetizer menu! Mostly on the hunt for good eggroll options.
The following recipe was born out of last minute decision making. I was planning on making two different curries and jasmine rice. Then I thought homemade eggrolls sounded like a good idea, for a slightly differnt texture to the meal. When I got to the grocery store and hunted for eggroll wrappers, I couldn't find any. I had planned on eggrolls packed with rice noodles and vegetables. During my wandering I came across wonton wrappers. While I'd initially planned on large eggrolls, I thought these would be a fun challenge.
I suggest cutting the noodles up even smaller than I did – about ½ an inch long, even though the following recipe is exactly what I used. You can serve these as an appetizer, or right alongside your meal.
Thai Inspired Baked Wontons
Yields approx. 40 wontons
Ingredients:
½ package Thai thin rice noodles (4 oz. uncooked)
1 tbsp. oil
1 small sweet onion, finely diced
2 cloves garlic, minced
1 3-inch piece of ginger, peeled and minced
2 stalks green onion, diced thin
1 large carrot, grated fine
2 cups savoy cabbage, shredded
1 cup fresh shiitake mushrooms, sliced thin *
3 tbsp. tamari or soy sauce
2 tsp. Thai fish sauce
salt and pepper, to taste
1 large package wonton wrappers (at least 40)
small dish of water
* If fresh shiitake mushrooms aren't available, rehydrate dried mushrooms and use instead.
Directions:
Cook the noodles according to the package instructions, then drain under cold water. Roughly chop the noodles into small pieces (½-1 inch long) and set aside.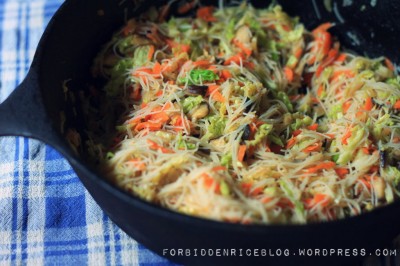 Preheat your oven to 400° F. Heat the oil in a large saucepan, over medium-high heat. Add the onion, garlic, and ginger. Sauté until the onion is translucent (5-7 minutes). Add the green onion, carrot, savoy cabbage, and shiitake mushrooms, evenly mixing everything. Cook for 4-5 minutes, then add in the noodles, tamari/soy sauce, and fish sauce. Mix thoroughly. Taste and then add salt and pepper to your liking.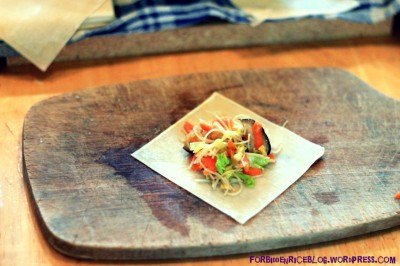 Time to prepare your wontons! Using one wrapper at a time, place a small spoonful of the above mixture in the center of the wonton skin. Brush the edges of the wrapper with water, then fold the wonton in half diagonally, creating a right triangle. Press the edges of the wonton wrapper together to seal them closed.
Place the sealed wontons on a large baking sheet that has been lightly brushed with oil. Once all the wontons are folded, brush the tops with a light coating of oil, then bake for 10-12 minutes, or until golden brown, turning once about halfway through the baking time. Serve hot.
I served these alongside a homemade green curry, so I didn't make a dipping sauce of any sort, but you're welcome to! I've made a sauce very similar to this one that is quite tasty!
Please follow and like us: