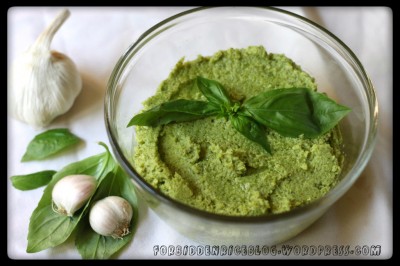 Sometimes it gets close to dinner time and I find myself wandering through the kitchen, rifling through the cupboards, examining what vegetables and herbs are on hand, not exactly sure where dinner is going to be found. Lots of times I'll scour the internet, reading my favorite blogs, searching for recipes by the ingredients that sound appetizing for the time being. The other day, I stumbled upon a blog named Five And Spice, filled with recipes by a lady named Emily. The first recipe that caught my attention was a sweet corn polenta with broccoli pesto. Fresh ears of sweet corn, grated then cooked with just a little butter and salt… topped with a slightly thick, beautifully green pesto. I was intrigued.
When I got to the grocery store, I couldn't find any corn. Not fresh, anyway. What to do when you've got your dinner plan in mind and the store doesn't help you out? Improvise. There was a lot of fresh salmon available and broccoli was on sale… I decided to make the broccoli pesto and use it on both typical polenta cooked from dried ground corn, and slow baked salmon. Good decision!
At first I followed the recipe at Five And Spice, but found it lacking in the flavor I wanted. So I added more garlic, more basil, and more cheese. The result was delicious! I didn't tell 7-year-old Silas what the pesto was made out of, but he was hesitant. I said, "Si, I'm not sure you'll like this… if you don't, you can eat your polenta and salmon plain." He ate a bite, spit it out, and said "UGH! That's too spicy!" So I tasted again… and it wasn't "spicy," at all – but the broccoli does carry some weight to it. This pesto won't leave you hungry! Silas tried the pesto again, this time on his fish, and actually liked it!
The following day, my husband said he was going to make lunch for us all. I like to joke that this is dangerous territory, but when we first met my man cooked for me all the time. I burned rice on the stove. And made pancakes from storebought mixes I didn't like. It's true. Anyway, he toasted up some Dave's Killer Blues Bread (my favorite), then spread a bunch of broccoli pesto on it, finally adding slices of fresh beefsteak tomato on top. It was so good, simple, filling, and pretty. :) This pesto's extremely versatile and delicious on or with nearly anything. True story.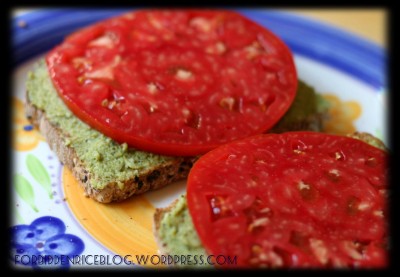 Broccoli Pesto
Ingredients:
3 cups broccoli, cut into stems and florets
4-5 cloves garlic, peeled
¾ – 1 cup fresh basil
approx. ½ cup good quality oil
½ – ¾ cup grated parmesan cheese
1 lemon
salt and pepper
Directions:

Bring a large pot of lightly salted water to a rolling boil. Add the broccoli florets and cook until true broccoli is tender (5-7 minutes). Don't overcook! Drain the broccoli.
Place the broccoli, garlic, and basil in your food processor (fitted with the large chopping blade) or high quality blender. Pulse/blend until all the broccoli is well broken up. Drizzle in the oil while the food processor is running, then add in the parmesan cheese and lemon juice. Add more oil if needed, for your desired consistency. Taste, then add salt and pepper to your liking.
Use the pesto on pasta, polenta, fish, as a spread on crackers or toast, whatever sounds tasty.
Keep in an airtight container, in the refrigerator, for up to 3 days. Stir before using (color may change over time).
Please follow and like us: