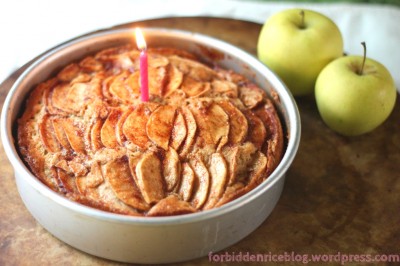 The following post contains the recipe for a cake reminiscent of fall, that is also ridiculously moist, good-looking, and tasty. You could call it a cinnamon apple cake, or apple spice cake, which it is. I jokingly referred to it as a Magic Hippie Juju Cake as I worked around the kitchen to create its existence.
Last week Wednesday my brother and sister-in-law were in a hospital in Illinois, trying to welcome their first baby girl into this world, a few weeks earlier than planned. My first niece. By the time Thursday afternoon came around, John sent me a text saying that he and Kim were more than ready to go home and the baby hadn't shown up yet, despite the doctors saying she'd be here soon. I told him I'd bake baby Keira a magic hippie juju cake to let her know it was supposed to be her birthday. Now. That day, at least. I apologized for not knowing how to send scents through my telephone, but assured him I'd send a photo.
As I mixed the ingredients together, I thought of my brother becoming a father and it was simultaneously the strangest, loving, tender, funny, sincere experience. My brother who is barely one year younger than me, who I spent over a decade fighting with over nothing important? John who tried to drown me in our Disney World hotel pool when we were 6 and 7? The same kid who snuck toads into unsuspecting neighbors' mailboxes? That guy was, at any moment, becoming a dad? I was awestruck. I thought about how much he's grown up, his intelligence and love, his wisdom and ridiculousness. I've got no doubt he'll be a great father.
Back to that cake. About half an hour after it came out of the oven, I was sitting at Silas's football practice and received a text: "She's on the way!" Magic Hippie Juju. Or as I told my sister… perhaps those labor-inducing drugs finally kicked in.
Regardless, this cake was a celebration of my new niece, of a life welcomed with love. Celebration of humor, of memories that tie siblings in ways that only make sense to them but are still entirely universal. Celebration of my kick-ass superhero sister-in-law who is humored by my sincere cheesiness.  As I prefer most of my celebrations, this cake isn't overly fancy, but it holds its own… you will not be disappointed.
Cinnamon Apple Cake
Yields one 8-inch round cake
Ingredients:
2/3 cup unrefined cane sugar
6 tbsp. unsalted butter, at room temperature
1 cup all-purpose flour
1 tsp. baking powder
¼ tsp. ground ginger
¼ tsp. ground cinnamon
1/8 tsp. sea salt
3 eggs, separated
3 tbsp. fresh meyer lemon juice
1 tsp. vanilla extract
2-3 medium apples (granny smith, golden delicious)
1/3 cup unrefined cane sugar
juice from ½ an orange
1 tsp. ground cinnamon
1 tbsp. unsalted butter
Directions:
Preheat the oven to 375º F. Evenly coat an 8-inch round cake pan with one tablespoon of butter.
Prepare the apples: peel and core the apples. Cut in half, then into slices about 1/8-inch thick. Place the apple slices in a bowl, then add the 1/3 cup of sugar, orange juice, and 1 teaspoon of ground cinnamon. Stir (or use your hands) to toss and evenly coat the apples. Set aside.
Whisk the egg whites until they form soft peaks. Set aside.
In a large bowl, or your stand mixer, cream together the six tablespoons of room temperature butter and 2/3 cup of sugar, until light and fluffy. Whisk in the egg yolks, one at a time, then the fresh lemon juice, and vanilla.
Sift together the flour, baking powder, ground ginger, ¼ teaspoon of cinnamon, and salt. Add the flour mixture to the creamed butter and sugar mixture, until just combined. The batter will be thick. Stir about one third of the egg whites into the batter until completely incorporated and then gently fold in the remaining egg whites. Pour the batter into your prepared pan.
Work from the outside of the pan towards the center, overlapping the apples by about ¼-inch and slightly pressing them into the batter. Pour all the liquid from the bowl of apples evenly over the top of the cake.
Bake for 40-50 minutes, until a toothpick inserted in the center of the cake comes out clean. Serve warm.
Please follow and like us: