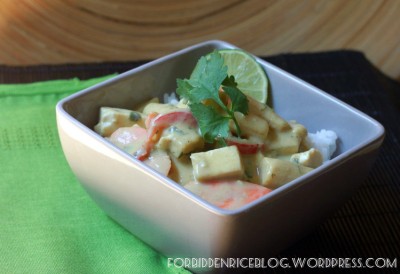 While we live in excellent walking distance to all the restaurants in downtown Ashland, I often prefer making a home cooked meal. The cost is usually significantly lower and often brings a greater guarantee that both my family and myself will be satisfied with the meal afterwards. Recently, we discovered a new Thai restaurant 50 or so footsteps away from our home. Within one meal to-go, Anya's Thai Bistro became my favorite restaurant in Ashland. It's the only place in town I can imagine going to daily, always inspired and always assured that I'll be treated to a delicious meal. (Don't get me wrong, there are various other places in town I respect, enjoy, and would recommend, but Anya's would be my top choice, hands down.) We have enjoyed their peanut red curry and massaman curry very much. The drunken noodles are intoxicating to all your senses in a deliriously happy way… add some tofu and you'll hesitate sharing with anyone but yourself.
That said, eating out every day isn't exactly kind to our budget. (And Anya's is closed on Mondays…) So what do you do when you're craving a thai green curry and dreaming about tasty red curries and saucy thai noodles? First, you feel sad for yourself. Then seconds later, you concoct something as close to what you're craving as you can. That's where this green curry came from. While I've tried to make green curry paste from scratch before, this time around I opted for a premade version. I enjoy Thai Kitchen products, often because they're pretty readily available around here and the taste never really disappoints (although fresh ingredients are difficult to beat, as far as taste and quality go!).
You can vary the vegetable ingredients if you wish, but we enjoyed this curry just as follows. If you're ever in Ashland, however, do yourself a favor and check out Anya's Thai Bistro – you will be so glad that you did.

Vegetarian Thai Green Curry with Tofu
Ingredients:
4 oz. green curry paste
2 cans coconut milk (not "light")
2 tbsp. soy sauce or tamari
1 tbsp. fish sauce
2 kaffir lime leaves
3 cloves garlic, minced
1 tsp. fresh ginger, minced
½ tsp. ground coriander
2 tbsp. oil
2 tbsp. peanut sauce
1 large carrot, peeled and sliced in thin rounds
1 small red pepper, cut into bite-size pieces
1- 14 oz. can baby corn
1- 8 oz. can bamboo shoots
1 box extra firm silken tofu (like Mori-Nu brand), cut in cubes
1 large tomato, cut in slices with seeds removed
¼ cup fresh cilantro, chopped
1 small lime, juiced

Directions:
In a deep sauté pan, heat the oil, green curry paste, garlic, ginger, and ground coriander over medium-high. Cook for a minute or two until fragrant. Add the coconut milk, soy sauce, fish sauce, peanut sauce, and kaffir lime leaves. Reduce heat to medium-low then add the carrots and red pepper. Cover the pan and simmer for 10-15 minutes, until the carrots are soft enough to pierce with a fork.
Add the baby corn, bamboo shoots, and cubes of tofu, gently stirring to evenly distribute everything. Cook for an additional 4-5 minutes. Taste the curry sauce and if needed, add more fish sauce, soy sauce, or even some salt and pepper. Remove from heat and stir in the sliced tomato, fresh cilantro, and lime juice.
Serve immediately on a bed of jasmine or long-grain brown rice.