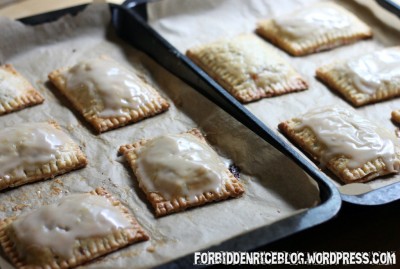 When I think of pop tarts, it's very nostalgic. I remember funny things about growing up. Like obsessively listening to the radio on the weekend, waiting for Rick Dees Weekly Top 40 after looking up what was in the charts, cassette player ready to record my preferred top hits. I remember running around barefoot outside until Mom yelled that it was time for dinner, often after dark. I remember saving my allowance to buy a Tamagotchi and how mine always died because I'd forget to feed it. I remember enjoying shows like Doug, Ren and Stimpy, The Secret World of Alex Mack, and Are You Afraid of the Dark? I remember having dial-up internet and whenever we accidentally picked up the phone while one of our siblings was online in the other room, it was cause for lots of commotion. I saved my money to buy books like The Babysitter's Club and Sweet Valley High. Fruit-by-the-foot? Heck yes. Pop tarts? We always had them in the kitchen. Frosted, unfrosted, eaten toasted or straight out of that foil package.
I saw recipes for homemade pop tarts not too long ago and got really excited. I think the last time I had a "real" pop tart was when I was in college. It probably happened around 3AM when the vending machine downstairs didn't offer a better sounding option than A11: Frosted Brown Sugar Cinnamon Pop Tarts. Despite the nostalgia, really, my thoughts of these toaster pastries just reflect dry, overly sweetened cardboard-like shells and sticky, extremely sweet fillings. When I decided to make my own pop tarts, I knew the pastry was key. It had to be flaky, light, buttery. I looked around at various recipes and pulled ideas from all of them. The result was a light, very flaky crust: spot on for what I was aiming to make.
About a month ago, I received an e-mail from Paradise Fruit Company, asking if I'd be open to them doing a guest post on my blog, about the versatility of candied fruits like the ones they supply. I replied, saying I wasn't really into guest posts at the moment, but if they wanted to send along some samples I'd be happy to come up with some recipes using them. Very kindly, a few weeks later, I received a very generous supply of candied cherries, ginger, orange peel, lemon peel, pineapple… These pop tarts seemed like a perfect way to incorporate a couple of those fruits. I decided on an apple ginger tart, using Paradise crystallized ginger  and McIntosh apples. I also decided to make a peach pop tart, using the candied lemon peel and gorgeous fresh peaches. Both the ginger and lemon peel were great additions to the fillings and helped to balance the fruits in a not too overly sweet way.
Homemade Apple and Peach Pop Tarts
makes about 10 pop tarts
Ingredients:
For the pastry dough:
2 cups all-purpose flour
2 sticks butter
¼ cup quick oats (not instant or old-fashioned)
1 tbsp. sugar
½ tsp. salt
2 tbsp. milk
1 egg
For the apple-ginger filling:
2 apples, cored, peeled and diced small (¼-inch cubes)
3 tbsp. Paradise crystallized ginger, minced
2 tbsp. light brown sugar
¼ tsp. ground cinnamon
1 tbsp. melted butter
¼ tsp. vanilla extract
For the lemon-peach filling:
2 ripe peaches, peeled and diced small
2 tbsp. Paradise candied lemon peel, minced
1 tsp. light brown sugar
¼ tsp. Penzey's Baking Spice (you can sub fresh nutmeg, cinnamon, and pinch of cardamom)
1 tbsp. melted butter
For the vanilla glaze:
¾ cup powdered sugar
½ tsp. vanilla extract
1½ tsp. milk
1 tsp. coconut oil, melted
1 egg, whisked for brushing the tops before baking
Directions: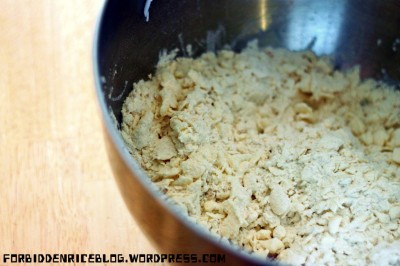 Prepare your pastry dough: in a large bowl, mix together the flour, oats, sugar, and salt. Cut in the butter (I like to use a box grater and just grate the butter in, then mix with my hands to get the right consistency), until the mixture resembles large crumbs. It'll be quite buttery. In a small bowl, whisk together the egg and two tablespoons of milk until completely combined. Pour into the dry ingredients. Stir until a ball forms. Knead the dough for 3-4 minutes, then separate into two even balls. Wrap in plastic and refrigerate for at least one hour before using.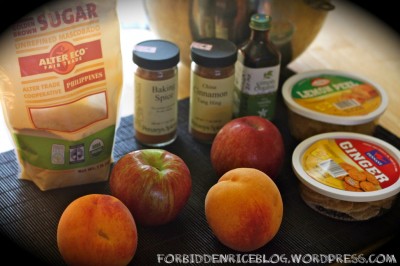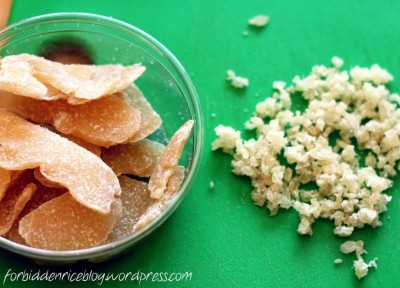 Prepare your fillings: in a medium-sized bowl, stir together the diced apples, minced crystallized ginger, brown sugar, cinnamon, melted butter and vanilla. Set aside. To make the peach filling, combine the diced peaches, minced lemon peel, light brown sugar, baking spice, and melted butter. Stir well and set aside.
Preheat your oven to 350° F. Line two baking sheets with parchment paper.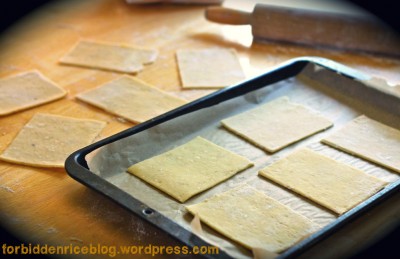 Roll out one ball of dough on a lightly floured surface, to a large rectangle about 1/8-inch thick, 9-inches by 17.5-inches. Cut the dough into small rectangles, 4.5 x 3.5 inches. You should be able to get about 10 rectangles. Refrigerate these cut rectangles while you prepare the other ball of dough. Do the exact same thing you just did, with the second ball of dough.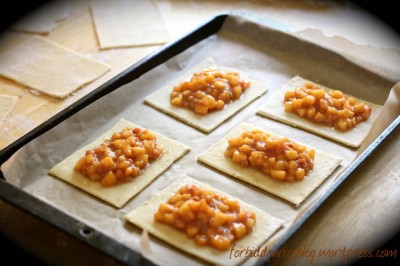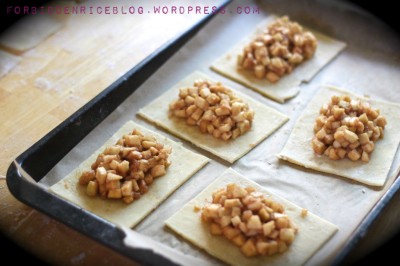 Place five of your cut rectangles on each of the prepared baking sheets. Spoon about 4 tablespoons of filling in the center of each rectangle, leaving about a 1/2-inch around the outside edges. Place another rectangle of dough over the filling, aligning the edges. Gently press the top dough down, letting out as much air as you can in the process. Use a fork to crimp all four edges. Place on your parchment-lined baking sheets. Continue doing this, ultimately having 5 apple-filled tarts and 5 peach-filled tarts.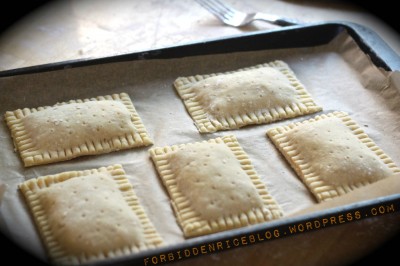 Use a toothpick to poke 10-15 small holes in the top of each pop tart. Refrigerate for about 15 minutes before baking (so the butter re-solidifies a bit, creating a flakier crust).
Brush the tops of each pop tart with the whisked egg. Bake for 25-30 minutes, until nicely golden brown in color. Cool for about 10 minutes before frosting.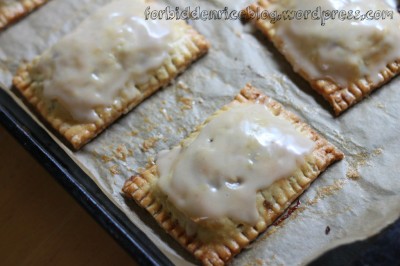 While the pop tarts are in the oven, prepare the glaze. In a bowl, whisk together the powdered sugar, vanilla extract, milk, and melted coconut oil until smooth. Brush the glaze lightly on each pop tart. Allow the tarts to cool at least to room temperature before eating. The glaze will harden as the pop tarts cool.
Eat within 3 days for best quality.
* If you want, you can prepare these pop tarts up until the point of brushing them with the whisked egg, then freeze them. To prepare after frozen, simply heat your oven to 350° F, line your baking sheet with parchment paper, and bake for 25-30 minutes. Perhaps 35-40 minutes. Be sure you don't thaw them before baking!