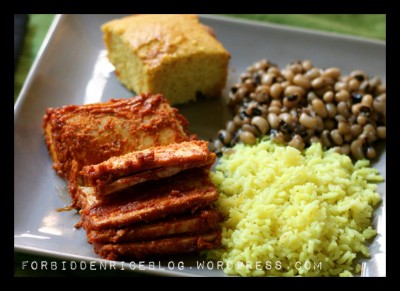 I have a bad Pinterest habit. I'll pin recipes… hundreds of recipes… always intending to go back and cook the things I save… 99% of  the time, that doesn't happen. So I've got some tasty looking recipe boards merely waiting within the inter-webs for me to come back and give them some much needed love and some real world tangibility.
I've been seeing hasselback potatoes all over Pinterest and various food sites. What the heck is hasselback style, right? I wouldn't have known if I hadn't been browsing Pinterest food posts. The first time I saw hasselback anything was a recipe for hasselback potatoes with spinach cashew pesto, from Joy the Baker. Turns out "hasselback" is a Swedish way of preparing baked potatoes. The potatoes are fanned out then baked, making the presentation absolutely gorgeous. The name actually comes from the namesake dish from Restaurant Hasselbacken located in the Hasselbacken Hotel in Stockholm.
Last week though, I came across a crazy looking photo of a giant log of barbeque tofu, hasselback-style! I was immediately intrigued, pinned that business, and committed to not allowing this recipe to join the 99% of unused pinned recipes. It was more the idea than the recipe, which didn't include a recipe for the barbeque sauce anyway. I decided to make my go-to sauce and opted for the 30 oz. block of Wildwood vacuum-packed hi-protein tofu (perfect for feeding many, all with one fanned out log of tofu).
You can serve this barbequed tofu as I did, with cornbread, black-eyed peas and rice. Or you can use it in a sandwich. Silas kept calling the tofu "meatloaf," so perhaps it can accompany mashed potatoes (or hasselback potatoes if you get really carried away with the hasselbacking!).
Hasselback Barbeque Tofu
Recipe adapted from Healthy. Happy. Life.
Serves at least 6.
Ingredients:
For the sauce:
1 cup ketchup
½ cup water
¼ cup apple cider vinegar
2½ tbsp. light brown sugar
2½ tbsp. cane sugar
¼ tsp. fresh ground pepper
¼ tsp. onion powder
¼ tsp. granulated garlic
½ tsp. fresh lemon juice
1½ tsp. yellow mustard
1½ tsp. Worcestershire sauce
½-1 tbsp. red chili pepper flakes (depends how spicy you want it!)
For the tofu:
1- 30 oz. block Wildwood extra firm vacuum-packed tofu *
¼ cup nutritional yeast
1 tsp. granulated garlic
½ tsp. dried oregano
½ tsp. dried thyme
¼ tsp. smoked paprika
pinch of salt
pinch of fresh ground pepper
1 tbsp. oil
*If you can't find the 30 ounce block of tofu, you can use two packages of refrigerated extra firm tofu (I still prefer Wildwood's version). Just make sure to drain the tofu well, then wrap in a clean towel and press for 30-60 minutes before using for this recipe. Don't use silken tofu.
Directions:
Prepare the sauce: Whisk together all of the ingredients in a small saucepan. Bring to a boil, then reduce the heat to simmer. Cook for 20-30 minutes, stirring occasionally. Allow the sauce to cool at least to room temperature before using for the tofu.
Preheat the oven to 400° F. Lightly grease a 9 x 13 inch pan.
Prepare the tofu: Cut the block of tofu into thin, skinny, "fans." As thin as you can cut them making sure to not cause the block to fall apart. Slice about ¾ of the way through the block, leaving the bottom part intact. Place the tofu (gently) in your lightly greased pan.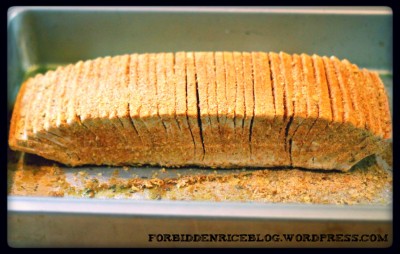 In a small bowl, combine the nutritional yeast, granulated garlic, oregano, thyme, paprika, salt, and pepper. Gently rub these combined ingredients onto the block of tofu, working some into the slices.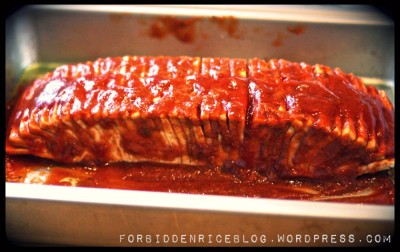 Pour ¾ of the barbeque sauce onto the tofu. Use your hands to work some sauce into the fanned slices. (Though suggested – and I'd love to try this next time – I didn't marinate the block overnight from this point.)
Bake for 25-30 minutes. Brush on the remaining sauce, then broil for an additional 5-6 minutes, creating a very sticky, slightly crisp topping. Serve hot.