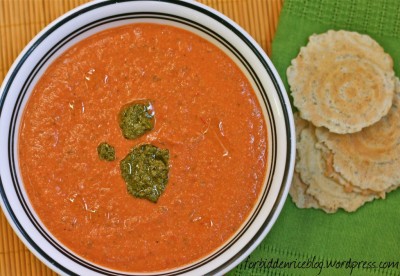 I am not someone who dwells on the changing seasons, hoping for summer to last a little longer, or for winter to pass more quickly. As the seasons change, I accept and adjust accordingly. Except the whole shoe thing: I grew up on an island. I grew up with my bare feet in the sand, naked toes with grass between 'em. That hasn't changed. I still prefer to work in the garden barefoot. You'll catch me running up the sidewalk barefoot to retrieve things out of the car. If footwear is required, I prefer wearing my slippers (okay, "flip flops," as everyone around me calls them) even when it's 15 degrees outside.
But this post isn't about feet, it's about soup. Soup and fall time, because the two go hand in hand. Like I said a week ago,  this time of year always finds me saying I'll make more soups, only to fall short. I've surprised myself and made soup two weeks in a row, however. Both consisting of roasted tomatoes from the end of summer bounty we're finding ourselves with, yet very different from one another in flavors. The following soup is very easily made vegan, simply subbing the butter for Earth Balance or even olive oil. It's very hearty and the cashews offer a delicious creaminess. It's quite simple, really. Roasting the tomatoes adds a depth of sweetness to this soup.
I made this soup relatively thick, but you can thin it to your liking with more broth. I actually used the leftovers we had as tomato "sauce" on homemade pizza tonight. In part because I ran out of marinara sauce… and in part because it was a great blend of creamy, acidy, tomato-ey, and basil-ey – just the way I like my homemade pizza sauce. It worked like magic. If you've got leftovers, you can also freeze them for future meals!
Roasted Tomato Cashew Basil Soup
Ingredients:
2 ½ lbs. cherry tomatoes, halved
2 ½ lbs. other tomatoes (beefsteak, roma, etc.), cut in chunks
2 tbsp. balsamic vinegar
2 tbsp. olive oil
salt and pepper
2 cups raw cashews, soaked in water at least 3 hours
¼ cup unsalted butter (Earth Balance for a vegan version)
1 large onion, diced
5-6 cloves garlic, minced
1 ounce fresh basil, chopped
1 cup water or No-Chicken broth
Directions: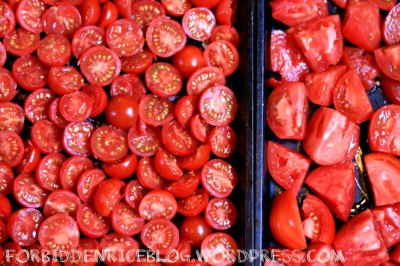 Roast your tomatoes: Preheat your oven to 400°F. Place your tomatoes on two large baking sheets. Drizzle one tablespoon of balsamic vinegar and one tablespoon of olive oil evenly over the tomatoes on each pan. Generously add salt and pepper.
Roast the tomatoes for 20-30 minutes, until they're wrinkly and somewhat charred along the edges. Note – the tomatoes will get really juicy while roasting. About half way through the cooking time, I drained all these juices into a measuring cup, reserving the liquid and returning the tomatoes to the oven to finish roasting. That juice should definitely be saved for your final soup – it's flavorful and delicious! Set the tomatoes aside until ready to use.
Prepare your soup: While the tomatoes are roasting, melt the ¼ cup of unsalted butter in a small saucepan over medium-high heat. Add the diced onion and garlic, stirring occasionally until the onions are opaque. Remove from heat.
In a food processor fitted with the large chopping blade, or a high power blender, combine the roasted tomatoes, raw cashews (that have been soaked and drained), onions, garlic, and basil, blending until smooth. Add in the broth or water as needed, to thin the soup to your preferred thickness. Continue blending until completely smooth (5-8 minutes). Taste, then add salt and pepper to your liking.
Pour the soup into a large pot and heat over medium-low heat until hot enough to serve enjoyably. Top with some pesto, a little drizzle of good olive oil, or nothing at all. Eat with a gooey grilled cheese sandwich, or not at all… This soup is very filling even by its lonesome.
Serves 8-12 as a main dish.