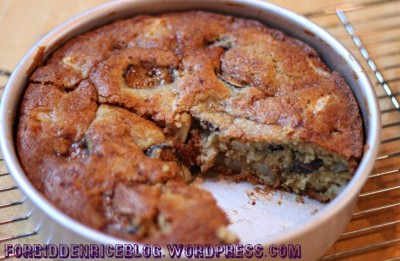 Sometimes recipe inspiration hits me in weird places. And I don't mean in my left elbow, or right pinkie-toe. I was running at the gym the other day… I used to despise the treadmill – I'd opt for the elliptical machines, spin bikes, rowing machines – anything but running in one spot feeling like I should be going somewhere, but can't. I've been enjoying my runs recently though. Rather than thinking about how I'm not actually going anywhere, despite the mileage going up on the machine's tracker, I've found myself thinking about recipes to concoct. Sometimes all the thoughts of butter and sugar leave me with the incentive to run faster. Sometimes it makes me get off the machine so I can get home and make something tasty.
During that particular run, I found myself thinking about the large box of Gravenstein apples sitting in our kitchen, brought up from Sonoma County, California by friends last week. I had been thinking about these apples a lot, wondering what to make aside from applesauce. Apple cake sounded like a good idea. I had also been seeing a lot of recipes for fig desserts recently and decided to try them with the apples. The result was a tender, fluffy buttermilk cake, rich with apples and topped with sweet roasted figs. Delicious.
After Silas had a piece, I asked how he liked it? "It was really, really good… can I have another piece?" I asked if he'd ever eaten a fig before? "Yeah, I think I had them one time. They are nasty raw, though." I said some people like them really ripe, topped with some honey along with goat cheese… His response? "Yeah. I think I had that at the farmer's market one time. It was really not good for me." Hehe! Honestly, I was entirely surprised that he enjoyed this cake! I'm sure you will, too. Plus it's easy, which is all the more incentive to give it a try.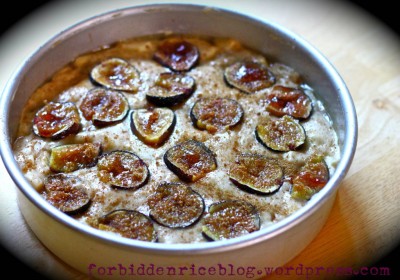 Buttermilk Apple Cake with Brown Sugar Roasted Figs
Yields 1- 8 inch cake
Ingredients:
9-10 ripe figs, halved
3 tbsp. light brown sugar
drizzle of olive oil
2/3 cup cane sugar
4 tbsp. unsalted butter, at room temperature
1 egg, lightly beaten
1 cup all-purpose flour
½ tsp. baking powder
½ tsp. baking soda
½ tsp. Ceylon cinnamon
¼ tsp. sea salt
pinch of ground ginger
pinch fresh ground nutmeg
½ cup buttermilk
1 cup apples, peeled, cored, and diced

Directions:
Roast the figs: Preheat your oven to 400°F. Line a baking sheet with parchment paper. Arrange the halved figs, cut side up. Lightly drizzle with olive oil, then evenly sprinkle the brown sugar over each fig. Roast for 15-20 minutes until the brown sugar begins to caramelize and the figs begin to shrink a little. Remove from the oven and set aside until ready to be used. Leave your oven on at 400°F.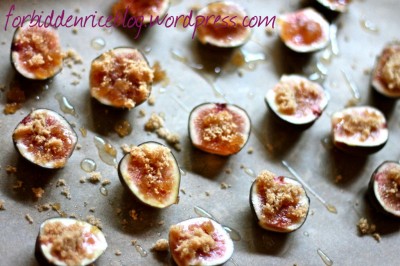 Prepare your cake batter: Lightly oil a 8-inch round cake pan. Beat together the unsalted butter and cane sugar until light and fluffy. Add the egg and beat until fully combined. Mix the flour, baking powder, baking soda, cinnamon, salt, ginger, and a pinch of fresh ground nutmeg into your butter mixture. (No need for sifting or pre-combining.) While the mixer is still on, add the buttermilk slowly, mixing just until just combined. Stir in the diced apples. The batter will be quite thick, do not fear! :) Pour the batter into your prepared cake pan. Use a spatula to evenly spread the batter.
Gently press the roasted figs into the top of your cake batter, arranging them in whatever way you'd like. Sprinkle the top of your cake with a little more cinnamon and fresh nutmeg, a little brown sugar if you'd like. Bake for 25-35 minutes, until a toothpick inserted in the center of your cake comes out clean.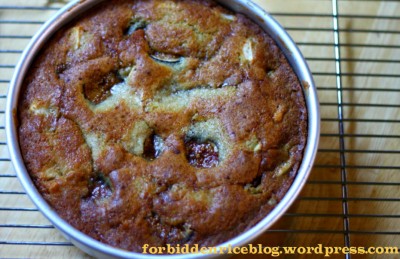 Allow the cake to cool to room temperature before cutting and serving.