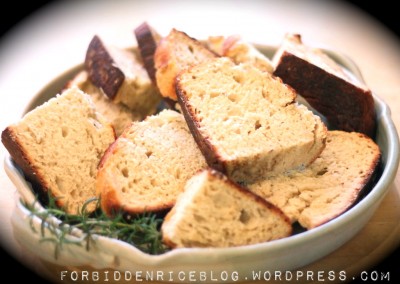 Once upon a time my sister had to define "eating pants" as we discussed her Thanksgiving menu versus my vegetarian Thanksgiving dinner plans. We talked about mashed potatoes, turkey, Tofurky, Field Roast artisan veggie roasts, green beans, buttery rolls, pies of various flavors, gravies, and eating pants. She assured me she was wearing her eating pants to dinner: you know, the ones that can be slyly loosened at the belt line once you've ate waaay too much but need still need to stand up and drive home after the meal?
I don't think I've owned eating pants for a few years now. On purpose, perhaps as a means of feeling like I can control myself when it comes to how much I will eat? Mind you, that tactic doesn't always work. Some days simply require beer and bread, my gluten-heavy, carbohydrate-loaded happy place. That's right.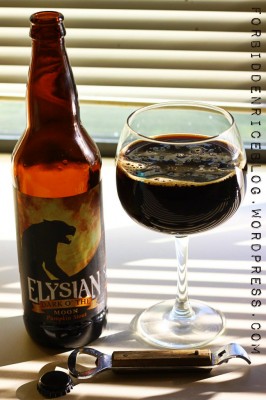 Living in the middle of the west coast offers many brews that more than satisfy my beer cravings. Last fall I developed this ridiculous fascination with pumpkin brews. I tried a few I didn't care for. I longed for flavors that sounded good, but could not be found around here. The other day I was ecstatic to find Elysian Brewing Company's seasonal pumpkin beers in the grocery store. I picked up their 22 oz. Dark o'the Moon Pumpkin Stout and rushed home to try it. While not very heavy on the pumpkin flavor, it was a tasty stout! Very earthy and full flavored. I also tried the Night Owl Pumpkin Ale, which was light and deliciously flavored, almost like a boozy pumpkin pie in a bottle.
Along with my weakness for good beer is good homemade bread. Ever since I began my sourdough starter back in April, we've been eating a lot more homemade bread concoctions. The following recipe came on a whim. The dutch oven cooking gives the loaf a perfectly chewy inside with a delicious crust on the outside. The rosemary works nicely with the sourdough flavor, while the garlic and cheese also offer great taste. This bread was good buttered, unbuttered, and alongside a pesto lasagna!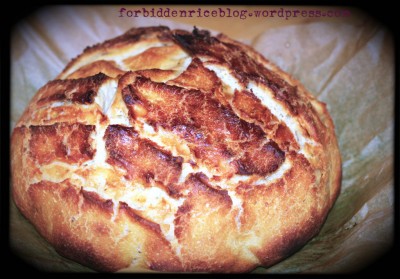 Rosemary Garlic Parmesan Sourdough Bread
Ingredients:
1 cup warm water (115°-120°F)
1 tbsp. cane sugar
2 tsp. active dry yeast
1 ½ cups sourdough starter
1 tsp. sea salt
1 tsp. granulated garlic
3 tbsp. fresh rosemary, minced
¼ cup grated parmesan cheese
3 cloves garlic, minced
4 cups all-purpose flour
oil
Directions:
In the bowl of your stand mixer, combine the warm water and cane sugar. Sprinkle in the yeast, then allow the mixture to sit 5-10 minutes, until the yeast begins to froth.
Add the sourdough starter, sea salt, granulated garlic, rosemary, parmesan cheese, and minced garlic to your yeast mixture. Stir until combined. Slowly add in one cup of flour until fully incorporated. Continue adding the flour like this, one cup at a time, until fully incorporated. Use the dough hook on your mixer to knead the dough for 10-12 minutes. The dough should appear really smooth and almost elastic. Place the dough into a lightly oiled bowl then cover loosely with plastic wrap. Allow the dough to rise until doubled in bulk (1- 1½ hours).
Once the dough has doubled in size, gently punch it down and shape into a ball, pinching the bottom shut by pulling all the edges inwards, twisting the bottom and top in opposite directions (say WHAT?!). Place the rounded dough onto a lightly oiled piece of parchment paper for 30 more minutes.
Preheat your oven to 450°F. Place a large dutch oven into the oven to preheat as well. Slash the smooth side of your dough a few times with a sharp knife (about ¼-inch deep). Gently lift your dough (including the parchment paper) and  place in your preheated dutch oven. Sprinkle some water on the inside of your dutch oven lid before covering the pot (this will allow the loaf to steam in the oven, creating a chewier texture).
Bake for 20 minutes with the lid on, then remove the lid and bake for 20-25 more minutes, until the top is nicely golden in color.
Allow the bread to cool before cutting and serving.