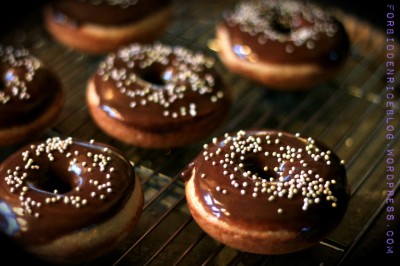 I had been eyeing baked doughnut pans for a good year. It wasn't that they're overly expensive, or hard to find, or a complete irrational buy… It was merely a last resort effort at having self control, knowing that as soon as I had one in our kitchen, I'd be baking doughnuts like a crazy lady.
Then I got an e-mail from Zulily a couple weeks ago, notifying me of a sale on some bakeware, cookware, etc. The photo in my e-mail was of a baked doughnut pan and I couldn't resist checking it out… Though not expensive, at full price, it was always easier to say, "Oh I'll wait until it's on sale…" On sale, I gave in. And then the damned thing arrived in the mail and that's the end of that story.
No, it's not. Within two hours of arriving at our doorstep, I had washed the pan and found a recipe to tweak and attempt. I opted for an easy buttermilk doughnut along with a thrown together chocolate glaze, based on my lack of powdered sugar in the pantry. I do have a long list of recipes I would eventually like to try. In part:
Baked Maple Pumpkin Donuts from The Sweet Life
Baked Apple Doughnuts from Bakers Royale
Gluten Free Maple Glazed Doughnuts from Cannelle et Vanille
Vegan Zucchini Carrot Banana Donuts from Scissors and Spice
Lemon Poppy Seed Donuts from The Novice Chef
Samoa Baked Donuts from Top With Cinnamon
Gluten Free Lemon Blueberry Cornmeal Donuts from Pickles & Honey
This is getting serious.
I've been a fan of doughnuts (donuts?!) for most of my life. Simple yeast-risen glazed doughnuts, preferably. Maybe a glazed cinnamon twist if I'm feeling fancy and adventurous. I think the love comes from my mama. I remember waking up before sunrise many times when I was growing up, just to ride with my mom to the airport in order to drop my uncle off, who'd fly back to Oahu for work. This ride wasn't always just to say goodbye, it meant there'd be a stop at the bakery and I could help pick out (and eat) doughnuts on the ride home. There used to be a bakery in Kapa'a that has long since been gone, but my mom would bring us there often. Her desire: "greasy doughnuts" as she called them. These fluffy, fried, glazed yeast doughnuts that melted in your mouth with every bite. We were both sad when the bakery disappeared after 1992's Hurricane Iniki.
If I really were to indulge my cravings, I'd eat fried doughnuts at least a few times a month. But I try to eat more healthy than that (most of the time). Baked doughnuts kind of dance that fine line of "healthier" but still "doughnut." This recipe surprised me. I am not quite sure of what I was expecting, to tell you honestly… but these doughnuts came out fluffy, moist, but not airy like a fried doughnut would. They were delicious: sweet, cakey, nutmeg-y, lighter than I'd expect from a "cake" style doughnut. If you've got a different icing recipe, feel free to use it! This recipe can easily be doubled for a dozen doughnuts!
Baked Buttermilk Doughnuts with Chocolate Glaze
Yields 6 baked doughnuts
Ingredients:
For the doughnuts:
1 cup all-purpose flour
¼ cup cane sugar
¾ tsp. baking powder
1/8 tsp. fresh ground nutmeg
¼ tsp. sea salt
½ cup buttermilk
1½ tbsp. honey
1 egg
1 tbsp. oil
½ tsp. vanilla extract
For the chocolate glaze:
½ cup cane sugar
½ oz. chopped bittersweet chocolate
½ tsp. unsweetened cocoa powder
3 tbsp. whole milk
1 tbsp. unsalted butter
1 tbsp. coconut oil
¼ tsp. vanilla extract
Directions:
Preheat your oven to 425° F and lightly oil a 6-spot doughnut pan. (This is the one I've been using and enjoying a lot .)
In a medium sized bowl, mix together the flour, sugar, baking powder, nutmeg and sea salt until fully combined.
In a separate small bowl (or your measuring cup), whisk together your buttermilk, honey, egg, oil, and vanilla. Stir the wet ingredients into your dry ingredients, until just together (the batter will be a bit stiff).
Spoon the batter evenly into the wells of your doughnut pan (about ¾ of the way full). Bake the doughnuts for 7-8 minutes, until lightly brown (barely brown) and a toothpick that's inserted into the doughnut comes out clean. Transfer to a wire rack to cool after 5 minutes in the pan.
While the doughnuts are in the oven, prepare your glaze. Melt the tablespoon of butter in a small pot, over medium heat. Once the butter has melted, add the sugar, bittersweet chocolate, unsweetened cocoa, and milk. Whisk continuously until the sugar has completely disintegrated. Continue whisking until the mixture just comes to a boil. Remove from heat.
Whisk in the coconut oil and vanilla extract. Cool the glaze, whisking occasionally to keep the glaze smooth. The glaze should thicken as it cools. As soon as the glaze is thick enough to your liking (I cooled mine for about 6 minutes, whisking often), dip the doughnuts in, then flip and return to your cooling rack. Sprinkle on coconut flakes or sprinkles if you'd like.
Eat and enjoy (these are best eaten sooner than later!).