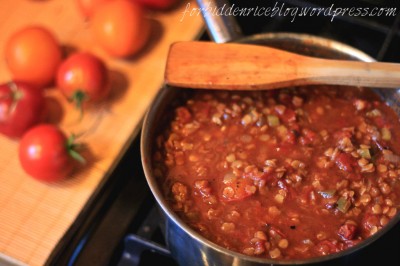 'Tis the season for the comfort of one pot meals. If I owned a crock pot, I imagine it would get a lot of use right about now. Honestly I don't know where the transition was that happened between summer and full-blown fall time. The windshield glass of our car was frosted over the other morning. Today my husband turned the heat on in our house. Winter's coming… truthfully, I don't mind.
Stews, chilies, casseroles – it's what I think of once the weather gets cooler. The beauty of a lentil-based chili is that it requires no previous soaking, unlike dried beans. You can throw it together with much less planning (which, sometimes, is entirely necessary). The following recipe is a very straightforward, easy, vegetarian chili. While the ingredient list may seem long, there's nothing complicated about it.
Vegetarian Lentil Chili
Ingredients:
2 tbsp. oil
1 large white onion, diced
4-5 cloves garlic, minced
¼ tsp. red chili pepper flakes
1 small green bell pepper, diced
1 tbsp. chili powder
2½ tsp. ground cumin
2 tsp. ground coriander
1 tsp. smoked paprika
1/8 tsp. unsweetened cocoa powder
2 cups red lentils
2- 14.5 oz. cans fire-roasted diced tomatoes, with liquid (or fresh if you prefer!)
1 tbsp. fresh oregano, minced
½ tsp. liquid smoke
1 tsp. vegan worcestershire sauce
3 tbsp. tomato paste
1 tsp. light brown sugar
1 bay leaf
5 cups broth
salt and pepper

Directions
In a large stock pot, sauté the diced onion, minced garlic, and chili pepper flakes in the oil, until the onion is translucent (5-7 minutes). Add the green bell pepper, chili powder, cumin, coriander, smoked paprika, and cocoa powder. Cook over medium-high heat until the bell pepper softens (5-6 minutes).
Add the lentils, tomatoes, fresh oregano, liquid smoke, tomato paste, worcestershire sauce, brown sugar, bay leaf, and broth. Stir to combine everything well. Add salt and pepper to your liking (keeping in mind you can always add more once the chili has cooked for a while – the broth will add some saltiness and the flavors will come together more distinctly as the chili cooks). Cover and reduce heat to medium-low. Cook for an hour, stirring occasionally.
Check the broth level of the chili occasionally while it cooks, adding more broth as needed (or water). Uncover the pot and cook for an additional 30 minutes. Taste and add more salt and/or pepper to your liking.
Serve hot with toppings such as sour cream, shredded sharp cheddar cheese, minced parsley or cilantro.