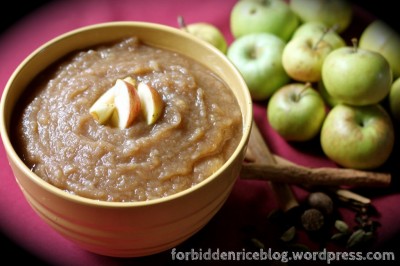 We have a Japanese maple tree that borders along our front yard and the neighbor's house. It's the tell-tale give away I depend on each year to determine fall's arrival. The leaves transition from vibrant greens of every shade to golden yellows, to flamboyant oranges, to flaming reds that scream to be noticed. As soon as the colors begin to shift, I know the cold will soon arrive, the days will grow shorter, and I will crave just the tiniest glimpses of sunshine (please) between the grays and chills that I equally appreciate.
When I greet fall, I crave a home filled with a warmth that's greeting, scents that welcome you as soon as you enter in. Homemade applesauce so easily offers that. The smell alone is intoxicating, heavy with sweetness and cinnamon, earthy flavors that fill your senses. Last month, some friends from the North Bay area brought us a huge box of Gravenstein apples. I made apple pancakes, apple doughnuts, apple cakes, apple slices dipped in almond butter, apple oatmeal… I read recipe after recipe, concocting new ideas in my head that wandered far from applesauce. I was avoiding it intentionally, until I realized that we had nearly 10 pounds of apples that would soon leave me with two options: applesauce or the compost pile.
Another of my favorite scents that lingers when brewing is homemade chai tea. I thought about the flavors that I love so much about chai: sweet cinnamon, nutmeg, ginger, cardamom, anise, cloves. I realized that at least half of these were flavors I've used with apples in various recipes and decided to attempt combining the two. The result was a sweet, spiced applesauce that was both filling and warming: exactly what I was aiming for. I added some pears, as I had them on hand and thought they'd offer some sweetness to the final applesauce. Feel free to replace them with an additional pound of apples if that's what you have available. This makes a large amount of applesauce, but I think it would can well, or freeze just fine to use throughout the winter when you need something sweet, inviting, and delicious.
Chai Spiced Applesauce
Ingredients:
5 pounds apples (I used Gravenstein apples, use what you want), cored, peeled, cut in chunks
1 pound Bosc pears, peeled, seeded, and cut in chunks
1 tbsp. ground Ceylon cinnamon
a pinch of ground cloves
a pinch of ground star anise
1/8 tsp. fresh ground nutmeg
½ – ¾ tsp. ground ginger
3 cardamom pods, ground
1- 4 inch peel of fresh orange peel
3 tbsp. honey
¼ cup light brown sugar
1 stick Ceylon cinnamon
1 vanilla bean
¾ – 1 cup water
1 tsp. vanilla extract

Directions:
Combine the apples and pears in a large pot. Add the ground cinnamon, cloves, star anise, nutmeg, ground ginger, ground cardamom, orange peel, honey, brown sugar, cinnamon stick, scraped vanilla bean, and water. Stir to combine everything as best as you can.
Cook over medium heat, occasionally stirring, until the apples and pears break down (30-45 minutes – cooking time absolutely depends on the type of apples you're using). Once the apples and pears have completely softened, use a potato masher or large wooden spoon to mash them into your preferred texture (for a really smooth applesauce, puree in your food processor). Stir in the vanilla extract.
Serve warm or cold, depending on your preference. This applesauce would be great for canning if you're into that, Freezing works well, too!