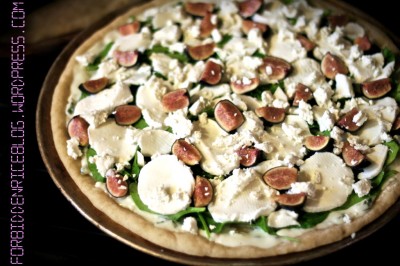 I have a confession: I love pizza the same way I did when I was about eight years old. Obsessively. As in, if I could eat pizza every day (and not feel guilty about it), I probably would. The amount of pizza I make for pizza night around here is entirely dependent on how many folks will be around for dinner… which sounds like it makes sense. You probably think when it's just my husband and I, I make one large pizza. Hah! There's at least two: as he likes to put it, his pizza and our pizza.
The other night we had both kids around for dinner and Craig's mom, too. I made four large pizzas: a red-sauced jalapeno pineapple ala my husband; a red sauced olive-artichoke heart-feta pizza ala the kids; and the next two simply because I could: a white sauced potato, roasted tomato, rosemary pizza and a white sauced fig, spinach and goat cheese pizza. All four were delicious.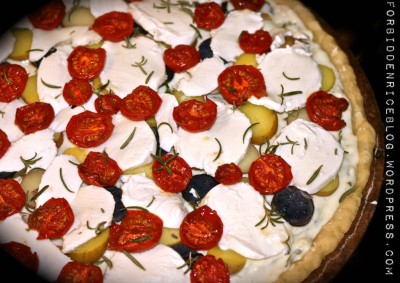 I've been using my sourdough starter to make the pizzas we've been having since April. The flavor from the crust also worked nicely with the pizza topping choices. The following recipe is for the fig, spinach, and goat cheese pizza. I used Montchevre's honey goat cheese, which worked really nicely with the figs on this pizza. The cheese is slightly tangy with just a hint of sweetness from the honey in it. If you can't find honey goat cheese, plain will work just fine.
White Pizza with Figs and Goat Cheese
Yields 1 large pizza
Ingredients:
enough prepared pizza dough for one 18-inch pizza
8-9 ripe figs, each cut into quarters
2 ounces of fresh spinach
8 ounces fresh mozzarella, cut into ¼-inch thick rounds
2 ounces honey goat cheese
¼ cup unsalted butter (1/2 a stick)
7 cloves garlic, minced fine
2 tbsp. all-purpose flour
½ tsp. salt
¼ cup fresh basil, chopped
½ cup heavy cream
1¾ cups milk
¼ cup grated parmesan cheese
fresh ground black pepper
Directions:
Preheat your oven to the highest temperature setting it will go (ours goes up to 550°F). If you're using a pizza stone, put that into the oven to preheat as well.
While the oven is preheating, prepare your sauce. Melt the butter in as medium-sized saucepan over medium heat. Stir in the minced garlic and stir frequently, until the garlic softens a bit (5-7 minutes). Whisk in the flour, until you have a smooth paste-like consistency. Let the mixture to cook for 2-3 minutes, allowing the flour-taste to cook off a little.
Add in the salt, fresh basil, heavy cream, and milk, whisking constantly to keep lumps from forming. Reduce the heat to medium-low and continuously whisk the sauce until it begins to thicken (10 -15 minutes). Once the sauce has thickened, reduce the heat even more to low. Whisk in the grated parmesan cheese and fresh black pepper to your liking. Keep the sauce on low heat until you're ready to use it (this will keep it from getting cold, too thick, and clumpy).
Once your oven is completely preheated, roll out your prepared pizza dough on a lightly floured surface. Transfer to your preheated pizza stone. Poke the dough with a fork a few times to prevent it from bubbling up while baking. Evenly spread the sauce on your dough. Add the fresh spinach onto the pizza, then evenly place the rounds of fresh mozzarella onto the spinach. Arrange your figs on the mozzarella, then crumble the goat cheese on, too.
Bake until the top of your pizza is golden brown (to your liking). Let the pizza rest for 10 minutes before cutting and serving.