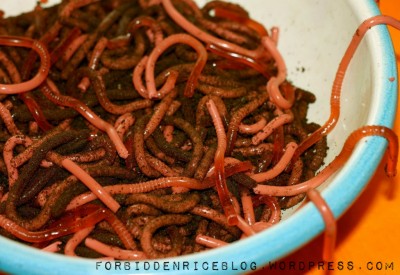 I'll admit – I've never been one to go all out for Halloween. In fact, my anticipation for Halloween probably mimics that of an 85-year-old lady (no offense) rather than someone in their mid-20's, or teens, or even mid-adult years. Don't get me wrong. I don't mind dressing up if necessary, passing out treats to neighborhood kids (even if they show up at 11 AM like last year), or entertaining those who do love Halloween so very much.
Last Halloween, we threw a little party for the kids in Silas's class. We live right across from the starting point for Ashland's Halloween Children's Parade, so we invited his classmates and their parents over for some quick treats before they started the celebrating. We aren't doing a party this year, but I thought I'd re-cap some of the food that we included.
I found this recipe for jello worms online and figured they'd be a fun, disgusting, treat for the kids. I don't usually use jello, but for a one-time event, I figured it was okay. We tossed the "worms" in crushed up Chocolate Cream Newman O's (Oreos if you're into them) to look like dirt. The kids were simultaneously grossed out and fascinated: perfect. Even the adults occasionally tried one!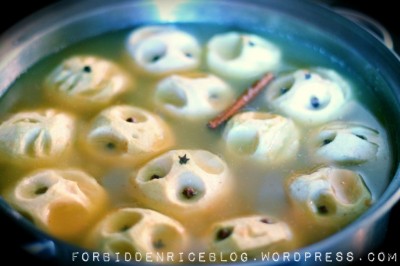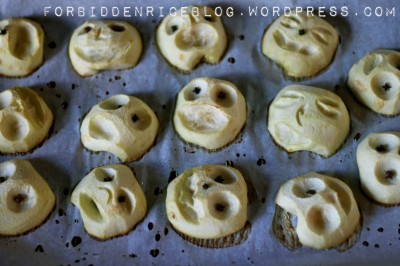 I made a large pot full of Martha Stewart's Shrunken Heads in Cider, although I opted for a non-alcoholic, kid-friendly version, using this recipe as a base. The shrunken heads were ridiculously easy and once baked, they were quite fun and creepy.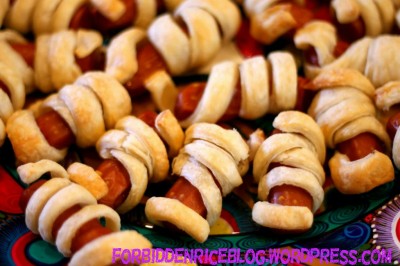 Silas requested "Mummy Dogs," which are simply veggie hot dogs, halved, then wrapped in pastry dough. Eyes can be added with mustard and a toothpick. I used frozen puff pastry dough to make these, but would not do that again. Done again, I'd probably use homemade pizza dough or make these homemade pretzel dogs, but add eyes and wrap them differently. Crescent roll dough would probably work even better than the puff pastry did.

Along with various chips and vegetables, we also put out some "Black Widow Dip," — simply black bean hummus decorated with a sour cream web. I used this recipe for the hummus, replacing the canned beans with homemade black beans I already had prepared.
That said, I hope you're having a great Halloween. One last thing. I just re-read this Halloween post from Joy the Baker, from last year… and I suggest you do the same. There is some very important wisdom you will certainly appreciate.