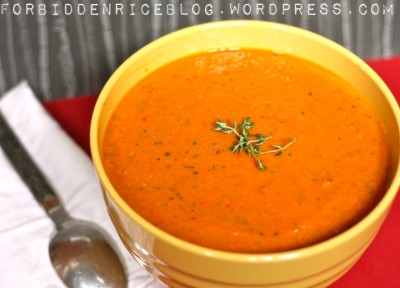 It's almost winter and I must admit: I like the dreary cold weather. Except that I know it's only November and the seasons are hinting at a much colder winter. Will I still wear my slippers (flip flops, for all the "mainlanders" who didn't grow up on an island in the ocean) and forget to blow dry my hair after showering, when venturing out of the house? Probably. Will I come home wanting a house that smells richly of warm food cooking and earthy flavors slapping me in the face? Most definitely.
I finally harvested the last of our tomatoes. Yes, I should've picked them sooner. Yes, they still tasted great. Yes, I was perhaps waiting until the last second, holding onto the vibrant red, gold, and orange tomatoes that still whispered summertime! I decided to roast the tomatoes along with fresh carrots, creating a richly flavored and colored soup.
If you wanted to, you could leave the cream out of this soup and simply replace it with a little more broth. I liked the creaminess in this soup, along with the acidity of the tomatoes and sweetness of the roasted carrots, personally. This makes a large pot of soup that will easily feed 10-12 people. If you aren't wanting to feed that many, it'll also freeze well and can be thawed throughout the winter for a nice reminder of summertime tomatoes.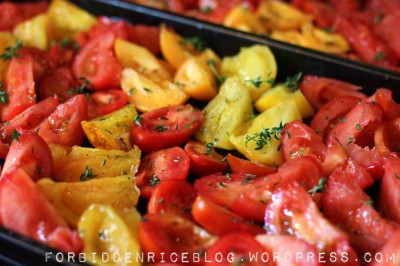 Roasted Tomato and Carrot Soup
Ingredients:
6 pounds fresh tomatoes
1½ pounds carrots
1 large white onion
8 cloves of garlic
1 red bell pepper, seeds and ribs removed
fresh thyme
1 oz. fresh basil
4 cups No-Chicken or vegetable broth
½ cup heavy cream
grapeseed or sunflower oil
salt and pepper
Directions:
Preheat your oven to 350°F. Cut the tomatoes into large chunks (about 1½-inches). Peel the carrots and then cut them into pieces about 2-inches long. Cut the onion into quarters. Cut the red bell pepper into large strips. Arrange the tomatoes, carrots, onion, bell pepper, and garlic cloves on two large baking sheets (three if you need).
Sprinkle the vegetable mixture with fresh thyme (be generous, use as much as you like). Lightly drizzle the oil over each baking sheet, evenly coating everything. Add some salt and fresh ground pepper (don't over-do it, as you can add more of both these things later). Roast the vegetables for 50-60 minutes, checking them occasionally to make sure nothing is burning.
Place the roasted vegetables (and all the juices) into your food processor or high-power blender (mine fits all these veggies at once, but work them in batches if you need). Add the fresh basil and one cup of the broth. Blend until smooth (4-5 minutes).
Pour the pureed vegetables into a large stock pot. Add the remaining three cups of broth, heavy cream, salt and pepper to your liking. Gently heat the soup on medium-low, to serving temperature. Serve with a good grilled cheese sandwich, or salad. Top with some fresh minced basil if you'd like.