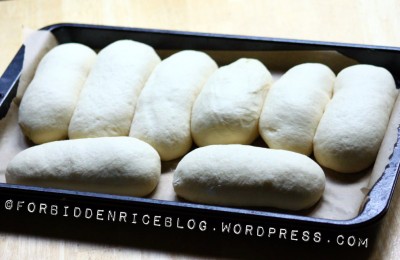 Generally, I'm pretty good about going with the flow of things. However, the other day when I had plans to make homemade veggie hot dogs, pretzel buns, and coleslaw, we found our electricity out for a good portion of the afternoon and evening. Since our stove is gas-lit, I didn't have any problems steam cooking the hot dogs, but I was a little perplexed about what to do with the pretzel buns that were sitting on my kitchen counter rising.
To pass the time, I watched the light hours quickly pass away as I scrambled to get the coleslaw made with the last minutes of daylight, while drinking adult beverages made with bourbon. Bourbon apparently makes the daylight pass more quickly than usual. I decided to boil the buns even though I had no working oven. I still don't know if that was a good choice or a bad one. The beautifully risen bread deflated slightly as it was boiling, which had me alarmed. I proceeded to cook them anyway.
Luckily, my mother in law lives here in town and her side of Ashland still had electricity. We brought over the coleslaw, steamed veggie dogs, and boiled hot dog buns. They baked up nicely, despite losing some air while boiling. I'm not sure if they would have had more rise post-boiling if they went straight into the oven. The result anyway, was a bun that tasted just like a soft pretzel. They were a great compliment to the homemade hot dogs, both in flavor and texture, and especially with lots of mustard :)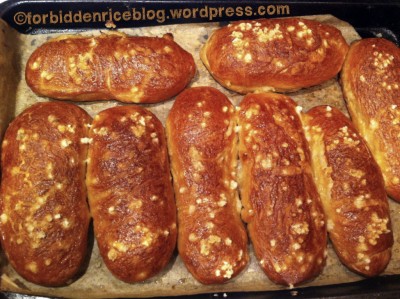 Pretzel Hot Dog Buns
Makes about 8 buns
Ingredients:
1 cup warm water (85°-95°F)
1 tsp. sugar
2¼  tsp. dry active yeast (1 package)
1 tbsp. olive oil
3 cups all purpose flour
1 tsp. sea salt
¼ tsp. barley malt powder
2 tbsp. light brown sugar
2 quarts water
½ cup baking soda
1 egg white, lightly beaten
coarse sea salt

Directions:
Combine the warm water and sugar in the bowl of your stand mixer. Sprinkle in the yeast. Allow the mixture to sit for 5-10 minutes, until frothy and bubbly.
Once the yeast has proofed, add in the olive oil, sea salt, malt powder, brown sugar, and one cup of flour. Use the dough hook to mix the ingredients until completely combined. Add the remaining flour, one cup at a time until all the flour's incorporated.
Turn the speed up to medium-high. Knead the dough for 4-6 minutes. The dough should be stiff, slightly sticky, but not overly sticky where it doesn't release from the sides of your bowl. Lightly dust the dough with flour.
Oil your bowl and place the dough into it, turning once to coat the other side with oil. Cover the bowl with a clean dish towel or plastic wrap, then set in a warm place until the dough has doubled in size (about 1 hour).
Once the dough has doubled in size, turn it out onto a lightly floured surface. Pat the dough into a round, flat disc, about 8 inches in diameter. Cut into 8 wedges of equal size. Let the dough rest for 5 – 10 minutes.
While the dough is resting, line a baking sheet with parchment paper.
Use your hands to roll the dough into cylinder-shapes (hot dog bun shapes!) about 5-6 inches long, 2 inches wide.  Place the dough on your prepared baking sheet. Set aside until the rolls rise again (30 minutes).
While the buns are rising, combine your two quarts of water and ½ cup of baking soda in a large stock pot. Bring to a rolling boil. Preheat your oven to 375°F.
Once the water comes to boiling point, gently lower one or two buns into the water. After 20-30 seconds, flip the buns over. Boil for an additional 20-30 seconds, then remove the pretzel roll to a cooling rack. Boil all of the pretzel buns this way.
Lightly oil your parchment paper (the baking sheet your rolls rose on). Arrange the buns on the prepared sheet, about one inch apart. Brush each roll with the beaten egg white then lightly sprinkle with the coarse sea salt.
Bake for 15-25 minutes, until the rolls are very golden in color. Allow the buns to sit for 5 minutes before slicing lengthwise and serving with your hot dogs.
Store unused hot dog buns in an airtight container at room temperature.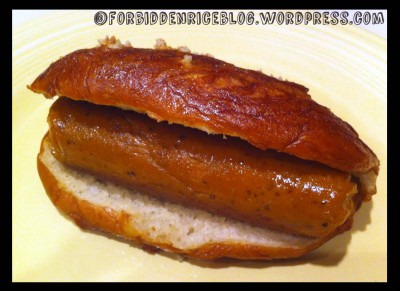 Please follow and like us: