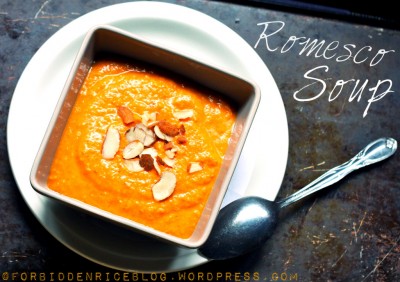 Let's talk about Van Morrison. We can simultaneously discuss my love for stormy weather and how the last couple days have threatened (offered) exactly that: blustery, windy, cold. On days like these, all I'd really like to do is lay in bed and listen to Van serenade me through the day. I rediscovered this song  yesterday and listened to it about 30 times in a row. And then again in the same fashion this afternoon.
What do blustery days that resonate with Van Morrison serenades also require? Soup, of course. Originally I saw a similar recipe for this soup in Sunset Magazine while peddling on a spin bike at the gym. I book marked the idea in my brain and looked it up online later.
Traditionally, Romesco is a nut and red pepper sauce from Spain, made up of almonds or hazelnuts, olive oil, and red peppers. The following recipe is a Romesco soup, borrowing similar flavors, but made into a main dish rather than a sauce or dip.
To make this soup very simple, you can use jarred roasted red peppers and canned tomatoes. I had fresh versions of each on hand and decided to roast the ingredients myself. (This allows more fresh flavor, which really cannot be beat.) This soup is thick, hearty, and a feels like a full meal on its own. Don't listen to Van while eating though, you may pass out into a fall time stimulus-overdrive coma.
Romesco Soup
Modified from Sunset Magazine
Makes a large pot of soup.
Will easily serve 10-12 people. 
Ingredients:
2 tbsp. olive oil
2 onions, diced
8 cloves garlic, minced
1 tsp. ground white pepper
32 oz. roasted red peppers *
28 oz. diced tomatoes *
¾ cup sliced raw almonds
1 cup red lentils
6-8 cups No-Chicken broth
3 tbsp. smoked paprika
1/3 cup nonfat dry milk powder
2 tbsp. red wine vinegar
sea salt
sliced raw almonds for serving
**You can used jarred roasted red peppers and canned tomatoes, making this soup quite easy. I used fresh red peppers and fresh tomatoes, mostly because I had both on hand. If you go that route, simply cut the red bell, removing the stem, seeds, and ribs before doing so. Cut into strips about 1-inch wide. Drizzle generously with olive oil, salt, and pepper. Roast for 30-40 minutes at 400°F, until lightly charred and soft.
To roast the tomatoes, if you're using fresh ones, remove the stem and cut the tomatoes into chunks about 1-2 inches in size. Drizzle with olive oil, about 1 tablespoon of balsamic vinegar, and a generous amount of salt and pepper. Roast at 400°F for 25-30 minutes until deep red and slightly crisp on the edges. Set the roasted peppers and tomatoes aside until ready to use.
Directions:
Heat the oil in a large stock pot, over medium-high heat. Add the diced onions, garlic, and ground white pepper. Sauté until the onion is tender.
If using jarred red peppers, drain and rinse. Add the peppers to your stock pot, along with the tomatoes, sliced raw almonds, lentils, and enough broth to cover everything. Stir in the smoked paprika, then allow the mixture to simmer over medium-low heat until the lentils are tender (30-45 minutes).
Once the lentils are cooked, blend the cooked ingredients in a high powered blender or food processor until smooth. Add the nonfat dry milk and red wine vinegar, blending until everything is fully combined.
Return the blended soup to your stock pot. Gently bring back up to temperature. Add sea salt and more white pepper to your liking. Serve hot, topped with sliced almonds.