As I've mentioned before, if I am going to eat breakfast at breakfast time (rather than for dinner), I like recipes that are easy to throw together. I like the bulkiness of steel cut oats, although preparing them in the morning means I need to get up forty-five minutes earlier than I would need to if I used quick-cooking oats instead. But I don't enjoy the texture of quick oats nearly as much, so what to do.
The beauty of steel cut oats is that you can prepare them ahead of time and they don't lose their consistency whatsoever. These oats are made the night before, thus the bulk of the work happens while you're fast asleep.  I decided to flavor these oats like pumpkin pie, using the spices that are familiar to this fall-time dessert.
While walking out the door to Silas's flag football game, I placed a serving of oats in a jar to go, then topped it with a spoonful of almond butter, a couple tablespoons of unsweetened coconut, and a small handful of dried cranberries. It was a delicious blend of flavors and very filling along with a hot cup of coffee!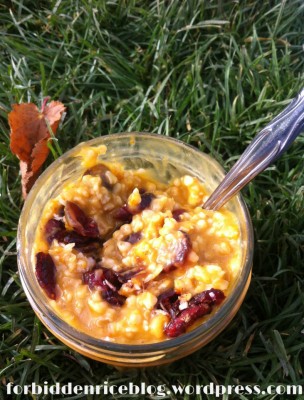 Overnight Pumpkin Pie Steel Cut Oats
Serves 4
Ingredients:
2 tbsp. unsalted butter
1 cup steel cut oats
3 cups water
pinch of salt
pinch of ground cloves
¼ tsp. all-spice
¼ tsp. ground ginger
½ tsp. fresh ground nutmeg
1 tsp. ground cinnamon
¼ cup light brown sugar
½ cup canned pumpkin
2 tbsp. pure maple syrup
2 tbsp. unsalted butter
whole milk
Directions:
In a large saucepan, melt the two tablespoons of butter over medium-high heat. Add the steel cut oats and stir frequently, until the oats begin to smell toasty (5-6 minutes).
Stir in the water, salt, cloves, all-spice, ginger, nutmeg, cinnamon, brown sugar, pumpkin, and maple syrup. Continue stirring until everything is well combined.
Bring the mixture up to a boil. Boil for two to three minutes, then cover the pot and allow it to sit overnight (at least 8 hours). You can leave it on your stovetop or refrigerate the oats.
The next morning, bring the mixture back up to temperature over medium heat, occasionally stirring. Mix in the maple syrup and unsalted butter, along with enough milk to get the consistency you prefer.
Serve hot, either plain or add toppings you'd like.